Post by col on Nov 25, 2017 13:10:08 GMT -5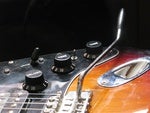 See the first post on this thread for the current finished version GuitarFreak3
For the next iteration, GuitarFreak4, I want to add a few extra capabilities, so it can help with the design of some more of the non-standard configurations that keep coming up on GN2.
In particular, I'm thinking of series wiring with part bypass of one coil or one pickup. This will help check out systems such as 'spin-a-split', 'broadbucker' and general part bypass with caps and resistances, to find tones between single and humbuckers.
All of this can be done on modelling programs such as 5Spice, but the advantage with these spreadsheets is to be able to put the main controls on slider bars, and view the graph of output interactively as you tweak it in real time – the previous GF's have this.
So far, I've got the main coding done, and alpha tested, with fixed numerical inputs (no slider bars yet). I think it works, but needs QA.
This is the sketched schematic that i'm working with.
There are two coils each with inductance, resistance and winding capacitance, and each with a set of caps and resistors to bypass them. I run the numbers by analysing the output from one coil at a time, and adding the two parts together. It's done by considering the circuit as a network of impedances, as you would a resistor network, but calculated using complex numbers to pick up reactance and resistances. I could explain more but that would depend on anyone wishing to know more.
Here's a plot, with no bypass on the coils, to represent a full humbucker.
Here it is with the lower coil fully bypassed by a 1 ohm resistance, ie its a simple coil-cut
And here is a more interesting part bypassed arrangement, of the type that this system could potentially investigate quite easily. In this case, the lower coil is bypassed by a 12k resistor and a 10nF capacitor. See how the peak is like the single coil version but there's more low end tone?.
The next step is to test this against a 5Spice model to check, and then add all the interactive bells and whistles to make it quick and intuitive to use.
But before I do that, (and the reason for this post), I'm interested in any opinions as to other features that could be built into the schematic. It would be fairly easy to extend the code a little more at this point. They should be things that can be adjusted by component values rather than switching, and which have come up more than once on the forum. Eg, I've got the inductor in the tone circuit, so that varitone arrangements can be tested (will that capture it?). Also thinking about a bass cut control? Any other ideas?
Cheers
John
More retrieved images. They all need to be copied/saved.
Every example has worked so far. I'll leave it there - I'm messing up threads.