Post by candyflipper7 on Apr 13, 2013 8:51:05 GMT -5
Here is a project that I did with the "FULL" help of GN2 Forum members helping me in putting it together. I came up with this idea after finding GN2 website while looking to build my first "STRAT" type guitar. I didn't want the 3 standard single coils. I wanted a "STRAT" style guitar with 3 Humbuckers, and the Bridge HB angled. After much thought, and advice this was put together from many different drawings into one(Modded in the forum for Parallel-Series

).
Please note that the Volume Pot is 500k Seymour Duncan & the Tone Pot is a 1 Meg Linear Pot (Not as shown) The original drawing is somewhere? This is actually one of the originals. Not too much has changed. Pot values switched around and a .0315 tone cap thrown in position one. The tropical fish caps leads where really hard to work with! What I like about this design is the pickguard can be switched out easily with just a disconnection of the Jack wires. And the grounds can be disconnected with the twist of a screw.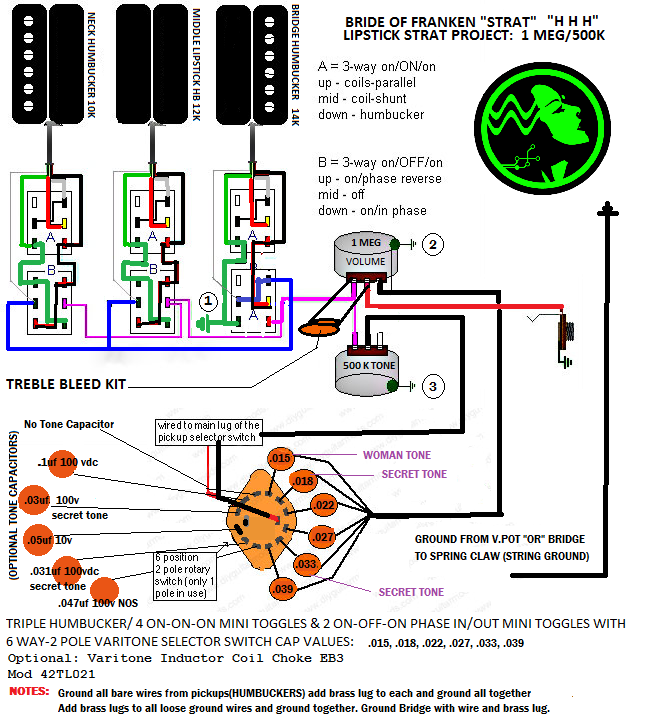 Body after being stripped of all clear coat, paint, primer, wood sealer. Being prepared for sealer, 6 coats primer, 5 coats (Acid Green) low pressure spray paint, 9 coats matte clear.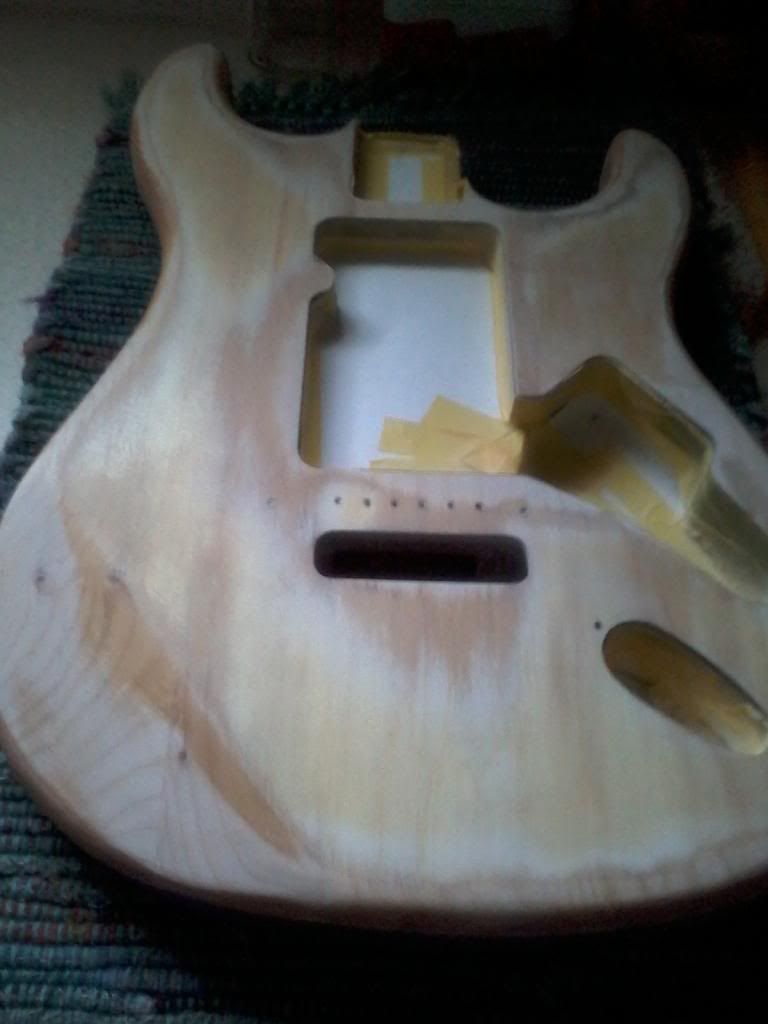 Note the swimming pool body. I will later remove the extra wood to fit the Neck Humbucker.
Here is the painted body. I have put conductive paint in the holes for the Ppickup screws, wire hole for the spring cavity and jack plate wire hole. Also, I have used conductive paint in the spring cavity.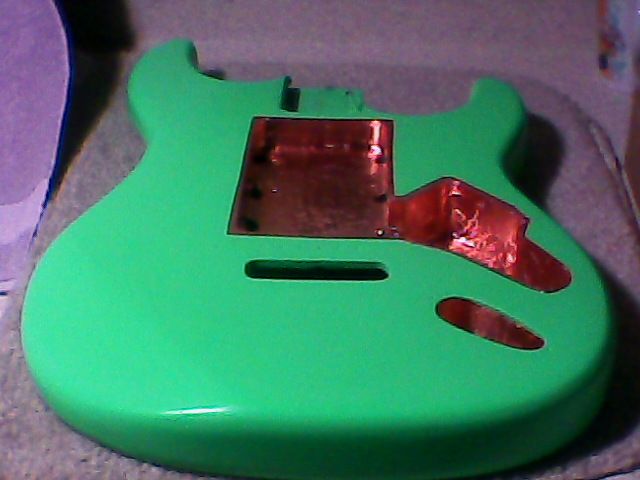 I am using a "SEE THROUGH" pickgaurd to line things up for a visual of where everything will go and fit. It worked out well for a template for the mini toggles. I picked a swimming pool body for the space and depth.
Just the stuff for the inside. I didn't even use the 3 humbuckers here. I ended up using Neck Enwistle HVX, Middle Entwistle HVX, Bridge Warman 12 Gauge.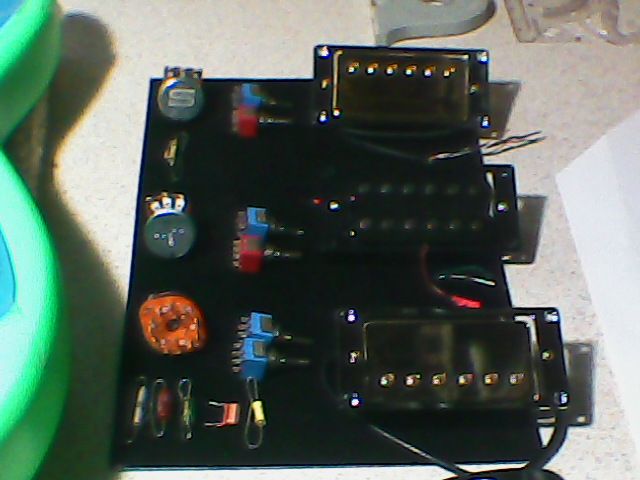 Wiring. I used silver strand RC ribbon wire for the toggles, Vintage push back White, Yellow & Black.
Shielding. First Layer in the cavity Copper foil tape. Second Layer (Over the wire coming out of the Spring cavity Heavy Copper Sheet (with 3m adhesive sprayed on the back)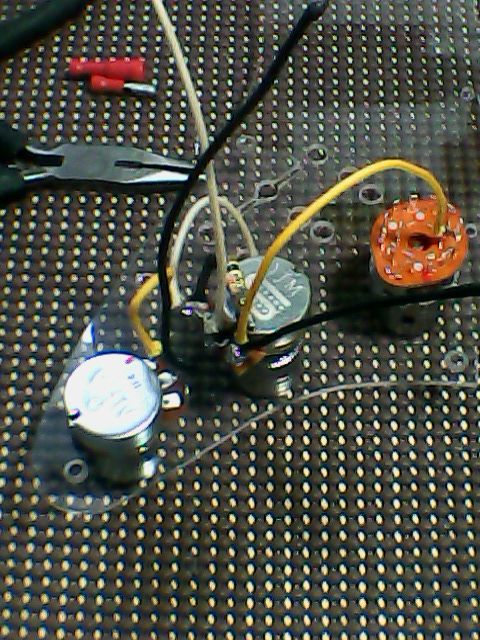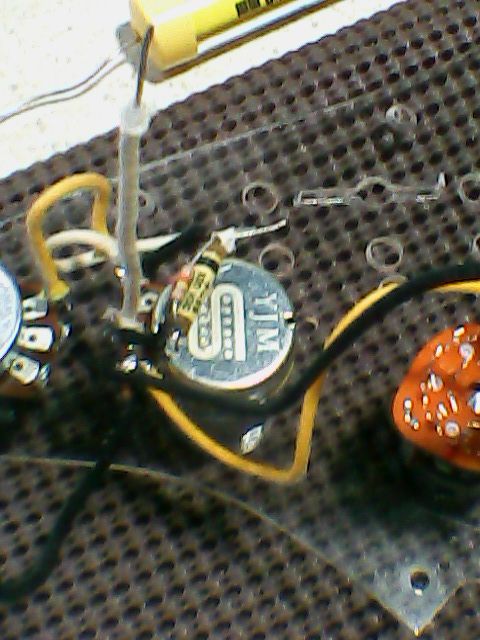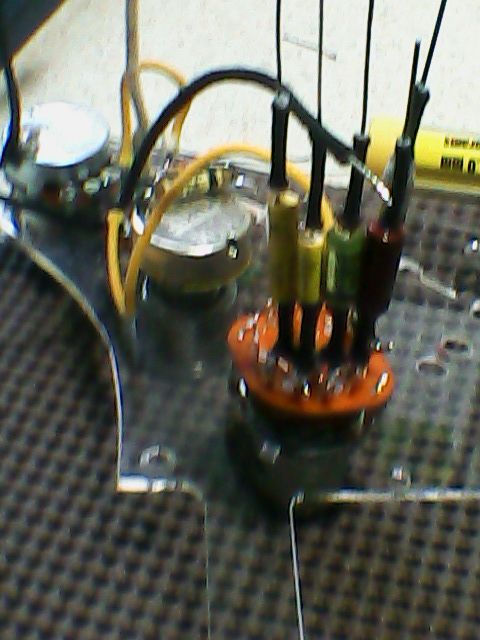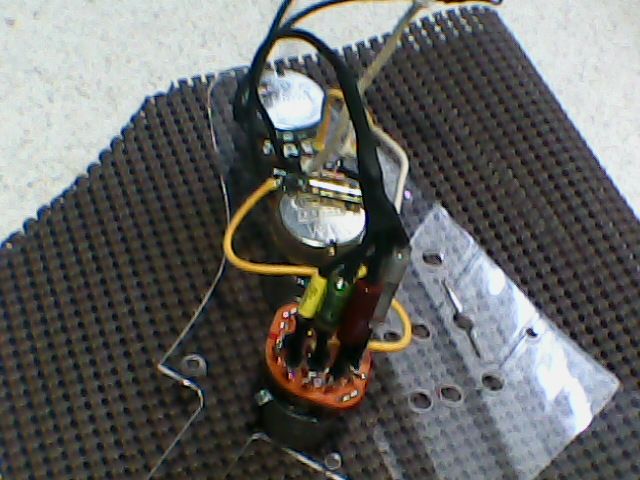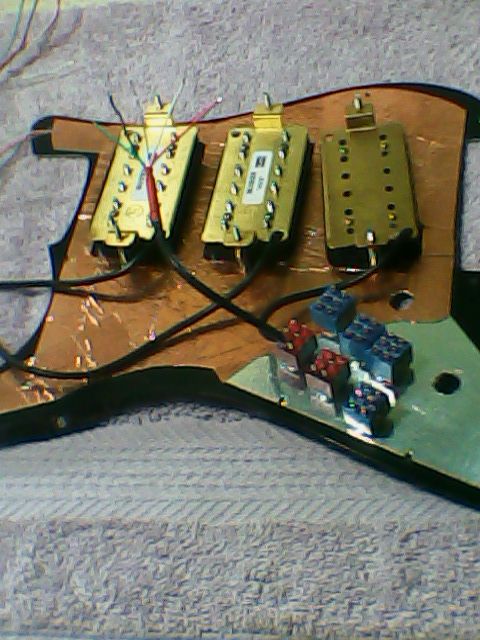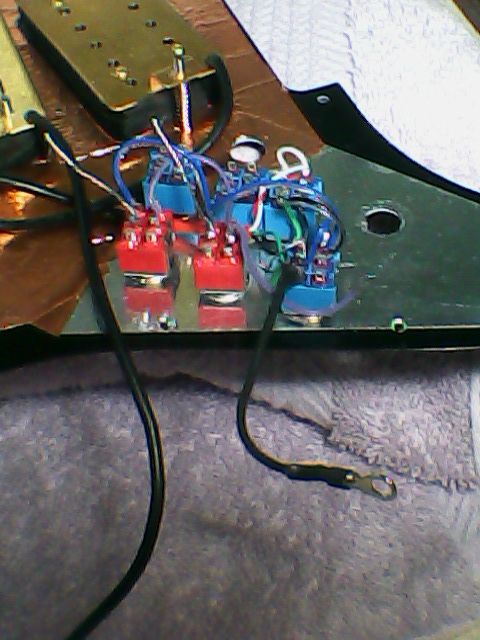 Combining the 2 pickguard components. I have the negative, and positive jack wires installed in the body. I have also ran the spring claw ground under the over the first layer of body shielding and covered it with the heavier copper sheet. All of the grounds will be connected with a brass screw to the control cavity wall.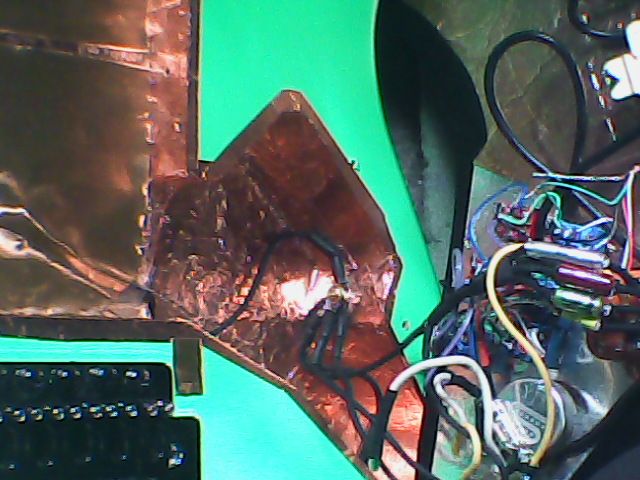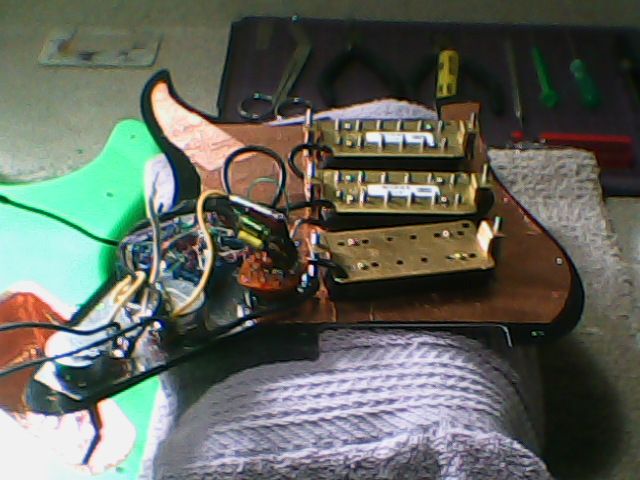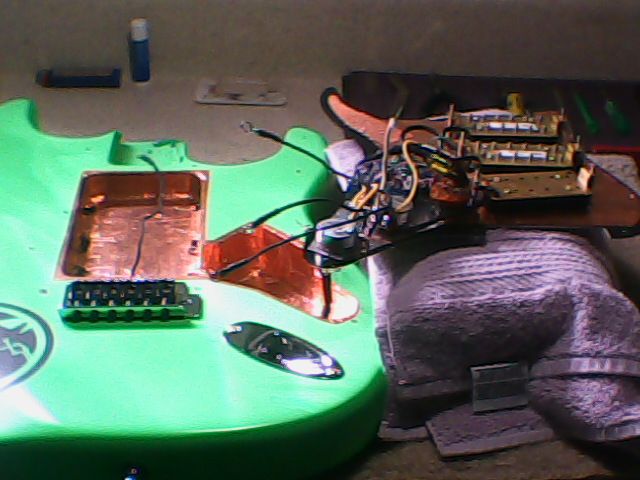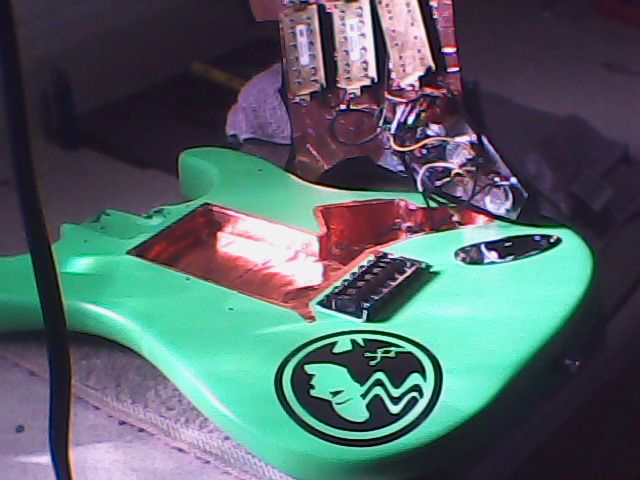 Shielding paint in the spring cavity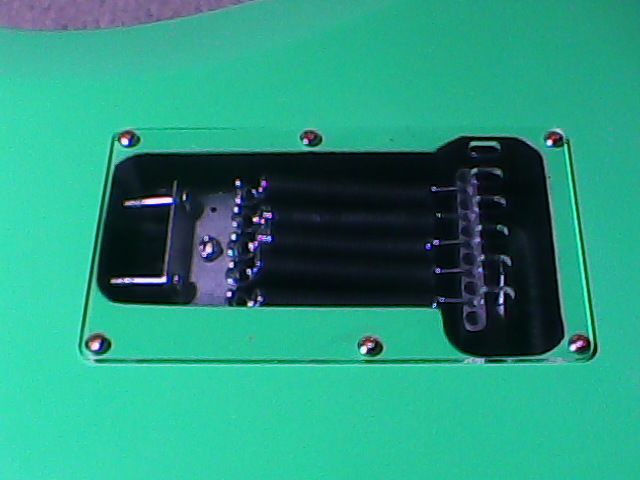 Assembled.... waiting on a neck. While I was waiting

I was hoping this thing was going to work. How to test it. Ahhhh. The forum. Screwdriver test. By the way, the whole time I was wiring this thing I was constantly checking current flow with a multimeter!
Tip: "DO NOT HOLD" soldering iron on mini toggle posts! They heat fast and melt the bases

Pre tin everything.
Tip (From 4real) Ribbon wire works great. All of your colors in one ribbon!

Finally. A neck~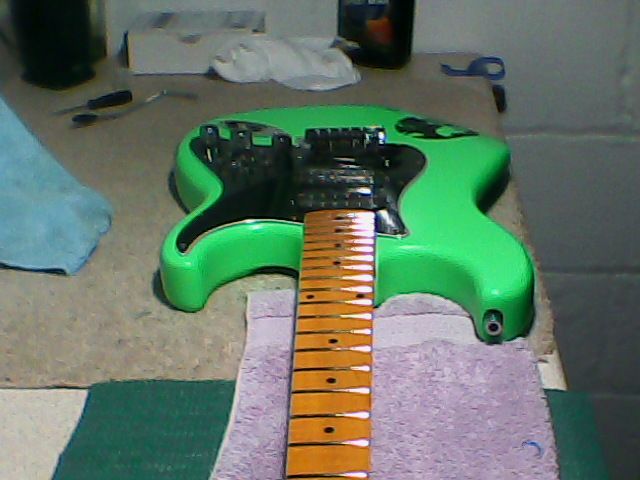 Something I made while waiting on a neck.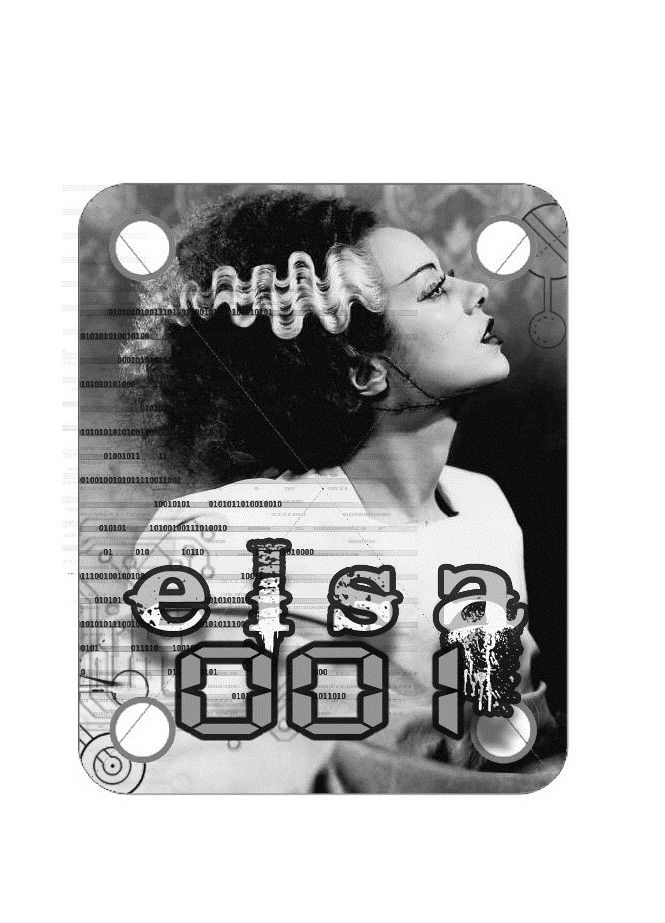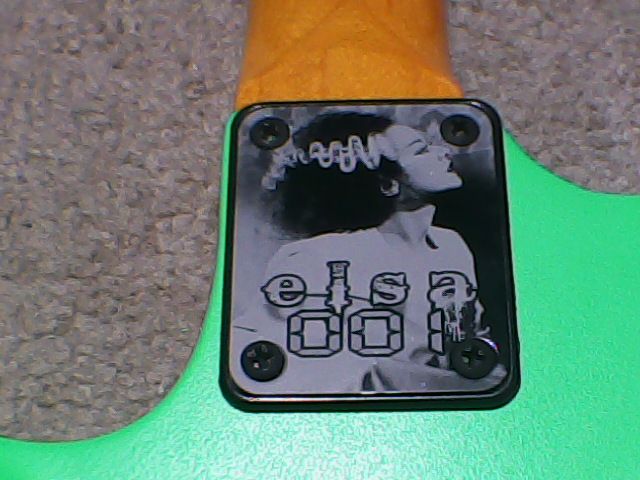 Finished.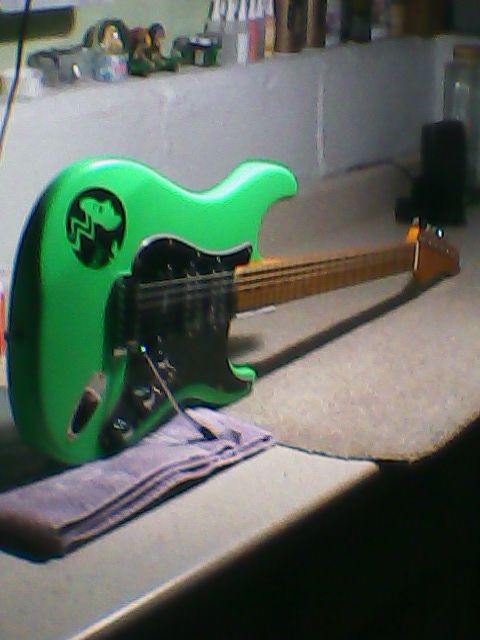 Yes...it's overkill. But that's why I joined Guitar Nuts 2! Thanks GN2. ;D