Post by perfboardpatcher on Feb 20, 2016 4:19:30 GMT -5
ReTrEaD,
The spec sheet could have stated "internal DC resistance" and "external impedance". Ideally the external impedance (of the load) should be as ohmic (600 ohms,+/- 10%) as possible to get the most power across a wide frequency range.
I'm not in favor of considering an electric component as a black box. In some way external impedance and internal impedance (transformer coil) must correlate. Is there a thumb of rule, like for example, the external impedance corresponds with the reactance of the coil at a certain frequency if even only for this particular size of transformer and brand? I understand it's not the 1kHz, that was just the frequency Xicon used for testing.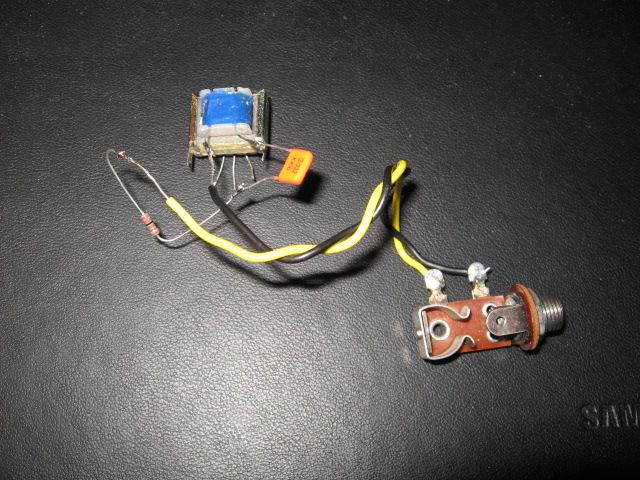 To add some more confusion I did some measurements on a transformer used as inductor. As you can see in the picture the transformer is about the size of the Xicon ones.
The actors starring in the picture are: a no-name transformer with primary resistance 1k, a 3n3 cap and a 22k resistor constituting a series notch filter. I used a signal generator and a oscilloscope to determine the notch frequency and to measure (peak) voltages.
The smallest signal for my 10:1 probe is 25mV. I adjusted frequency and level on my signal generator and obtained a minimum of 25mV across my notch filter at a frequency of 1.1 kHz. Calculation gave me a self inductance L = 5.7 Henry.
But when I checked the signal level it wasn't what I expected. 25mV across the notch filter, 87.5mV input level. Which means the attenuation is 3.5 times and not (22000+1000)/1000. BTW the voltage across the transformer coil is 95mV.
I repeated the measurements at different signal levels:
minimum 100mV
input level 220mV
attenuation 2.2 times
voltage across transformer coil 290mV
minimum 500mV
input level 950mV
attenuation 1.9 times
voltage across transformer coil 1.02V
The 500mV minimum was found at a frequency of 800Hz. I raised the signal levels a bit further but the notch frequency didn't drop lower.
I don't have Xicon transformers so the task of putting those under test I leave up to someone else.
Cheers,
Paul