Post by bpdude on Jan 20, 2008 15:52:34 GMT -5
(Moved to the proper forum by sumgai, 1/20/08)
Hello!
This is my first post on this forum.
I came up with what I think is a good way way to modify my Epi Les Paul so I can blend the signal coming from the pickups. Normally when I play I always have the pickup selector in the middle and then use the individual pickup volume controls to mix the pickups. I find a lot of in-between settings to be much better sounding than the regular one PU/other PU/both PU's setup. The problem with this is that I can no longer use the knobs as volume controls.
This inspired me to rethink the current control elements in the guitar electronics, and modify it so it fits my needs better.
Along the way I decided to make it possible to have different coil configurations (within pickups), and a phase reversal option (global).
I also added an active preamp circuit to have more consistent tones.
So the controls on the guitar would be like this:


1) and 2): Regular Les Paul tone-pots, 1. for the neck pickup, 2. for the bridge.

3) Master volume control, also a push-pull phase switch. It inverts the bridge pickup, and sets it to the inner coil when 4. is in series mode.

4) and 5): three-way 3P3T rotary switches controlling individual pickup wiring. 4 is for the bridge pickup, 5 if for the neck pickup. In the first position the two coils of the humbuckers are wired in series, then in parallel, and in the third position a single coil is used. It also increases the pickup output level when in series or parallel mode.
4. will need another hole that will have to be drilled in the body.

6) A blend pot that mixes the two pickups together


The knobs are not actual size. In reality they are much less cramped.


I drew the following circuit schematic for this task using PSpice student. (Download the schematic from here:
www.mediafire.com/?4qoklad04m8
)
I didn't include the third pole of the rotary switches that can be used to increase the gain of the pickup preamp when it is in split/parallel mode. I'm thinking of using precision trimmers for this.
I also used an inverting buffer to switch the phase of the bridge pickup because I couldn't find a 3pole push-pull switch that would change to the inner coil when the bridge pickup is in single mode. I think this is important so the hum is canceled out instead of added together when both pickups are in single mode.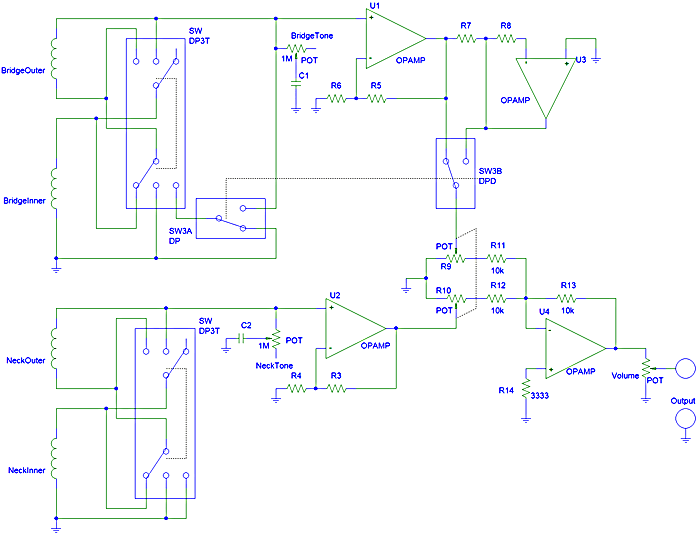 As you can see from the diagram, the circuit is far from being complete. This is where I ask help from forumers who are more experienced with opamps/guitar circuits.
Here are my questions:
What values should i choose for the feedback resistors R3/R4; R5/R6; R7/R8? I think unity gain would be enough for the serial mode, but apart from the ratio of the resistor pairs, what else should I consider when choosing their values?

Is the summer at the output correct?

I should probably use some kind of decoupling. I'm sorry but I know less about op-amps then I should to design such a circuit. Where exactly do I need capacitors, and what value?

I want to use it with a 9v battery. Will a pair of resistors be enough to provide the 4.5v ground?

How should I wire it together with the output jack plug so it turns off when I unplug the cord?

What else might be wrong?

Also, any recommendations on good, low noise quad op-amps that would be suitable for this circuit (buffering guitar pickups, running from 9 volts)


(Edited by sumgai to show the schematic, instead of a nearly invisible image acting as a link.)
(Size should be good now)