Post by JohnH on Jan 19, 2007 20:19:26 GMT -5
Edit 11 October 2020
- see the end of this first post for an updated wiring diagram
How many versions of a Jimmy Page mod do we need?
Well when it comes to Jimmy Page and Les Pauls, I reckon too many is never enough:

The original version of the design is on the Gibson web site:
www.gibson.com/Files/schematics/pagewiring.gif
It uses push/pull switches on all four volume and tone controls, to provide humbucker and single coil on each pickup, phase reverse and overall system series / parallel. It has some good things:


If done correctly, single coil combinations are hum-cancelling

Out-of Phase single coil combos are also hum-cancelling

No change to original appearance

And some not so great features:


The volume controls do not function consistently in series mode

The 3-way pickup selector has to be in the correct position for series mode to work properly

Loss of tone as volume is reduced

Coils are shunted in single coil mode – possible tone loss



There's been lots of versions posted on the net, see Borsanovas excellent recent one, which also adds local parallel wiring and bypass of the three way when switched to series mode:

Borsanova's scheme

But on the principle that more is more, here's my version, which has some different features: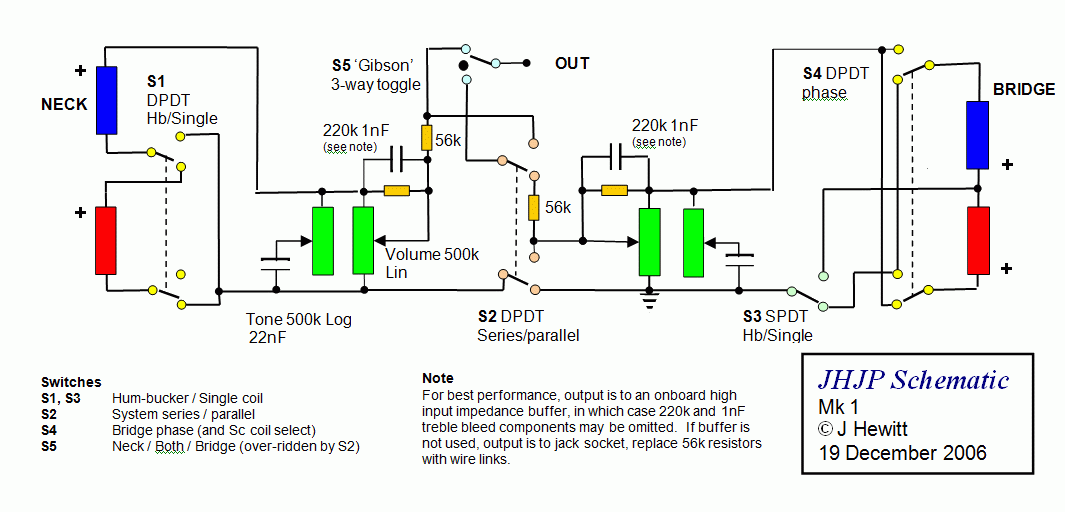 This has the same basic switching options as the Gibson, with added benefits:

As with Borsanovas, the series/parallel switch overrides the 3-way, so it does not matter where it is set when switching to series. I also have found this feature to be very useful on my LPmax design:


For this current JP design, I kept with just the series/single local options, so each pup can be independently coil cut. I find the change from Bridge Hb to neck single to be very powerful, using just the 3-way toggle having preset the neck coil-cut. So I did not include local parallel options.

The volume controls work in both series and parallel modes for setting mixes between pups. The design works best with an on-board buffer, but with the treble bleed components shown, it also works fine as a passive design. I've tested this arrangement on the LPmax, so I know it works in both active and passive. The diagram shows both versions. see this thread for some buffer designs:

Buffers

The volume controls are forwards wired, which gives better control than reverse wiring. I found that with the values shown, the usual issue of one volume fading down both pups only occurs, in parallel combo mode only, when one pup volume is set below about 2. All the useful mixes are at higher levels, so this is not a problem in practice. However, with my favourite JFET buffer added, the 56k separating resistors can be introduced as shown, to stop this problem.

A wiring diagram will follow in due course.

EDIT 25/04/07.

Here is a wiring diagram for the JHJP. It was developed in collaboration with Runewalker, who provided the renderings of the parts (cool aren't they?)

Here it is with passive wiring: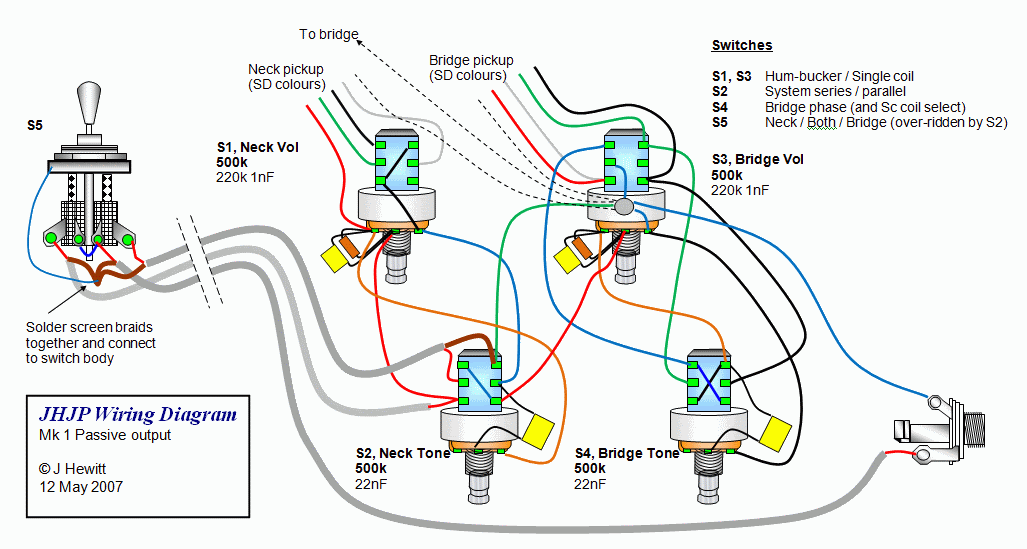 With four pots and four push/pull switches on the schematic, there is a free choice of which pot goes with which switch, and where they are placed. In fact, there are 576 ways to place them. They are all technically OK and valid.

Except perhaps, for the original Gibson way of laying out controls on an LP. Why did they put the neck controls nearest the bridge? Why put the bridge controls, which affect the higher sounds, at the low side? Why arrange the toggle switch, which selects front and back pups, to operate up and down?

We may never know, but based on the preferences of those who will be trying this design, the volume controls, which are the most often used, are put on top together with the coil-cut switches, and tone controls with series/parallel and phase switches are at the bottom. And bridge controls are nearest the bridge.

Now here is a second version wired to an active buffer, of the type I used on the LPMax.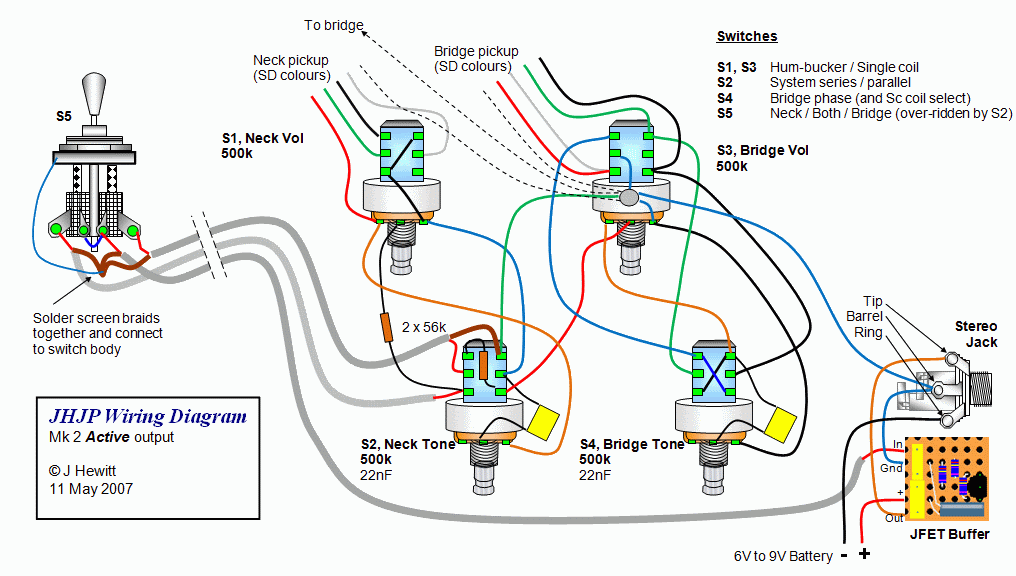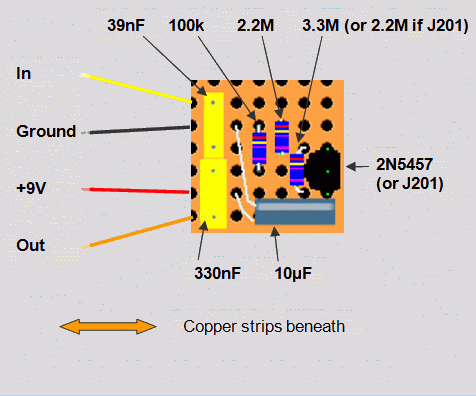 Layout for the buffer, on a piece of Veroboard (stripboard) is shown above, with values for using either a 2N5457 or J201 JFET.

So that should do it, except of course to build it. It hasnt been built yet, but, barring errors, I'm reasonably confident that all the parts of the design are OK since they have been tested on other guitars.

cheers

John

EDIT 25/04/2011:

Switch Settings

Here is a table of switch settings:


11th October 2020 - Wiring
Here is a new wring diagram, respecting the usual positions of LP control pots, and the most common placement of the switches for JP wiring:
The schematic is essentially unchanged from the original passive version of this scheme, with SD colours and also update to treble bleed components based on later studies. I've also tried to capture the real orientations of pickups, polarities and wires, so hopefully it would be easy to configure in practice.
The wires from the control cavity up to the main switch should be shielded, as they are in classic LP wiring. I show it here as a multicore screened cable, but it could also be divided into two or three separate cords.