Post by JohnH on Nov 14, 2008 16:17:58 GMT -5
This thread is about adding a piezo pickup to a Strat style guitar to get acoustic style sounds. It's placed in the rear cavity between the trem block and the body. This post is a condensed version of this thread:
guitarnuts2.proboards45.com/index.cgi?board=wiring&action=display&thread=3633&page=1
Piezo Element
The piezo device was from Jaycar in Australia, inside the plastic case (which I opened up and discarded) is a piezo transducer mounted on a thin brass disk:
www.jaycar.com.au/productView.asp?ID=AB3440&CATID=15&keywords=&SPECIAL=&form=CAT&ProdCodeOnly=&Keyword1=&Keyword2=&pageNumber=&priceMin=&priceMax=&SUBCATID=291
Design Development
In developing the installation, I found initially that the raw sounds, even through a high-impedance buffer, were lacking in body with a big hump in the frequency response at around 700 to 1000 hZ. Heres a raw sample Its piezo only, first with no EQ, and then again played through a network of resistors and caps. Each has been normalized for level only. The buzzes come from it being strewn all over the desk with aligator clips:
www.soundclick.com/bands/default.cfm?bandID=674084&content=songinfo&songID=6966415
And here is a screen shot showing the sample trace, two spectrums, and also the RC network for the second sample modelled with Duncans ToneStack Calculator.
You can see the big hump around 700 to 1000hz, slightly suppressed in the second sample, but still evident, giving it a somewhat honky quality.
Preamp
I made a preamp design that included the RC network, with gain and mixing stages to blend in the magnetic pickups. Here's the schematic: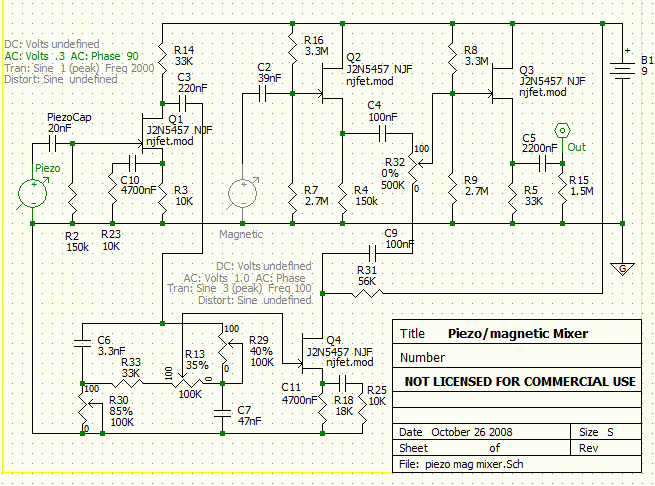 This is the frequency response when the blender is fully to the piezo: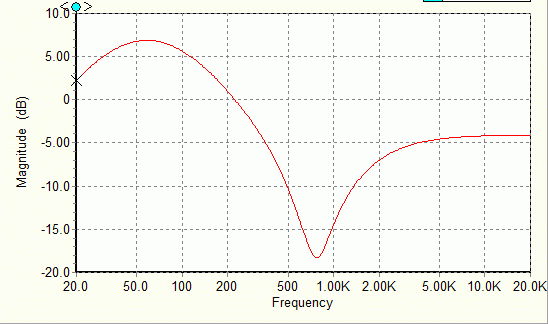 The three presets in the tone network are roughly at the settings shown, giving a dip where I found it to be needed in my case. It still has an element of dobro/banjo type of sound which I'm happy to accept.
I estimate that the raw piezo gives a signal about 10dB less than one of my relatively powerful single coils. So the piezo signal gets two gain stages, one to compensate for this lower output, and a second to boost it back up after the tone network. The mag signal is treated neutrally with zero gain. The whole output is then buffered again, and is capable of driving a PA line input or a guitar amp input.
The magnetic input is taken after the volume and tone controls - any passive pickup wiring scheme could be used to combine magnetic pickups.
The blending is with R32, and its seemless from full mag to full piezo - its really fun to play with and I've found some nice sounds with about 20/80 mag/piezo.
One thing that surprised my with the piezo is that I did not need a very high input impedance, which I had read elsewhere was generally required. The piezo seems to act as a capacitor which generates voltages, and the specs say it is equivalent to 20nF. I found that an input impedance (R2) of 150k gave it a full bass sound, but then a roll off at lower frequencies to reduce unwanted sub-bass thumps.
The current drain is about 0.35mA, so I'm hopeful of a few hundred hours use out of a battery.
This is the construction, on stripboard:

It's sized to fit, with a battery, in the trem cavity which was empty. Hence I didn't need to build it to absolutely minimum size - it's much easier to have a bit of space on the board if possible.
I found I needed to reverse all the mag pups, which helped phase combinations of mag and piezo.
Installation
Here's the installation: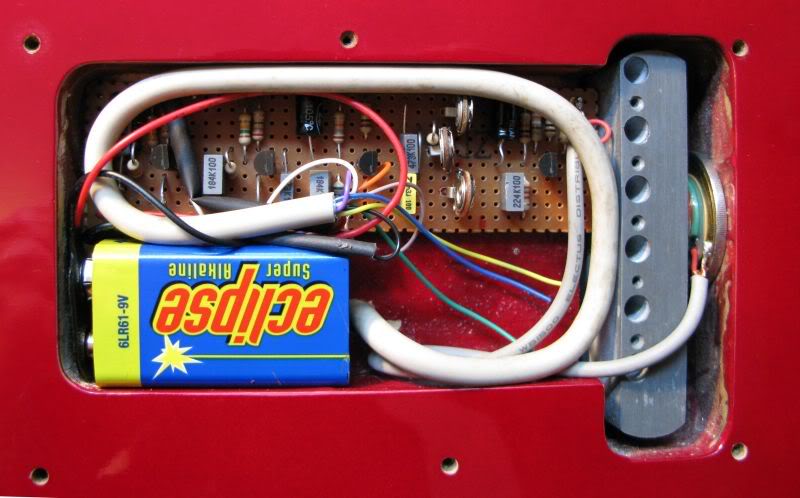 and a close up of the piezo 'short stack', showing the brass disk, with a coin under it and plastic packs on top, all fixed together with epoxy:
There's a single screened multicore cable that makes all the connections to the main cavity, for power control, mixer pot, magnet pups and output signals
Sounds
Now here are some samples, with other guitars for comparison:
First some strums:
www.soundclick.com/bands/default.cfm?bandID=674084&content=songinfo&songID=7044456
This has:
1. An old Yamaha FG100 acoustic, recorded with a dynamic mic. A smallish bodied beginner guitar that I fixed up recently
2. A good Maton dreadought EM325C, recorded with mic as above - recently acquired
3. The Matons own piezo pickup recorded simultaneously with 2.
4. The new Strat piezo system, subject of this thread - full piezo
5. As 4, with a bit of neck magnetic pickup added
6. Strat bridge pickup
And here's just the piezo:
www.soundclick.com/bands/default.cfm?bandID=674084&content=songinfo&songID=7061284
This one is more extensive, showing a range of sounds from the guitar, through a clean amp:
www.soundclick.com/bands/default.cfm?bandID=674084&content=songinfo&songID=7102562
I'm finding it very useful playing in our covers band since it helps me get whatever sound is needed out of one guitar.
EDIT 09/10/11
Heres another sample, with me attempting the intro from 'Dear Prudence'
www.soundclick.com/bands/page_songInfo.cfm?bandID=674084&songID=11118334
It starts with all magnetic, with a series combo of N and M, then at 10 sec, the piezo mixes in, and at 23, it is pure piezo
cheers
John