Post by chase on May 1, 2010 16:57:39 GMT -5
Hi Nuts!
I've been looking closely at the Ultimate Utah Switching Schematic, designed by CheshireCat based on Mike Richardson's mods and posted in this thread:
guitarnuts2.proboards.com/index.cgi?board=schem&action=display&thread=3126
I like this scheme a lot, since it offers:
(a) the standard 5 Strat positions where you'd expect them
(b) an alternate "mode" with the missing bridge and neck pair as well as all of the series pairs
(c) the two standard parallel pairs become series pairs with a flip of the mode switch
(d) no dead spots or duplicate positions
(e) with the exception of hybrid series/parallel combinations and phase (which can easily be added), easy access to all but one of the basic 3-pickup permutations while using only two switches
Mike Richardson's mods, which inspired this one, are also pretty clever, but one of them leaves out the middle-only option (which I like), and another has 3 different triplet options but no bridge/neck pairs, so for me the the UUSS is more appealing.
I took the liberty of redrawing it based on CheshireCat's original diagram and John Hewitt's helpful markup, partly for anyone who prefers this kind of drawing and partly to make it easier to modify for myself: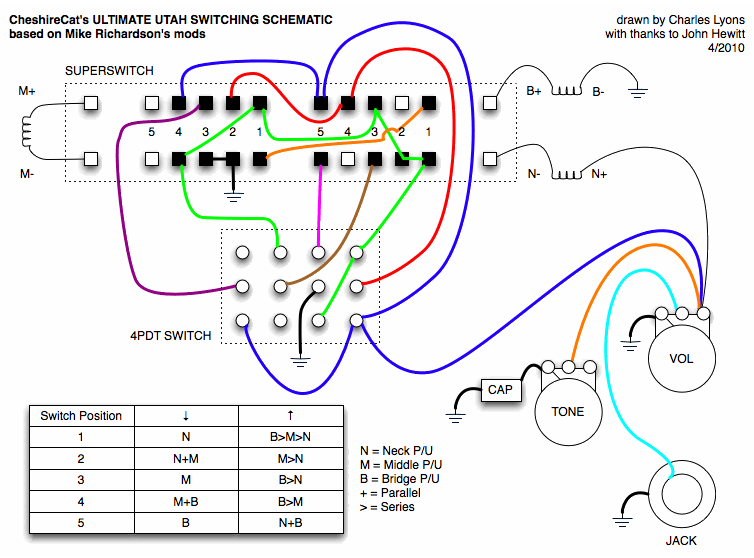 If I made any mistakes, corrections are very welcome. I have a couple questions about this schematic:
(1) Am I reading it wrong or isn't the neck coil hanging hot, since N+ is always routed to volume? Is there any way to avoid this, or is it not something to really worry about?
(2) I'm guessing the neck coil was chosen because it's generally the lowest resistance (and thus quietest) coil. On the guitar I will use this for, the bridge pickup is an (unsplit) humbucker. Would it make sense to switch the wiring so that the bridge is hanging hot, since it has a RWRP coil and should be less noisy, or is it not worth the effort?
Thanks to anyone who can answer these questions!
Once I had drawn this out and worked out the switching logic, I came up with two variants. The UUSS has one three-pickup combination, all-3-in-series; the one basic combination missing is all-3-in-parallel. From what I've heard, the hybrid series/parallel triplets don't add much, but I decided I'd rather have the parallel version, which I figured shouldn't be too difficult since it's simpler than the series version. This is what I came up with:
Finally, the UUSS has a logical order to the alternate mode (based I think on how hot the output is), but it made more sense to me to have the triplet (all-3-parallel) option in the middle and the bridge-neck pairs at either end. This way when you flip the mode switch to go from standard to alternate, any pickup(s) active in standard mode remain active. The 2 & 4 pairs go from parallel to series (as they do in the original UUSS), bridge or neck by itself becomes bridge & neck, and the middle position becomes all-on:
EDIT: sumgai spotted some mistakes, new diagram #3 is posted a little further down. If it passes inspection I'll put it here but in the meantime, learn from my screwup!
I figure this should be fast, easy to remember, and very versatile. Again, corrections or suggested improvements welcome. I put B+N in position 5 and B>N in position 1 because I figured I was more likely to go from bridge to B+N than the other possibilities, but it could easily be the other way around. (And if I've posted this in the wrong place, please move it wherever it should go.)
Thanks,
Charles.