Post by 4real on May 15, 2010 22:02:57 GMT -5
Hey there
Been a while, moved twice and now living in the country. Last guitar that I worked on was a blue telecaster with sustainer and phase switching and a few other unique features...including a kahler hybrid trem.
This was to have a 'sister' guitar...but with all that has been happening it was hidden under the bed half completed...so with some new musical directions and a new home (an a dose of the flu) I figured I need a new guitar...so here it is...
....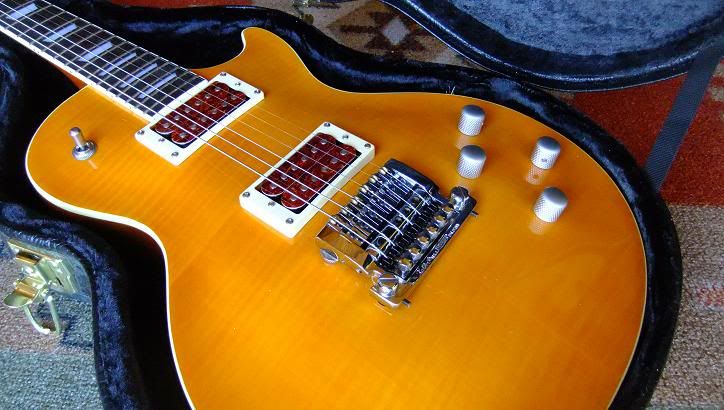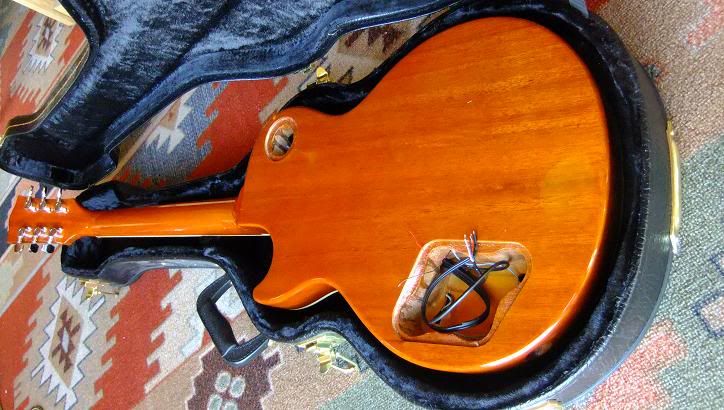 Ok...so what it is is a chinese LP copy...so far fitted a kahler bridge to it but there is a bit of work to do to get things set up.
You can see that I am going for a streamlined modern look with plain matt knobs and chrome selector.
I do have however, 4 push pull pots.
The pickups are apparently fairly hot, not heard them yet, got them for the nice looking tortoiseshell bobbins I have to admit, and pretty cheap as well, but seem a decent build quality. They have shielded 4 conductor wiring.
So far, the bridge is fitted, and strings installed (though the nuct and other aspects will need to be worked on...but first it needs to make a sound!
I also have in mind a bit of an experiment, I installed under the bridge a piezo element...typical buzzer thing...presently it is installed on the wood directly under the bridge.
So...am looking for some suggestions for wiring the thing up and perhaps the piezo thing without adding further switches than necessary.
Installed already is the selector and wired back to the main cavity, pickups and the piezo element back to there...otherwise a clean slate.
For a piezo preamp, I have and had in mind using a PreCHAmp kit that is commonly available...
www.jaycar.com.au/productView.asp?ID=KC5166
I used this kit quite a bit with the sustainer project stuff and seems to work well...may need a 10k pot if I want to put an on board volume control for it...I could just have a trim pot inside the guitar for a preset volume...
...
The other thing is, I used to play LP's exclusively...in fact just the one for about 25 years. I recently got it out from under the bed and have renewed my admiration for the thing after many years with various fender style guitars. This is original (about 69 black custom), weighs as much as a housebrick or two and is far too valuable to take out an about...plus lacks features like a trem that I had gotten used to in a bigsby kind of way.
It does however feature two way splitting of the HBs and have always found this useful. Especially in the middle position and adjusting the mix between.
I had been thinking of it for a solo thing that I was working on, got distracted playing soul music for the last year, but now revisiting with earnest. Basically developing a 'one man band' kind of thing with fingerstyle guitar bass and melody of pop standards...so, not the most obvious choice of guitar, but the LP was originally designed as a jazz guitar after all...and it looks the part...
...
I also want this thing to be as quiet as possible...don't want a lot of buzzing in the background if I play some little cafe or something.
So, looking for useful scheme for clean sounds generally, a range or useful tones but nothing too complicated. A bit of variety perhaps for the kinds of things I am intending it for, and just generally jamming about as an alternative to the tele...
The piezo thing would be a great addition...not sure how effective it would be on it's own, so had intended perhaps having it as a simple on/off thing added to the electric sounds It's mounted to the wood below the bridge and I think it should get a bit of the guitars woody vibrations from there...maybe add a bit of a jazz box kind of tone to it, if it worked well, a true acoustic thing would be nice, but not sure the sound quality will ever be there for this kind of instrument and set up. Still, would not be adverse to a separate volume or mix control for it I suppose.
So..hand it over to you guys for suggestions...
It certainly is a nice looking guitar and surprisingly well made...it has a typical flame maple 3/4" top and mahogany back, but does not weigh as much as a real one...the khaler may make it a bit brighter, but I have found these bridges do give great definition to strings...so not your typical LP will come of it I expect!