Post by 4real on Dec 23, 2010 23:22:57 GMT -5
Here's my strat...this guitar has a bit of a history, a great sounding and playing guitar but been sitting in various cupboards with failed over enthusiastic mods and been 'unplayable' for about 2 years now!
After finally rationalizing things and rewiring to something I like and new pickups, it feels great to have it back...
It's been refitted with Seymour duncan JB pickup in the bridge and a pair of fender noiseless SC's from the Jeff Beck Signature model courtesy of the "stratosphere" actions...along with locking fender branded schaller tuners.
The pickups look a bit 'washed out' in the pics, but they are quite a deep and matching cream giving the impression of 3xSC's plus the black coil.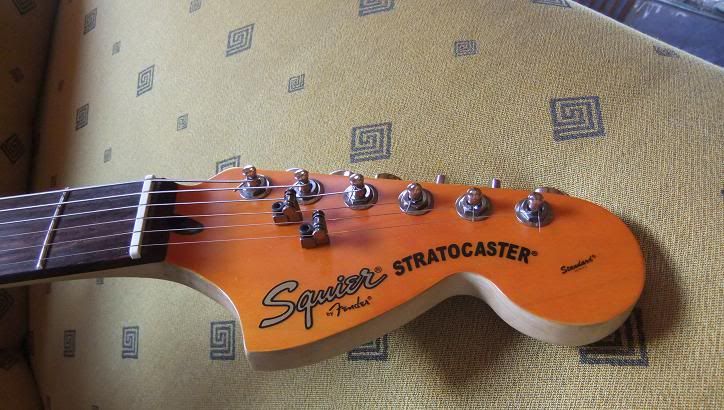 The headstock is the larger fender style and the face stained to match the body. Although it has staggered locking tuners string trees are still necessary to at least stop sympathetic behind the nut vibrations (on my tele, an LSR has tiny foam pads to prevent this and can do away with trees)...so on this I got some largish roller trees.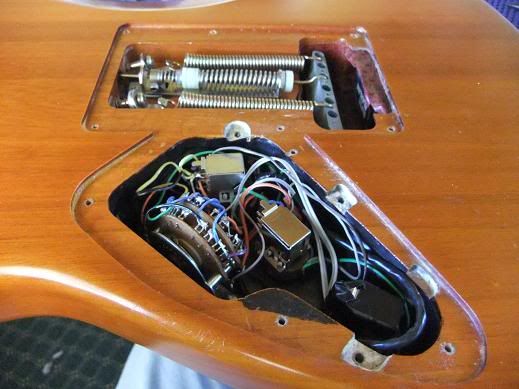 As there is no scratch plate, the pickups are top loaded (sprung with foam under and screwed directly to the body...the HB is in a conventional ring. The control cavity is from the back and pretty small...however, on this 'higher end' squier it cam fully shielded in paint and foil. There's not a lot of room to work in there!
The wiring required a super-switch which only just fit this slightly thinner body and thicker top...and 3 push pulls.
you can see also that it has a "tremsetter" in an effort to stabilize the trem a little...not totally convinced, maybe need to play with it more!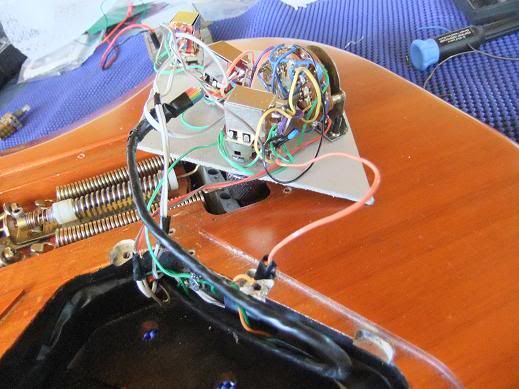 Wiring was done on 'cardboard' and fully tested before squeezing it into the control cavity...I put some tape on the foil back plate to prevent shorting on the super switch which hits the back plate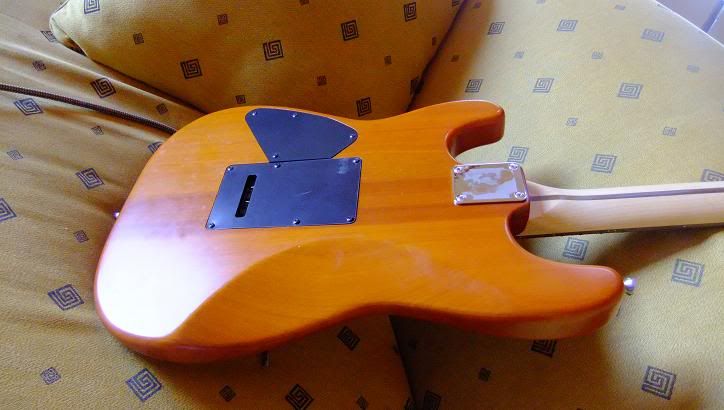 All 'locked down' and you don't see all that stuff...but you might see a pic of JB himself lazer engraved onto the neck plate for inspiration.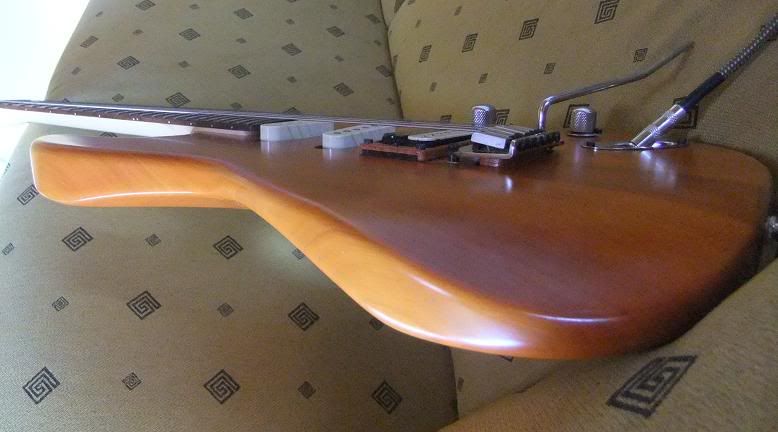 The sexy side view...prior to wiring, you can see a glimpse of the abandoned 'uber pots' that was holding things back I fear!
Of interest is the pickup ring which I upholstered in Emu Leather...kind of looks a bit like snake skin, matches perfectly the guitars color and is super soft to touch...a little bit of tortoiseshell on their too which feature on most of my guitars.
I even emu leathered the sustain block and under the bridge plate to avoid marking the guitar and 'banging' if one were to use extreme bends and hit wood!
The side view also reveals something of my extreme bridge setting...influenced a lot by Beck's set up. The original two point trem sits up very high as you can see. 10-46 strings and get a bit of an idea of the kind of action I like...the neck is adjusted virtually flat and is kind of slim and satin.
In going with my "hot rod" aesthetic thing...there are a few unique things to this guitar, most notable is that I replaced all the screws with black 3mm allen bolts, pickups, jack (with rubber o-ring mod), selector...even the string trees!
There are other mods and still some tinkering to do in the wiring...it actually has a battery compartment hidden behind the trem block, but the guitar is now passive...even has a piezo element and sustainer driver still fitted in there not connected to anything.
The pickup selections are as per the Mike Richardson basic scheme...
default parallel mode
N
N+M (p)
N+B (p) (123)
M+B (123)
B (123)
series mode (pull vol control)
N*M*B (p) (123)
N*M (p)
N*B (p) (123)
M*B (123)
N+M+B (p) (123)
The N+B is highly preferable to the Mid alone and one of my favorite settings...tele like, think Keith richards kind of tone perhaps.
There is a master tone and a phase switch for the neck, all combinations with the neck can be out of phase (p)
The real winner in this HSS strat is the central "spin-select" control...this is a spin a split effectively for the HB but also with a p-p function to select between which coil is split to...default is the sweeter inner coil, pull for biting close to bridge sound...dial in midrange and HB boost as well as full noise canceling to taste.
All selections marked (123) therefor have 3 very different bridge pickup sounds and the ability to mix the split...
If these are counted as 3 different sounds...then the total number of variations of selection is 30 by my reckoning and all pretty useful, logically laid out and 'invisible'.
High points are the N+B centre selection giving a great all round 'brash' tone, the N+M+B giving a soft almost acoustic sound, the N*M*B giving a deep dark 'jazz' tone...and of course the "spin select" control that will alter these and others to taste and overcomes some of the compromises of the HSS format in a strat.
Overall, very happy with the results, all positions have that unmistakable stratocaster sound other than the 'strato-noise'...other than full splits which are remarkably quiet, the thing is dead quiet till you hit a note.
It's a unique guitar and a good all rounder but still complementing the LP and Tele for a place in the arsenal...but for now, can't put the thing down!