Post by 4real on May 31, 2011 6:17:16 GMT -5
Hello again fellow nutz
Hope all is well. Down here it is the last day of autumn and in the recording adventure coming along. Today I got around to streamlining things after picking up a decent velocity sensitive midi controller on eBay.
My cheapo USB hubs don't seem quite up to the task and probably need to look into a few other things...but very pleased with things and learning a lot...even taken up the piano a bit more seriously.
ok...so here is a pic of the studio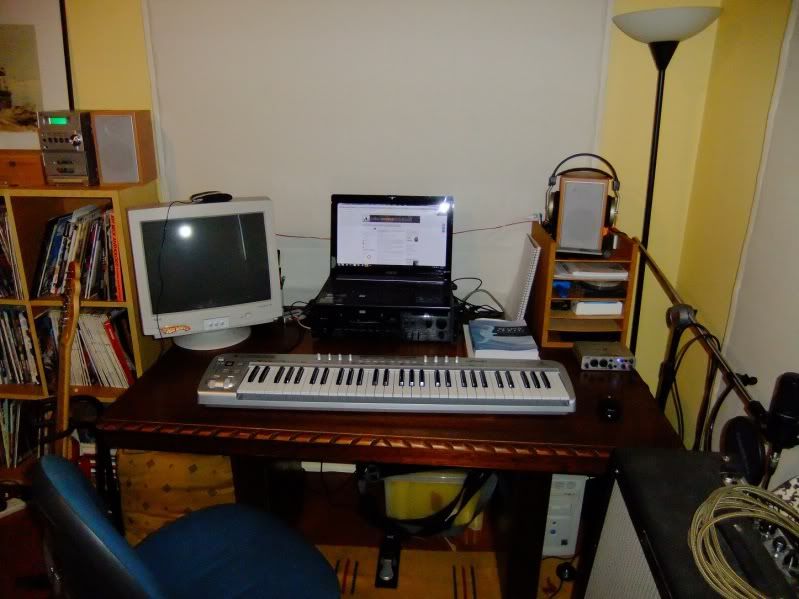 Things to notice is the monitoring through a compact HiFi,,,I know, not common practice (but money is tight) but they work quite will, even has a remote control for all functions. It has the usual EQ settings...but also features a 'flat' response setting that seems to be fairly true. At least I should know what a final mix should sound like through this hi-fi.
The old chair, important not to have arms on them...only makes it difficult to play the guitar right!
The new KB is a Behringer and you can see the sustain pedal under the desk...this is a really useful addition and certainly helps if you are a bit of a hack KB player.
I did find a really cool KB learning program called synthesia...
www.synthesiagame.com/
Kind of a 'guitar hero' for piano that will teach or 'score' from any midi file...free...or $25 gets you the addition of notation and a few other features. The free version though is fully functional and I've been very impressed...obviously you can slow it down LOL.
Other things in the above pic is the UA-25 interface to the right that has two preamps, limiters, midi interface and headphone monitoring.
Guitar amp has moved closer and the AT2035 mic.
The old monitor is from the old computer, I could run it as a second but the resolution is poor...one day perhaps a bigger monitor.
I brought up stairs my old cassette deck, this has been great and many hours of recording fun was had bouncing cassettes between this and another. I intend to use it to recover some of that material from the past. Having the lap top on there puts it at a good height for recording (most things are mouse controlled or short cut keys) moving the keyboard aside I can bring it closer for editing and such as required...the mouse is wireless and may one day get a wireless keyboard marked with the many reaper shortcuts to make things easier. The laptop is good because in the event of a power out or occassional blip, the battery inside will prevent a crash and keep things runnign for a bit, as most everything is USB powered, these devices will continue to run also.
Guitars handy to the left...always have a guitar at hand...though I confess I have been taking a break from it lately.
So...that's a view of the desk...the house is largely glass and very high off the ground, very few neighbours and not for a few houses in each direction...but a great view out to the right of the desk...
Here it is tonight, the last day of autumn...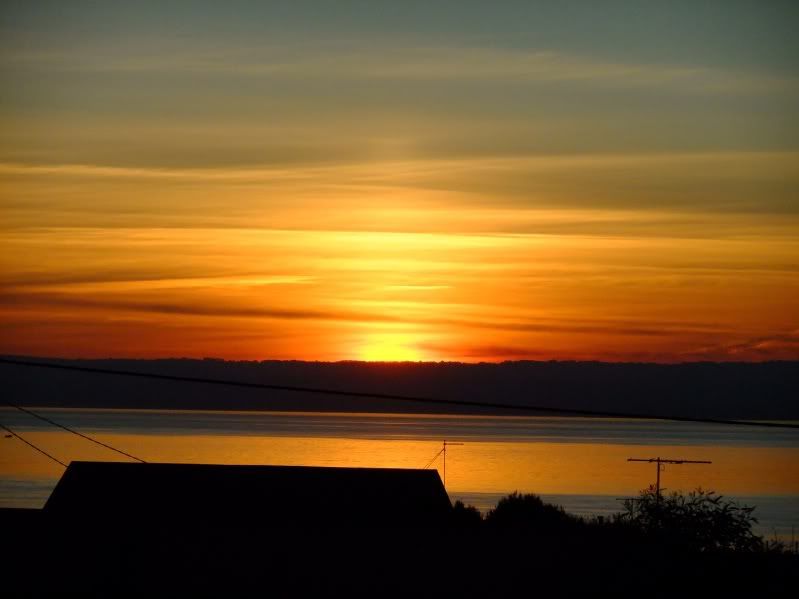 Fortunately, just signed another lease, so will be here for a bit yet. Time to get down to making some music, been very distracted trying to get a handle on the recording tech, but now I know that if i just hit record, all those ideas one comes up with are there to review later.