Post by JohnH on May 4, 2013 20:58:55 GMT -5
Here's a further development of the
SSM
design. I've built this into my Strat and its working very well.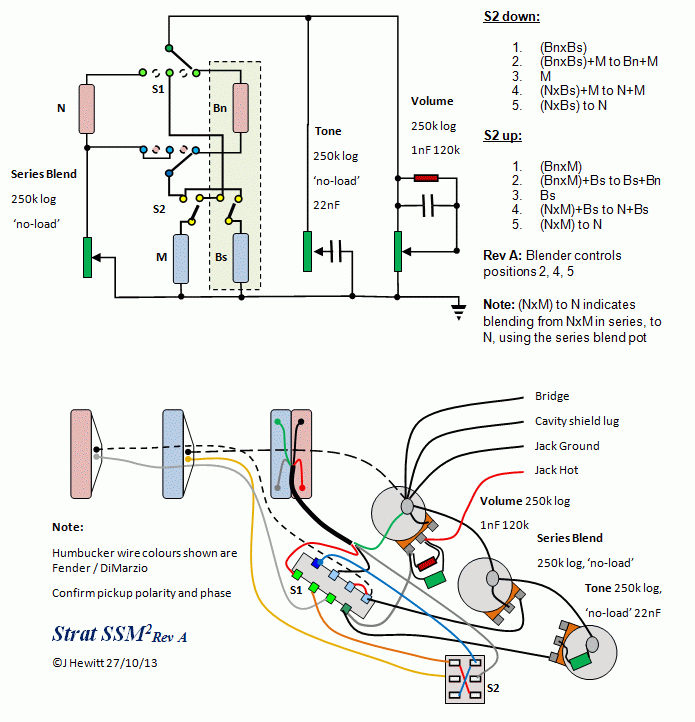 (Edit 14/9/13) This system is designed to use standard single coils, with a humbucker, rather than noiseless singles. Although it will work with noiselss pickups, the pot values and the ways that coils are combined are optimised for normal pickups, to cancel hum between coils wherever possible. With noiseless singles, combinations involving a bridge coil and N or M will hum, to a small extent. I have built this with two Texas Specials of 6.2k, and a humbucker of 8.4k, on my American Special Strat. To make the noise cancelling work, the relative magnetic polarity of the coils is important, and this is indicated by the shading colours of the pickups in the diagrams.
The main change from the base design is to include the dpdt switch noted above, which swaps a bridge coil with the M pup, and delivers a new set of 5 different sounds on the 5-way. I also found that I wanted to put a tone control back, so there is now a master tone pot, and one series/single pot which acts at positions 5, 4 and 2. I wanted the Bridge humbucker in position 1 to be unaffected by the series pot, since it is the main go-to sound, and bridge single is now available as its own setting.
With the series blend pot and new dpdt, there are now 15 different sounds, with tone control. I think that is not too bad a collection for just one extra dpdt switch.
All the sounds are good. There is a single coil sound for B, M and N, and all pairs of humcancelling coils are available in series or parallel (and no humming pairs), plus four three-coil series/parallel settings.
The bridge parallel sound is a nice surprise, very clear and bright but a bit weightier and smoother than a pure single. Putting the M into the series combinations instead of a bridge coil adds extra girth, as a contrast to the bridge humbucker, and Neck x Bridge sound.
In use, the default 5 sounds for an HSS (Bhb, B+M, M, M+N, N) are all there with S2 down and series pot at min.
The use of the no-load tone pot seems important (or use 500k pots). In the thick series settings such as NxM, the tone starts to change as soon as the pot gets off its no-load setting.
I tried with a few cap values, but settled on a standard 22nF. With a wide range of series and parallel options, there is a factor of about 5 in pickup inductance, from parallel bridge coils to NxM series, and the resonant sound at minimum tone varies widely. With parallel bridge coils, its a very usable honky kind of tone.
The dpdt could be of any type. For this build, I am trying a sub-miniature toggle, which fits through a 5mm hole instead of the usual 6.5mm. It's less clunky looking than a normal mini and I have it set between the two 'tone' pots.
I will try this with the band next week...
cheers
John
(Edit: 27/10/13)
Humbucker to single blending
This further version adds blender control to position 1, to allow it to transition from humbucker to single coil. It will behave like a 'spin-a-split' control. When it does this, it gives the opposite bridge single to that available in mode 2 position 3. It is also likely to give a good effect controlling the amount of M in series with the B single, in mode 2. The only differences to the version above is one link removed on the main switch, and one blend-pot wire moved.