Post by 4real on May 17, 2013 19:28:57 GMT -5
Well it was bound to happen, even on an acoustic...modifications...
My guitar these days is an all solid wood 'mini jumbo' Seagull Maritime. I chose if for a few reasons after much consideration last year, a primary desire was for the wider fretborad and solid wood, especially the top. There are a bunch of innovative and unique features to this model guitar.
I've also been experimenting with altered and open tunings. While the 'schaller like' closed tuners were decent enough, I've been 'spoiled' by the shaller locking tuners on most of my electrics and seems odd that you don't see locking tuners on acoustics too often.
One feature of the 'seagull' guitars that is obvious is their distinctive headstock shape. Some people don't like it I know, in fact godin's simon and patrick line is effectively just a seagull model with a more traditional headstock. Personally I like it on my guitar and apprectiate the reasoning for it. The much straighter string pull helps with tuning.
Seagull guitars also come standard with great Graphtech nuts and compensated bridges as well so there is no sticking of strings in the slots and such.
Other interesting features are a dual action truss rod that extends with the neck, virtually up to the fretboard. The brace just forward of the sound hole also has a very slight curve to it, this gives the top a bit of inherient strength where it is needed most through geometry. A lot of bowing of the tope comes from the fact that the sound hole cuts a big void in the very place that there is strain from the bridge. The strength also allows for a slightly lighter bracing making teh guitar more responsive. To the eye, it is barely noticable, but you can see it if you look very closely. There are lots of cool little innovations in these guitars and far cheaper for the features than any other brand.
...
Ok...so the first mod has been tuners. After being impressed with hipshots 'trilogy tailpiece' on the last project, I chose their new locking tuners and so glad I did...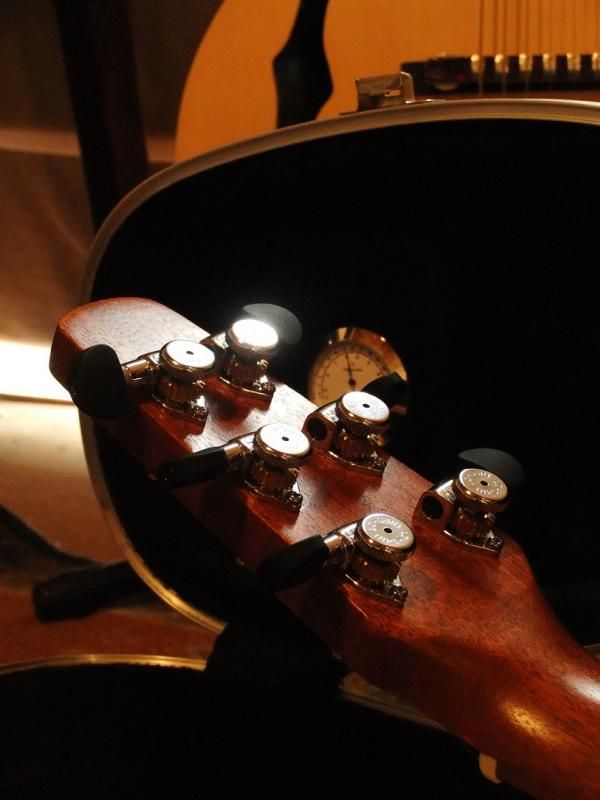 They have a slightly higher 18:1 ratio for finer tuning. To do that, they have had to use an opened back design. The strings lock with rear thumb screws that will not fall out even when fully extened. The tuners can also be 'customised' with a range of alternate buttons. The standard ones are 'atypical' but are better in person than one might think. To suit this guitar I chose some small black buttons which I discovered when they arrived, have a lovely satin look and kind of light 'non slip' kind of feel to them...they feel really firm in the fingers while tuning which is great.
They do have an unusual screw placement, but came with alternative plates if you really don't want to use the screws at all...screws are neater and better. I'll post some installing pics when I get time.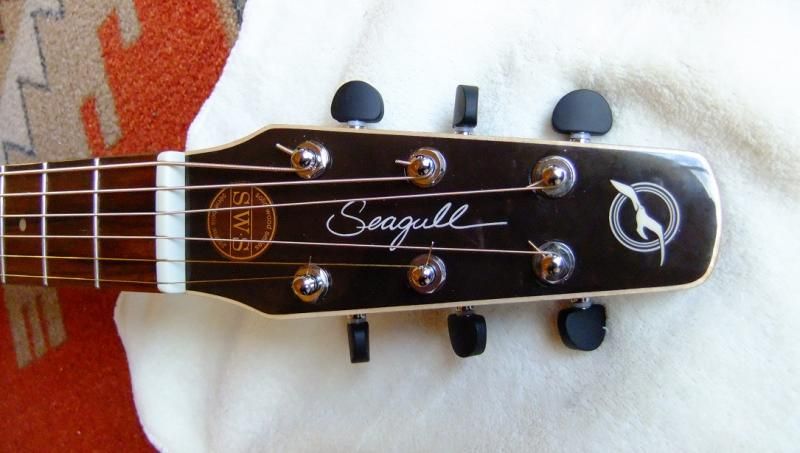 From the front they look like this. The posts are a bit shorter so the same angle as if wound a lot, but as you can see, hardly any turn to get them up to standard tuning. A bit of a string stretch and retuning and it's staying in tune rock solid, even with brand new strings. I upped the gauge to 12-54 and trying uncoated Martin Phsopher bronze SP's on a recomendation. They do sound good and getting used to the gauge ok. Interestingly, the bronze coat even the high strings, so a fetching gold all round! Obviously with locking tuners, you can take the strings on and off or replace them in no time.
...
So not a lot of time just now, but this is stage one for this guitar. I will post some installation pics, perhaps a few pics of some features of the gutiar and then...on to the next stage. Due to the weather, I'd not been able to do the work I'll need to do for that and possible a couple of parts required, but am planning on an additional pickup stereo active/passive sytem and an unsual mounting scheme.
The guitar comes with a nice Q1 piezo system which I think might be a rebranded LR Baggs design. It includes a nice little tuner and simple volume, treble and bass rotary controls and a subtle feature. It does soung very good, but looking for an aditional sound source and something a little different in sound and versitlity.