Post by 4real on Aug 8, 2013 6:44:46 GMT -5
Well...I've neglected to write this up for the gallery but was a very involved project and included a lot of collaboration here, particularly with the electronics and bouncing ideas around on an extensive thread here...
guitarnuts2.proboards.com/thread/5970
Perhaps I've neglected it a bit because I am not entirely happy with it as an instrument, but as a prototype I think it's been very successful...despie still a few bugs and needing to return to 'finish' even more ideas like the 'bass expansion' side of things...but it is a proof of concept and done on the cheap...though it does play well. If I had my way I'd take the best of this 'concept' guitar and hope perhaps to make something special one day out of thse ideas as some of them really do work well.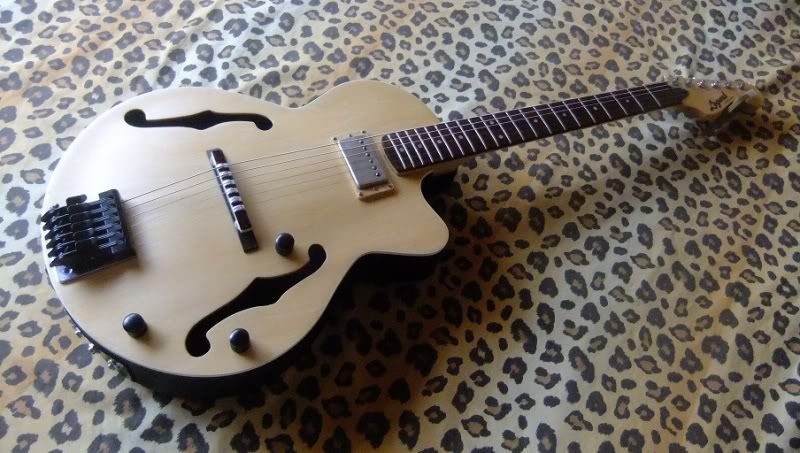 I'll probably add a bit to this thread, but this is something of an over view to the instrument and concept for now. It's a 'bitsa' guitar, made from the neck of an old 'pawnshop strat' (so a little narrow for the kind of fingerpicking I play now and this is intended for, though quite a good neck in a typical 'strat copy' way)...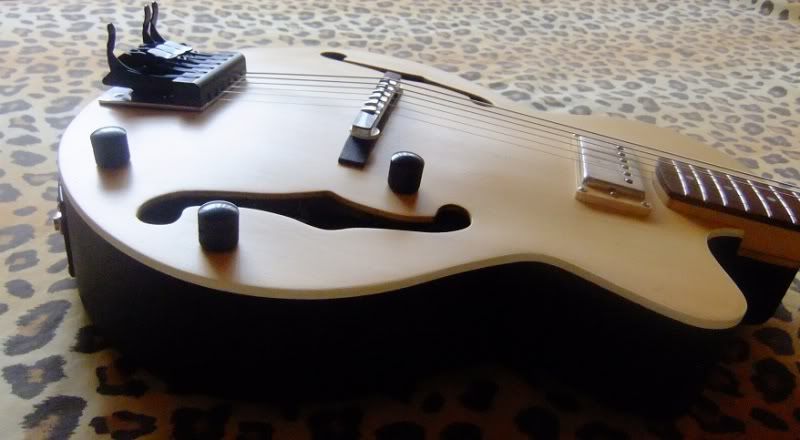 WHile I tried to make my own 'tailpiece version' for a bit, the hipshot really is the business for this multi-tuning thing. There are a lot of provisos though. I had to forinstance really support the top of this guitar so it does not make a lot of sound, a bit like a 335 or something perhaps. But, the neck too is a little flexible so as the tensions on the strings alter, so to the flex in the system and so the other strings. A lot of messing around though got it to be very accurate and currently have it adjusted for E-D-C on the low string and half steps as I recall on all the other strings which gives you a massive number of usable tunings...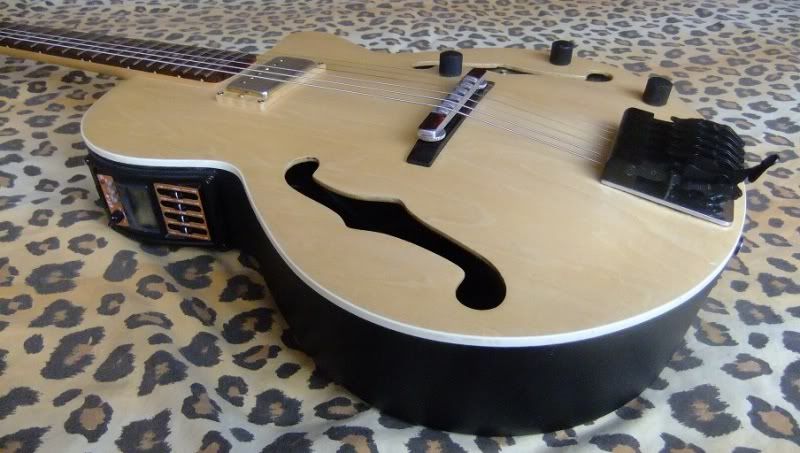 The guitar looks nice and un-fussy yet there is a heap of 'stuff' in there. On the side is an EQ and tuner for the piezo that I built into a custom aluminium bridge with very accurate fixed intonation.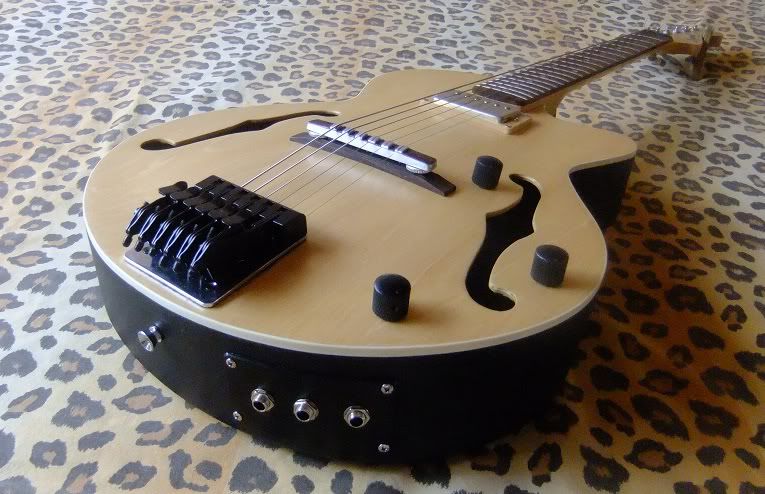 There are three output jacks and control knobs. Inside the lower sound hole are a few hidden but easily accessible switches...
The three sockets allow for standard leads to be used and can be a mono combined signal out, or separate leads for piezo and mag to say separate amps or channels...the third one is for the 'bass expansion' experiement that was tested and built but not fully implemented into it.
The three knobs are a master volume control and a blend/pan control for teh two pickup systems and channels. The third knob is for the prospective 'bass expansion' volume to it's own output as a separate system.
The switchs in the sound hole are to switch between Pan or blend for the rotary control. There is a series parallel switch for the HB and a 'tone switch' for that 'jazzy' deep Wes Montgomery kind of sound (since there is no rotary tone control. There is a phase switch that has little effect as it turns out, in case there was a problem with phase between the two pickup systems.
...
Overall, a very long and involved project with lots of hurdles and constraints, especially in terms of budget and tools and lack of workshop and myriad other 'excuses...but still is a fun guitar to play and does do what it is intended to very much, so as a proof of concept it is a winner I think...and a tribute to all who participated through 16 pages of thread back then!
I really wish I could take the 'best' of these things and in that regard, I'd likely go for a solid guitar with a wide neck, likely carbon reinforced to eliminate flex from the tuning...
It's been kind of side lined, but yet still a big influence on me and the next project, the 'seagull' that I am working one now. This uses locking tuners to do the multi-tuning thing, obviosuly not as cool as being able to switch tunings instantly, even mid song...but still, has all tha acoustic zing. It has the wider neck that is essential and a good piezo system to which I've added a mag pup to it, again running in stereo but with the 'controls' essentially externall, in a mixer or recorder or amplifier rather than inside the guitar and trying to combine active and passive systems. I even reinforced the top with a JLD bridge system that is similar in some ways to the manner in which I braced the top on this one.
Anyway, enough for now...there are a lot of clever ideas and concepts in this, there is the buld thread, but likely will add to this thread with some more pictures and happy to answer questions about the guitar and such if people are interested further...