Post by borsanova on Nov 20, 2005 19:58:04 GMT -5
Hello, here is a cool mod for Stratocasters, that will slightly change the look of your guitar, but it will give you 15 different sounds.
I call it
The STRATOCASTER BERMUDA
It's a Stratocaster with 15 different sounds, among them
parallel
out-of-phase
serial
serial out-of-phase
and
combinations of all the above.
I call it the
STRATOCASTER "B E R M U D A"
(all rights reserved

)
because it has lots of surf sounds,
but it's also ready to rock your boat like a hurricane.
But most of all because it sports a triangle of three mini-switches that can get you lost in hours of sound exploration (until you learn to navigate it better).
Right from the start it should be said that this design will slightly alter your guitar's aspect. That's why it's not meant for purists (though you could do the same things with three push-pull pots).
It is however designed to get a maximum of sound versatility with a minimum of intervention. No routing, no change or re-wiring of pots and pickup selector or whatsoever. If you got a little experience you can do it all in 2 or 3 hours.
All you need is 3 two-way-two-position mini-switches, 5 inches of wire and a solder iron.
So if you got a Squier or a Mexico Strat or some cheap copy you want to take to new horizons here is a project for you.
You're tired of hearing always the same sounds?
Got a standard Strat that needs some hot-rodding?
Got your Squier surfboard waxed and can't seem to find the right soundtrack?
Just try the
STRATOCASTER B E R M U D A !
And start surfing around between 15 completely different sound waves.
But take care not to get lost on the way. Here is some instruction:
All you need to get started is
3 two-way-two-position mini-switches,
5 inches of wire
a drill
and a solder iron.
Your Stratocaster Bermuda will sport the mini-switches in a perfect triangle that has one base in the pickup-selector %.
THE B E R M U D A TRIANGLE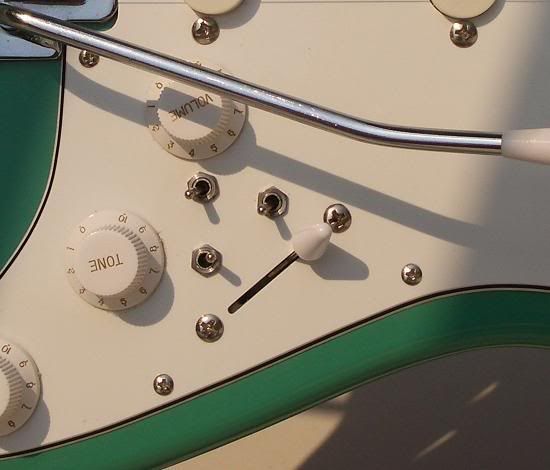 You should first design the positions of your switches. This is actually the most delicate work you have to do and you should take yourself some time for measurements. Control also the space under the pickguard, making sure that the pickup selector and the pots won't be in the way when you place your switches.
First you should place the switch at the point of your triangle (the other two points are represented by the screws holding your pickup-selector). After this you can place the other two switches halfways down the sidelines of your triangle. When drilling the holes start again with the one at the point, so you're able to slightly correct the others, if it goes a bit out of place.
When you have placed your holes you should immediately mount the mini-switches. This makes it easier to do all the soldering with a minimum of wire.
Choose the direction you prefer for your switch levers. You can turn them parallel to the pickup-selector or you can put them right vertical or any direction inbetween.
When you got it all done your pickguard should look something like that:


......(VC)..........
.........MS..MS../..
................/...
...(TC)....MS../PS..
............../.....
............./......
(TC)................

To understand each other we want to name all those mini-switches as well as the positions on the pickup-selector:

......(VC)...........
.........SM..SN../5..
................/4...
...(TC)....SB../3....
............../2.....
............./1......
(TC).................

So it should be clear that the mini-switches are one for the neck, one for the middle and one for the bridge pickup. The upper two will be wired for putting the neck and the middle out of phase and the lower one will put the bridge in series.
Before starting to get wired, you have to flip the pickguard. Flip it upside down (not left to right), so we are both looking at the same picture.
Here is what you should see, including the lugs of the three mini-switches, all named:

(TP).....................................
...................b1..b2........\.......
.....................SB...........\5.....
...................b3..b4..........\4....
....................................\3...
...........m1..m2..b5..b6..n1..n2....\2..
.....(TP)....SM..............SN.......\1.
...........m3..m4..........n3..n4......\.
.........................................
...........m5..m6..........n5..n6........
.........................................
.........................................
.........................................
..........(VP)...........................

GET WIRED!
Got your iron hot? So here we go!
First, for allowing phase reverse, SM and SN must be cross-wired. This means that you get four short wires (about 1 cm each) and connect
m1 to m6
m2 to m5
n1 to n6 and
n2 to n5
Remember that you must wire up the middle lugs too, so take care that your cross wires won't be too much in the way afterwards.
Now you have to find the two leads of your neck pickup. One is connected to the pickup-selector. Pull it over your mini-switch SN and cut it there. Blank the ends and then connect the pickup end to n4 and the selector end to n6. The other lead should be connected to the ground (one of the pots). Cut it too and connect the pickup end to n3 and the pot end to b2!
Then do the same with the middle pickup, connecting the selector end of the hot wire to m6 and the pickup end of the hot wire to m4, while the pickup end of the ground wire to m3 and the pot end to b1.
Starting to sweat? Just think that you're almost done. There is only three more wires to go. So prepare three short wires and connect
n2 to b4
m2 to b3
and
b5 and b6 together and both to the hot wire of your bridge pickup, where it connects to your pickup-selector (which should be somewhere close to position 1 on the selector).
That's all.
If your pickguard is skirmished with grounded aluminium foil, the mini-switches should be grounded too. Otherwise it would be a good idea to ground all three with a connection to one of the pots.
Then clean your routing and put the pickguard back in place. Before putting all screws and strings you can control if you did it all well, by pushing one string on the studs of your pickups. Read the following chapter to learn which pickups should make a noise in which position and which not!
Surfing the Sound waves on the B E R M U D A
WHAT CAN YOU EXPECT?
(These first comments were written before I built the guitar, In the following chapter I'll write what I actually got)
The wiring is designed for letting you put it back to standard with just one grip of your thumb and finger. That means that you have the standard situation with the two upper switches down and the lower one up (If you don't like this you can change it by connecting your mini-switches simply upside down).
(1-5)
For this situation you already know what your pickup-selector gives you in each position, so let's move on to the new combinations.
Let's start by switching SN to the upper position. This will put your neck pickup out of phase, but you will only hear it when you combine it with another pickup. For now this is the case only in position four which gives you
(6) M-N: Middle and neck parallel out of phase (a quite acute sound remembering Hank Marvin & The Shadows)
Now turn SN back down and SM up. This works in position 2 and gives you
(7) B-M, Bridge and middle parallel out of phase (an even thinner sound than 6)
It works in position 4, too, but the result is identical to (6), since your amp doesn't recognize + and - and thus M-N and N-M produces exactly the same sound.
Now you can put both mini-switches up, but it won't give you any new sound, since it works only in position 2 and the result is identical to (7).
This is all you can get in pure parallel mode. For further combinations we have to use the serial mode which means that we get also some heavier rocking
sounds from now on.
It's thus by using the Boost-switch for the bridge that your Bermuda triangle gets really into action.
Let's do it first all in phase. Put down the two upper switches and the lower one too. All three mini-switches down is actually what gives you the heaviest sounds on your Stratocaster Bermuda.
Position 1 remains the same (bridge alone).
In position 2 the middle pickup is connected to the hot wire on both sides. This means it won't work. You'll hear the bridge pickup alone, but in this case it is connected to the middle's tone control. So if you ever asked yourself why the standard Strat has no tone control for the bridge pickup, here is the occasion to find out how useful that would be! While playing you can use this for choosing a preset tone control position and switch between two different sounds on your bridge pickup.
(8) B*+M. Position 3 puts the middle and bridge in series. This is probably the most rocking sound of your Strat. Should be exellent for lead and it's hum-cancelling too. A real humbucker!
(9) B*+(M+N). Position 4 puts all three pickups together. Middle and neck in parallel and bridge in series. Sounds a bit smoother and a bit more bassy than 8.
(10) B*+N. Position 5 puts together the bridge and the neck pickup, for the classic Telecaster sound, but with more drive, since it's in series.
Now we pass on to series out of phase combinations and the sound will become thinner again.
First we put the SN switch up.
This works in positions 4 and 5.
(11) B*+(M-N). Bridge in series and middle and neck parallel with the neck out of phase. Should give a curious sound like an old transistor radio (remember Pink Floyd's Wish You Were Here intro).
(12) B*-N. Bridge and neck in series out of phase. In parallel this is my absolute favorite on my other Strat. Imitates the Tele twang, but keeps on charming even in higher frequencies. Absolutely beautiful. In series it will result a bit heavier. Hum-cancelling.
Now we put SN down again and SM up. SB remains down.
This works in positions 3 and 4. In position 5 this is identical to (10).
(13) B*-M, Bridge and middle in series out of phase. Similar to (7), but with more gain.
(14) B*+(-M+N) Bridge serial with middle and neck in parallel. Middle pickup out-of-phase. Absolutely twangy.
For the last combination we put both upper switches up, getting the new sound in position 4:
(15) B*-(M+N). Middle and neck parallel with the bridge in series out of phase. Somewhere in the middle between (12), (9) and (11).
Learn to surf your B E R M U D A sounds knowing where you wanna go and how to get there!
Remember: when you look for a special sound, maybe on position 4, you always have four other sounds (or at least three) on your pickup selector. Use them to switch between soloing and rhythm parts!
WHAT I GOT:
So everything works and here are some of my impressions, following the 15 sounds as listed above. Remember the standard position is SM and SN down and SB up.
(1-5)
I chose my guitar out of three Stratocaster copies by different manufacturers. Though the pickups had the lowest resistance (5,5k; 5,5K and 6k), it had already the hottest sound of the three, maybe because it was the only one with staggered polepieces. In any case with the serial combinations I expected an even hotter sound and I was not diappointed.
SN up / PS 4
(6) M-N: Middle and neck parallel out of phase.
This sound is quite sharp and thin especially when compared to the other sounds of the guitar. Good for funky rhythms and good for some 60s sounds too.
SM up / PS 2
(7) B-M, Bridge and middle parallel out of phase
Even thinner than 6 and really sharp.
SB down / PS 2
(-) This allows to use the tone control with the bridge pickup alone. Turning the tone control half way down it takes out the harshness of the bridge pickup. Not bad.
SB down / PS 3
(8) B*+M. A real humbucker for full lead sounds and rocking riffs. The result is really excellent, who needs a Les Paul anymore?
SB down / PS 4
(9) B*+(M+N). All three pickups together, for a slightly smoother sound, but the difference is almost unperceivable.
SB down / PS 5
(10) B*+N. An even broader sound with a wider range between highs and lows, but there is no great difference to the previous two, except for the fact that this one is not hum-cancelling. Certainly this is not a Telecaster sound like on my other Strat which has the two outer pickups in parallel and not in series.
SB down / SN up / PS 4
(11) B*+(M-N). Bridge in series and middle and neck parallel with the neck out of phase. The bridge pickup in series gives this a much rockier tone than expected, like a bright humbucker with a bit of a twang. Good.
SB down / SN up / PS 5
(12) B*-N. Bridge and neck in series out of phase.
Strangely, though it is in series, this comes closer to a thinner out-of-phase-twang and the charming feeling of my Mexico Strat. Quite good for imitating that Pretenders feeling. Hum-cancelling.
SB down / SM up / PS 3
(13) B*-M, Bridge and middle in series out of phase. Not so similar to (7), this is a good sharp rocking sound with a certain bright twang.
SB down / SM up / PS 4
(14) B*+(-M+N) Bridge serial with middle and neck in parallel. This one rocks too and is a lot fuller than the previous one. Not so twangy.
SB down / SM up / SN up / PS 4
(15) B*-(M+N). Middle and neck parallel with the bridge in series out of phase. From the three 3-pickups-out-of-phase sounds this is the thinnest and twangiest. Rings like a bell or maybe I should say like a little Flanger effect. Good for funky or reggae rhythms.
All in all my Stratocaster Bermuda offers now an incredible range of sound possibilities. Some of the results are not as distinct and beautiful as on my Fender Mexico Strat, but this is certainly due to the lower quality of the guitar.
Enjoy and keep on rocking. And don't get lost in your triangle!
If you have built this guitar, please let us know how it works.