Post by ashcatlt on Apr 10, 2015 12:17:27 GMT -5
This started out as a drunken joke, and quickly escalated into a relatively nutzy project.
IDK about where y'all live, but around these parts we've been kind of overrun by "Americana" groups. With local acts like Trampled By Turtles and Charlie Parr getting some national attention, we've lately had a whole lot of people picking up mandolins and banjos. It's kind of crazy in this extremely Yankee land of Scandinavians and Eastern Europeans to have so many people trying to emulate the Celtic-inspired, decidedly Southern styles of bluegrass and rural folk. There's even a group in town called Two Many Banjos. Yes, they have two banjos. My friends wrote a song about it:
So Homegrown Music Festival is coming up, and Lorenzo's Tractor ended up on basically my dream bill. Like 6 hours of the furthest out experimental music the town has to offer - from a dude who builds his own alternative instruments and circuit-bent effects on Arts Council grants to pure ambient drone played on ipads and Korg Mikro controllers to Superfly McFlash 3000 beat-boxing and playing guitar through all kinds of effects and a loop station. It is going to be absolutely incredible.
I got to thinking how I have this friend with a 6-string banjo, and then it just had to happen. I have actually borrowed his nice Deering model, but I had a real hard time getting playable. I felt like I was going too far with a borrowed axe, and when this one popped up on Amazon for like $140 I decided to just get my own so I could mod guilt-free.
I experimented with a couple different things trying to mount the pickup under the head, but it ended up too far away from the strings to amplify to my needs without a whole lot of noise. So I cut a hole in the head (very poorly with a dull Xacto knife) and stuck it through there. Actually, on mine, there's almost exactly enough room for the 16K GFS L'il Killer Bridge pickup to sit on the one coordinator bar and still clear the strings. It wouldn't have fit under the head here if I wanted it to. I did pop some holes through the head for the pickup screws, mostly for stability. Attached about 15' of shielded cable directly to the pickup wires and wrapped aluminum foil around the whole bundle. That foil contacts the aluminum pot of the banjo, which contacts the (flimsy crap) steel tailpiece, thereby grounding me through the strings. There is no V or T control onboard, and I'm already seeing that there might be a problem if I can't turn the damn thing off every once in a while. I think I have a passive kill switch pedal around here... If nothing else, I have a couple Ernie Ball volume pedals.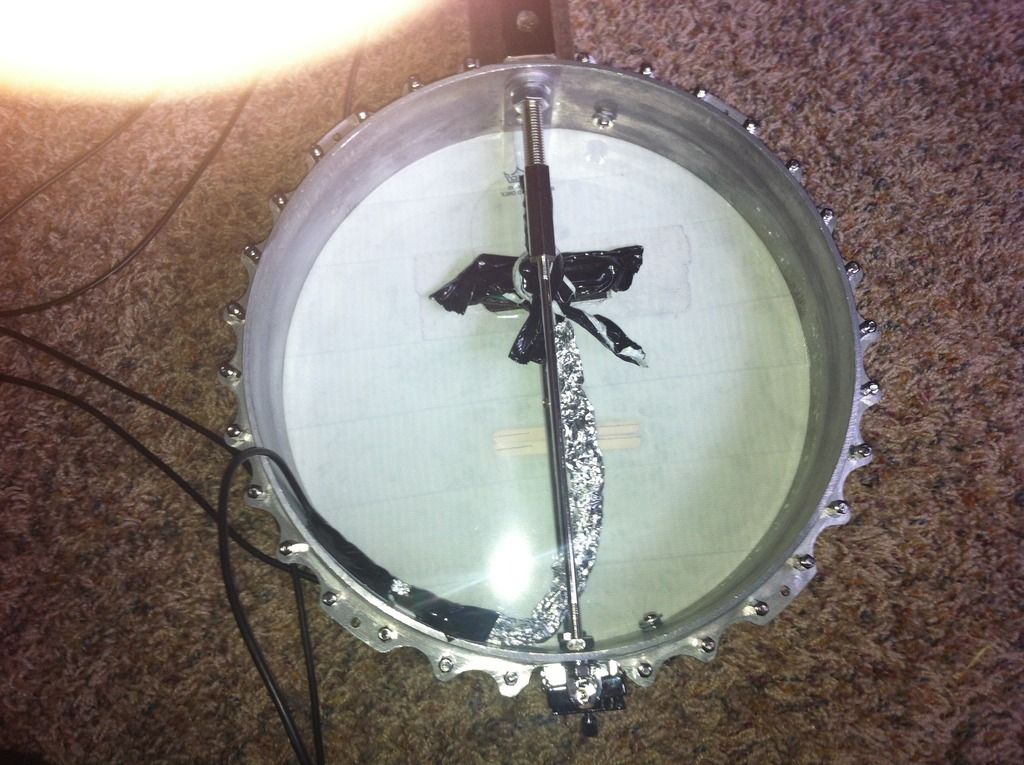 Then black banjo heads are rare, and where they are actually in stock they are expensive. The head kind of needed some reinforcement around the pickup hole anyway, so I just covered the whole thing with black duct tape. I found out at that point that my plan to have a couple of different heads prepared in different ways wasn't going to be quite so easy because I have to REMOVE THE NECK in order to completely remove the head. But we got it taped on there. While I was at it, I taped on a pair of "mini craft stick" - basically tiny popsicle sticks - which make a perfect shim under the GFS roller bridge. I really have to crank the endpiece down (it bent...) in order to get barely enough break angle over the bridge to keep the strings in the saddles, but it's been working so far.
Have I ever told you why I hate Stratocasters? It's because they're impossible to tune because changing the tension on one string causes the whole bridge to move and throws the other strings out of tune. You end up tuning the thing like 8 times in order to get everything at pitch. Banjos have much the same problem. No matter how tight you get the head, that bridge is going to push into it as the strings crank down on it. Luckily, it seems to be pretty stable once I do get it in tune. Oh, but the head itself is even worse! It's got like 30 of those little tension bastards, and turning any one of them changes the tension on every other one, so that you have to tighten a couple, then go back and re-tighten every other one that you've done before, and end up with this exponential number of operations. On top of that, this one has an aluminum pot, and the flanges for the tension bastards are also aluminum. But the nuts are steel. Guess what happens when you start cranking those things in there?
Then I pulled the GK3 off of my Xavier SG and stuck it on this thing. Used a couple more craft sticks underneath to set the height. I considered for a moment running the cable from the pickup itself through a hole in the head and hiding the wart inside the resonator somewhere, but I worried about compromising the integrity of the head that close to the bridge. Anyway, on the SG it's just held on by the same pink duct tape...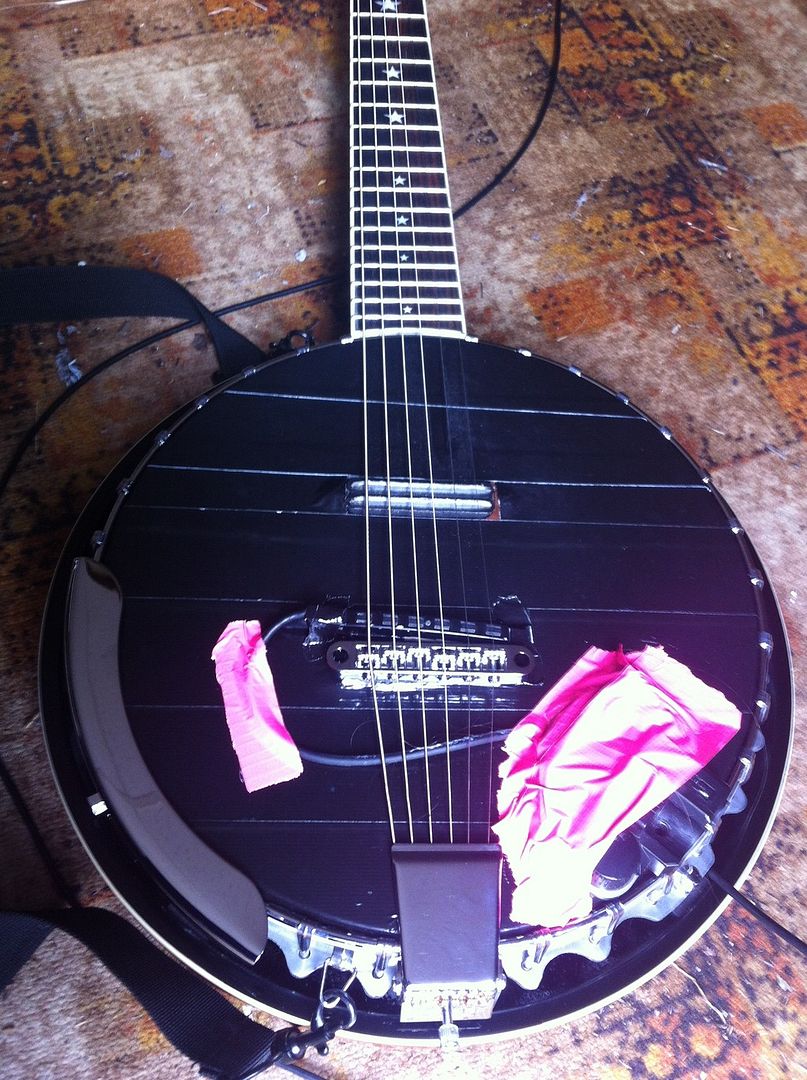 Now you might say that all that extra mass on the head is going to damp it all to heck and it won't really sound like a banjo anymore. You'd be right. That's cool with me. Considering the levels of both distortion and sheer SPL that I'm going to be running this at, an undamped head would just go off ringing on its own and quite likely overwhelm anything that you might try to play. I'm all about feedback, but I don't want that kind for this thing. At this point, it sounds acoustically (with the resonator attached) very much like a hollow electric or maybe one of those super shallow acoustic things. Plugged in, it just plain roars! Sounds and plays like a decent electric guitar. I haven't had it quite up to full gig volume, but it feeds back in a nice way, very controllable so far.
I need to get used to the slightly longer scale (I think it's 26.5") and slightly higher action, and the strings are a bit tighter (12s with a wound G tuned standard), but it's definitely going to work for this thing. We've never actually played half of the pieces on the set list, and the other half haven't been written yet. We're playing 45 minutes in the whole tone scale that starts on E. We play on 4/27.