Post by 4real on Jan 5, 2006 16:43:24 GMT -5
Hi there...I've just joined as a new member...Thought i'd introduce myself and my unique guitar...
Normally I can be found "hosting" (for want of a better word) a very long running thread on DIY sustainer's over at Project Guitar under the name psw
projectguitar.ibforums.com/index.php?showtopic=7512&pid=245855&st=1110entry245855
at 75 pages long, 1000+ contributions and over 32,500 visits there may well be peolpe here familiar with it or interested.
Basically it is a thread to explore DIY sustainers and related ideas and is still very active...so feel free to join in but I'd just tag along, don't try and read the whole thing or anything

So...here's a pick of the guitar...
What it has is a gibson style 3-way to select bridge and neck pickups, master volume and tone and the mid tone control is now a master for the middle pickup (so it can be blended in to any position).
There are three phase switches (that replaced the strat selector). Depending on these settings, the effect of combined pickups change radically from thickening to thinning the tone. This is particularly useful with the mid fade in control (making it a unique kind of tone control). The mid pickup bypasses the master tone so can add spice to a rolled down pickup setting too.
This was always a versitle set up. The three way works well situated out of the way and makes the thing easy to use (requires a little routing however). And the phase switches are simply set like pre-programming what the mid position (combined) sound will be like, and the effect of fading in the mid pickup.
The above picture shows the controls for the sustainer. There is an on/off switch, a blue LED and a harmonic switch. This last creates controlled feedback infinite sustain of notes a harmonic an octave or more above a played note. There is a knob for sensitivity (but i'd delete that in future).
I added another knob for a future piezo. I tested it and found that a little preamped piezo as found in cheap buzzers works quite well either mounted in the neck socket or on the trem block. Unfortunately, although tested it has not been implemented.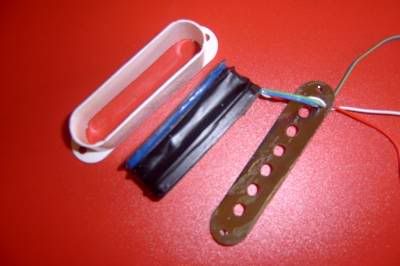 The above is a picture of the unique sustainer/pickup of mine. It's basically a cheapo single coil with a new steel blade pole piece and a small driver coil (the thin blue part) wound on top of it. With the sustainer off it works exactly as before (a passive single coil). When the sustainer is on, the driver part drives the strings and only the bridge pickup is selected.
The circuitry is a simple amplifier...here's one someone else made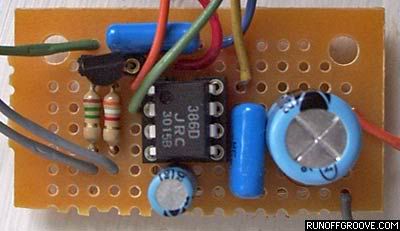 as you can see it's pretty small and simple.
The tricky part, especially on a strat is all the bypass wiring and stuff, and finding room for the battery.
Anyway...that gives you a bit of an idea of the type of stuff I've been into and hope this has been of interest and I can contribute a little more in the future....
Oh yeah...no sounds showing off the phase-a-roo switching but here are a couple of mp3's of this guitar in sustain mode...
users.pandora.be/onelastgoodbye/sounds/beckistan.mp3
users.pandora.be/onelastgoodbye/sounds/sirensea.mp3
Enjoy...4real aka psw