Post by ashcatlt on Mar 8, 2021 13:28:00 GMT -5
I honestly couldn't decide if I should put this under amps or effect devices, but since it's physically attached to the rotating horn assembly, and I think it's supposed to go between the amp and the speaker... I'm really hoping somebody (
thetragichero
I'm looking at you) knows something about it and/or can give me some ideas how to actually use the thing.
My father ripped just the board with the horn pulley assembly and motors out of a 900 series cabinet and dropped it at my house. The driver is blown, but I'm gonna use it as a microphone anyway. The motors are simple. Plug one or the other into the wall and it spins. I've got a fused IEC socket with a lighted power switch on the way and I'm going to use that for run/stop and just a light switch to switch between fast and slow. Cool. But then there's this other box with four wires coming out of it which has a pulley driven by the motors and...
It looks like this: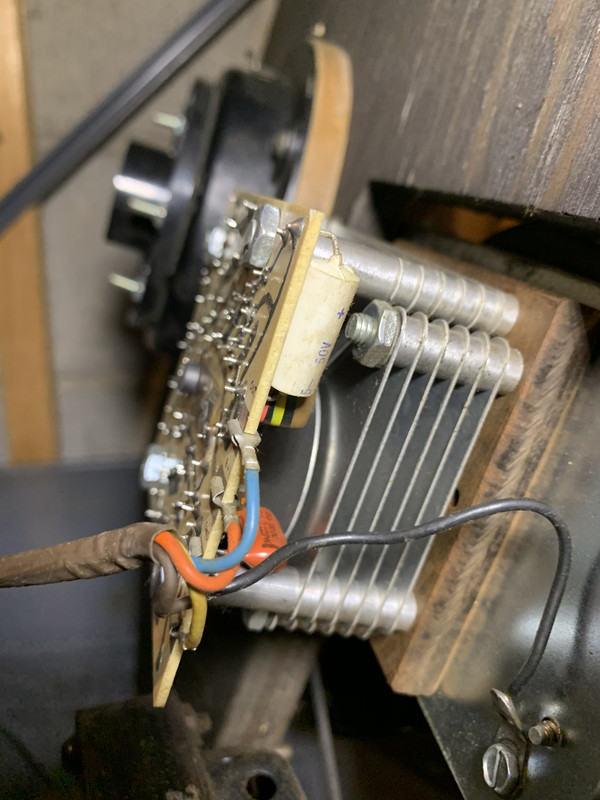 Well I thought I had some other pics too, but I'm not immediately finding them. I can get more, but this is after I removed the metal box with the big sticker warning about dangerously high voltages. This stack of plates and wheels (well the wheels) are attached to a shaft and puppy which rotates when the motors that turn the horn assembly are engaged.
I've had a lot of trouble finding out about it. I can't find anything that really matches in the schematic. I lucked across one photo that showed it and called it out as a "Space Generator", but then when I google that, I find something a little bit different which I think uses an eccentric wheel and an LDR to do something similar but different. I came across a couple of descriptions which I think pertain to this and talk about it as a mechanically variable capacitor.
I'm pretty sure those plates are supposed to sit at 200VDC (usually supplies by the amp, which needs it for other things anyway), and then the little wheel things spin and that varies the capacitance which...well I'm not sure what they do then. It's either a vibrato or tremolo or some combination of the two, I guess. The four wires are labeled on the board, and correspond to input, output (which I think are meant to be speaker level, but exactly what voltage/impedance is expected at either end I'm not sure), B+ (again, I think that's supposed to be 200VDC, but I can only find that in one place and without any pictures of anything that actually looks like this), and ground.
So... I've determined that I can safely ignore it for my basic purposes, but also think it could be neat as it's own effect. I've kind of thought I might remove it completely, attach it's own motor, and make it almost like a rack effect or even guitar pedal, but I need first to confirm some important things like does it actually need 200VDC (and how do I make that since I don't actually need the whole amp), and exactly what the nominal signal levels are meant to be.
I can get more pics for sure, and will definitely be showing off when I get the rotating microphone thing working, but has anybody got any direct knowledge, educated guesses, or general advice?