Post by JD on Mar 18, 2021 17:21:28 GMT -5
Someone on this forum asked how many JP wiring do we need?
Well apparently one more.
There are a lot of variations out there, but I've found very few that would match my project.
So I started looking around and, with a lot of help from JohnH, We've come up with this design.
Let's go back to the beginning:
After buying a couple of new guitars, I wanted to repurpose my 20+ years old Epiphone LP and to occupy my time during these locdowned days... (apology for the neologism if the word doesn't exist)
So I had an old LP, with dead pots and time on my hand. First I wanted see what was out there in terms of pickups that could spice things up. It had old modern Epiphone humbuckers in, fine but not very exciting in terms of identity.
After some research I settled on a vintage voiced PAH humbucker in the bridge and a P90 in the neck. Once that was sorted, I heard about treble bleed mods, 50's wiring and Jimmy Page wiring. Let's mention here that I had never modified a guitar at that point.
So, more research and surprisingly very few JP wiring with a P90 option, and those who had one had an unused spot for a push pull mod (Can't exactly split a single coil...).
I could have gone for that but, you know, why make things simple when you can make them complicated...
In my research for a good JP wiring I happened to stumble upon JohnH's design
(here)
which was the first one with an actual electrical diagram, and the engineer in me found it far easier to understand and adapt than a simple wiring.
So I had now a starting point and a lot to learn to arrive where I wanted. My luck was John was patient enough to answer my questions and give me some insights (discussion can be found on his thread starting
here
unless a Mod or Admin can move the posts to this thread) so I could reach a point where I was confident enough to undertake this project.
Enough foreword, let me introduce to you the JDJHJP wiring ! (I know so very pompous, right ? And I hope JohnH will allow me modding his design's name as well as his design !):
Features: "Jimmy Page" modern wiring with Treble bleed (no 50's wiring)

2 Pick Ups: Neck P90 (modded to have 2 wires + Shield) + Bridge HB (4 wires + Shield)
4 Push Pull Pots
- Neck Volume : Neck and Bridge Out of Phase
- Neck Tone : Global Parallel / Series
- Bridge Volume : HB Coil Split
- Bridge Tone : Local HB Parallel Series
Electrical schematic: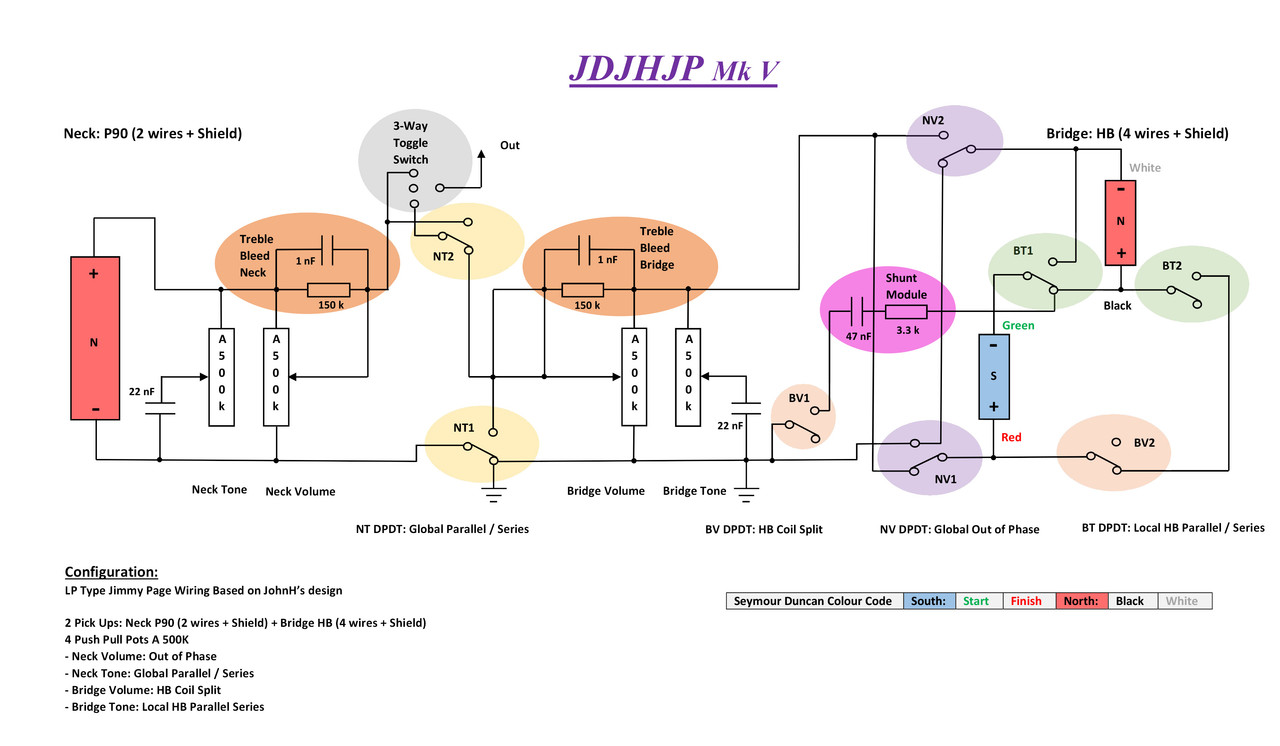 Wiring Diagram: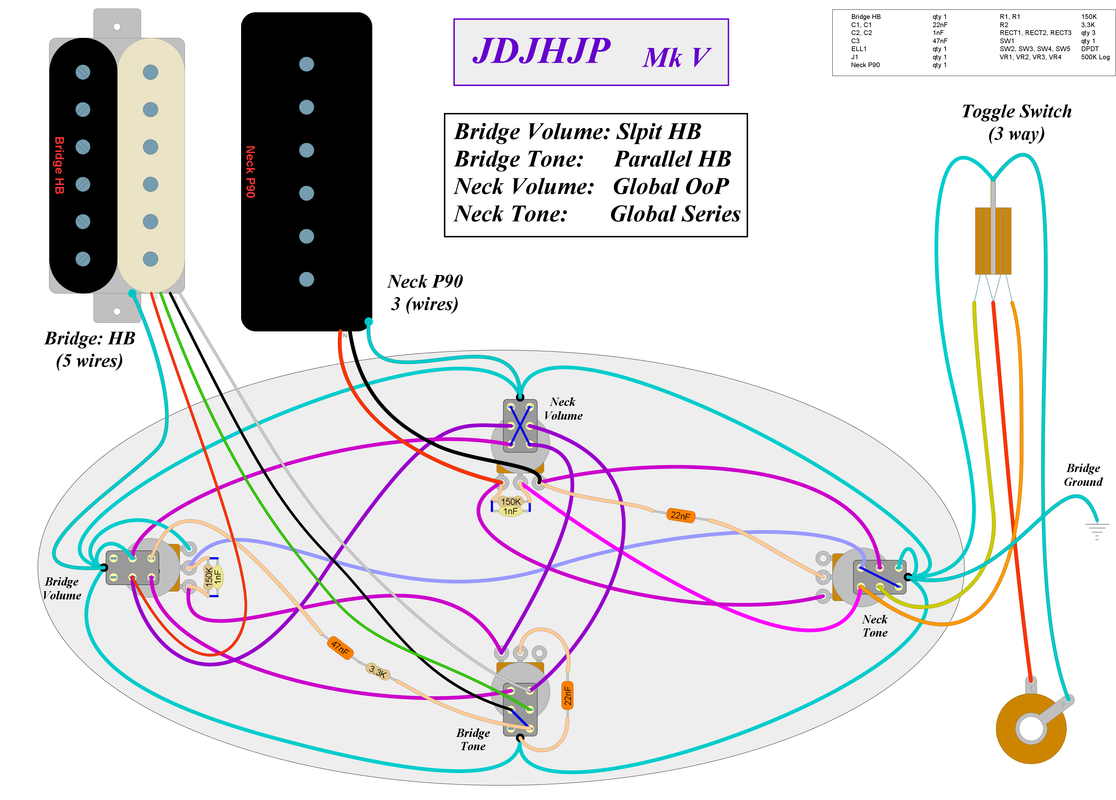 Configuration Table: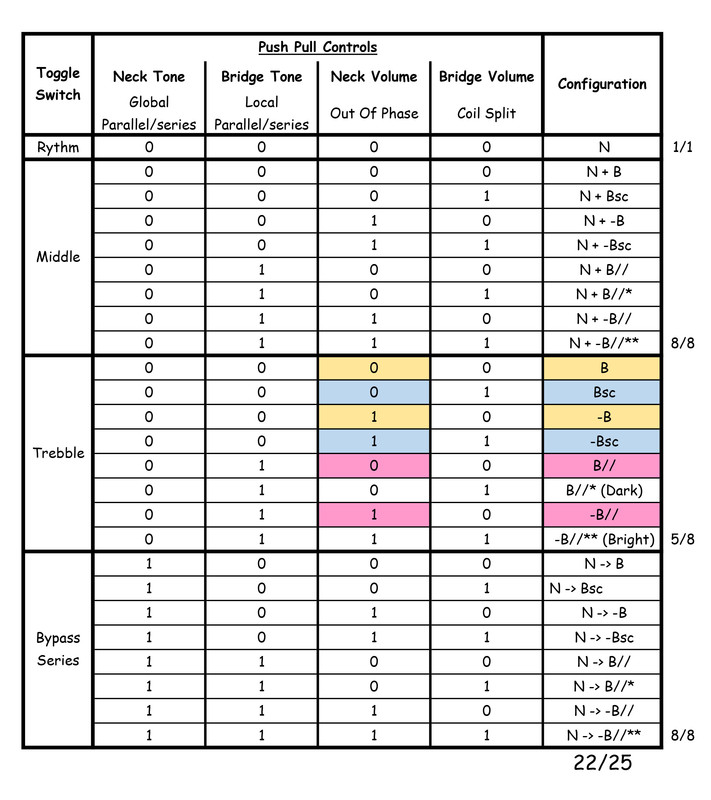 Special configs: Parallel HB with coil split engaged:
I am not sure exactly what's going on with the In phase config, maybe i messed up the wiring, but it's much darker than the split HB in normal config (not parallel).
Out of phase the inline RC circuit is acting as a high pass circuit as expected and the sound is brighter than the Split HB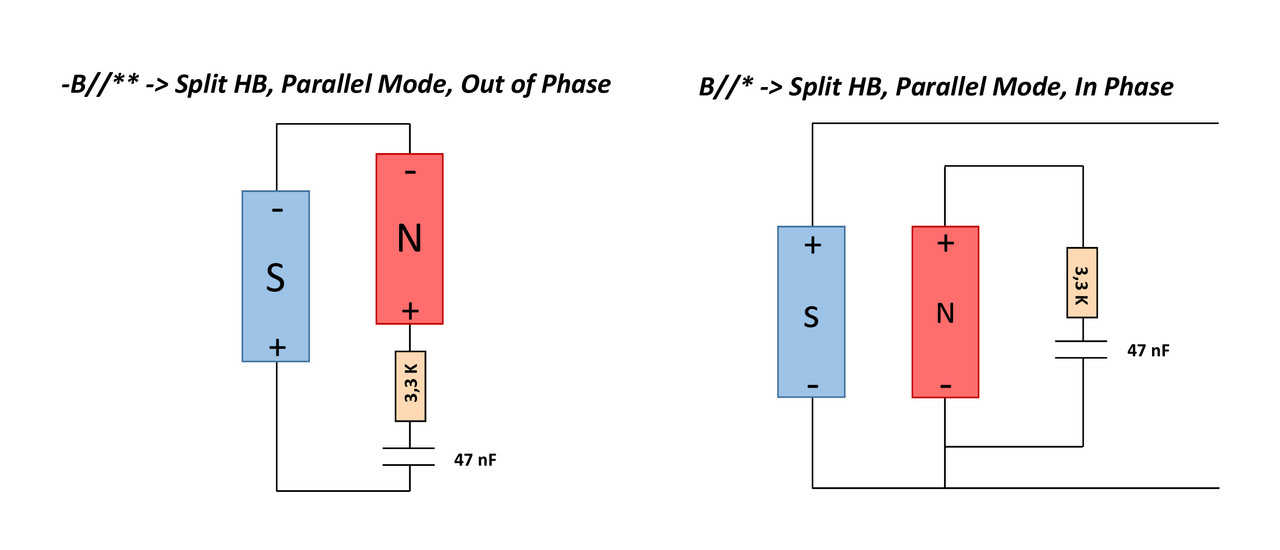 Now this is by no means carved in stone (This is my 5th version after all...), I welcome any comments and input to keep making it better !
Once again, credit to where credit is due: This was based on JohnH's design, and most of the modifications come from his advice, so Thanks !
In the end, I hope this will help someone, if not for the actual thing, but for knowing that even if you've never modded the electronic of your guitar and even if you're clumsy (at my best) with a soldering iron, with some help and some work you could have fun with a brand new (old) guitar !!
PS: I've used DIY Layout Creator to render the wiring diagram, a nice little freeware by Bancika. You can find it here:
bancika.github.io/diy-layout-creator/
(Copy/paste the url, the link doesn't seem to be working)