Post by borsanova on Jan 26, 2007 10:11:11 GMT -5
This is a mod for my Ibanez ES-345 copy: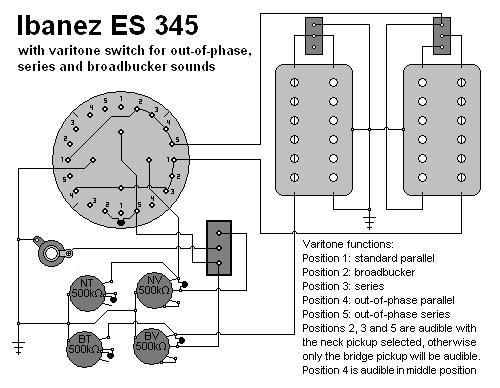 I bought this guitar 20 years ago with a 3-way-varitone switch that was extremely muffled and thus completely useless. Therefore, at a certain point, I decided to use it for some experiments like out-of-phase and series switching, giving it also better pickups (Mighty Mites classic PAF, really good). It was the first guitar I modded, and I redid it several times until I got it right. I also installed two coil tap switches (in the upper f-hole and in the pickup-frame) and so I currently got 16 different sounds (4 single pickup sounds, 4 parallel combos, 4 series combos and 4 parallel out-of-phase combos).
When I discovered new sounds like the broadbucker configuration I first thought that it would be impossible to install it on my 345, because on that one I had the series connection going from the neck to the bridge. But then I learned on this forum how to install a tone bypass in any position and now I think I'm able to install a broadbucker mod without changing pickups and all the rest.
For the theories of broadbucker view here:
guitarnuts2.proboards45.com/index.cgi?board=wiring&action=display&thread=1166627614
So here is my project. Since I need a new varitone switch I've opted for a four-way-five-position switch and this gives me also the possibility to install the series out-of-phase mod.
Since my varitone plate has only three numbers (1,2,3), I've decided to place the standard mod in the middle at position 1 and the remaining two (4 and 5) above or left of it (clockwise backwards). Thus I can subsequently switch from thinnest to thickest sounds. This is the reason why you find a strange numbering on my varitone . For a correct reading of the wiring diagram it is therefore important to consider that the pins connecting to the inner poles are the ones actually opposing it, that is the ones that are going clockwise from 4 to 5 to 1, 2 and 3.
The varitone functions are as follows:
Position 4: out-of-phase parallel
Position 5: out-of-phase series
Position 1: standard parallel
Position 2: broadbucker series
Position 3: full series
In position 4 we start with the thinnest sound and it works only in the middle position.
In position 5 and 2, the ones closest to standard and thus easy to access, are the best sounds for soloing (series out-of-phase and broadbucker). These are the new sounds I didn't have on the previous version of this guitar and I expect them both to be very useful.
In position 2 I've put the broadbucker series combo, which is the same as position 3 (series), but with a tone cap in parallel to the neck pickup. The broadbucker should be really rousing, while the full series sound is dark and mean.
Positions 2, 3 and 5 are audible with the pickup selector in the neck position, while in the middle and bridge position only the bridge pickup will be audible.
I know that this wiring scheme is not the cleanest by your standards. There are shunted coils, non-hum-cancelling single coil out-of-phase combos and even pickups hanging in certain positions both sides from hot (in the series combos when the pickup selector is in the middle or bridge position). But with the installed switches I don't see any solution to these issues and I've experienced that I can actually live with it, being those the sounds and combinations I use less. For any other guitar with two humbuckers I'd choose my Jimmy Page design with dual sound, but this guitar has the rotary switch and thus I have to go for a compromise. Now I have to find the new 5-way-rotary switch to build it.
I think my schematic is okay, but maybe someone might want to check it? Thanks for any comments.
And here she comes: