Post by 4real on Jun 20, 2012 1:13:44 GMT -5
Ok, so it has been a while since I've dared to make something, too much thinking, not enough doing. In my defense, the ultimate expression of this idea would be a true hex system. Quite a bit of work has been done in that direction but without any tremendous success, so thatwork will just take a while.
However, the idea was originally for this Bass Expansion and still would be the main reason for me to pursue it and this is more along the lines that I thought it could be done.
Bass Expansion.
For just about any idea that has some worth, you can likely find someone else has already done something similar or had the same goals and set about schemes, even patents, to do something similar. In fact, it is almost a bad sign if it hasn't been at least attempted or mentioned here and there. So too here, as far as I can remember I thought of it independently and it is 'rare' but found guitarist 'steven king' who has made a feature of it. In his you tube clips he explains it and you can hear it, but it is purposely 'subtle'. I heard a bit of an excerpt today...the bass is more apparent on recordings...
www.guitarbystevenking.net/Bodhisattva_clip.mp3
Explained how he has been getting that effect here...
www.guitarbystevenking.net/instruments.html
... and so, where I stole the term bass expansion from. Generally, he has used small pickups, sideways or above the strings just catching the low A and E strings. This is run through an analog EBS octabass pedal.... here is his definition..
BassExpansion refers to the use of an extra pickup signal from 5th and 6th strings sent to octave-lowering electronics (EBS Octabass) used in conjunction with the regular pickup system blender signal, the normal guitar output signal. There are now a variety of creative choices and types of pickups to install on your particular axe to give you that extra signal off the two low strings. This new bass signal is blended into the performance on a separate channel, or through a separate amplifier, not too loud, but to just the right volume for the feel of a double bass accompanying the guitar. Play in the Kingster's style for a simultaneous walking bass line to accompany the solo fingerstyle guitar. This system is used on most of King's solo guitar CDs, and sounds like there is a walking upright bass player accompanying the solo guitar.
Now, this was originally the kind of thing that my latest gutiar is built to be able to do...
guitarnuts2.proboards.com/index.cgi?board=wiring&action=display&thread=5970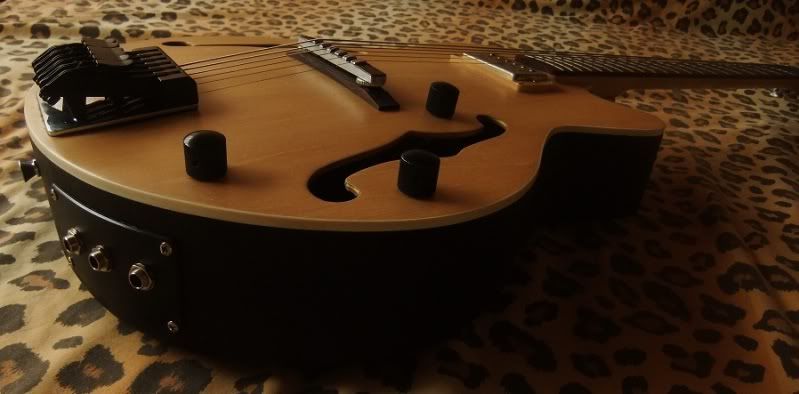 This guitar features both piezo and a neck mag that can blend in mono or pan in stereo from two output jacks into say two amps or effect chains. On benefit in the former when combined back to 'mono' is that hte pan control could control the volume of the effect by selecting more of one pickup and so the effect...(scratchy pot problem no withstanding).
The third output and control knob are dummies for the proposed hex or Bass expansion Facility. This is a third pickup system that only picks up the bass string and sends that signal to another 'effects' chain, primarily to lower those strings by an octave, getting down into the bass guitar range...as steven king does.
It occurred to me also that technology is moving on and although I have an old brown boss Octaver pedal, it glitches if it hears more than one note. For $59 new now, you can get a behringer digital pedal that can drop and octave or two (as well as intelligent mono harmony and other bizzare effects) polyphonically. So, the technology to make this happen is available and affordable and avoids to much risk of glitching if it hears two notes.
So...for me, I need to design a very small pickup that can effectively pickup the low two strings and fit on the guitar, perhaps be adaptable to other instruments. For a hex thing, it would have to be set by the bridge, there is plenty of room on this guitar. But for a bass expansion thing, the strings will not be bent so it could be put up by the neck. So, I have designed it to fit in the smallest space and see which works best.
The BEPP Design
Ok. so the proposal is for two very small miniature coils, on for the two lowest strings, and wired in an HB format to avoid noise. Being a bit of a guerilla project and in true steam punk fashion and having no $$ I came up with the solution that will be illustrated in the next post for fear of the computer crashing again before the post is complete!
continued...