Post by JohnH on Feb 24, 2014 7:04:57 GMT -5
The 'Greasebucket' tone control

This is another Fender variant, like most of the more colourfully named tone circuits.

It is the stock tone-control system on several popular recent and current models, such as Highway One's, and American Special's, and also some basses.

I had this on the bridge and neck pickups of my Am Special Strat when I got it, and in the specs, Fender describes its action as: 'Rolls Off Highs without Adding Bass', which is a bit mysterious.

Here is a schematic, compared to a standard tone control:



And this is how a pair might be wired in a Strat.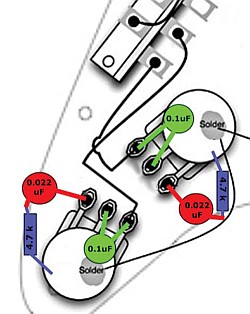 Thcircuit consists of a 250k pot, a 0.022uF cap, plus another 0.1uF cap, between the centre and outer pot lugs, and a 4.7k fixed resistor in series. At high settings, it acts as a normal tone control, with the 4.7k adding a relatively small extra resistance. Only the 0.022uF cap is active at maximum, but at these settings, the cap is not important anyway.

At low settings, both caps are active in series, with the 0.1uF cap bypassed by the maximum resistance of the pot.
Tthe main noticeable difference from a standard tone control occurs at these minimum knob positions, where the extra 4.7k resistor effectively stops the control going to the usual minimum, with it's mid-range honk. It might be that this is what Fender means when it refers to 'not adding bass'.

Here is a graph at each knob setting:
There is a slight mid-peak at minimum, but much less than usual.
It occurred to me that the tone effect might be very much equivalent to a standard control, using a smaller cap and a series resistor, like this:




Note that 0.1uF and 0.022uf in series equate to 0.018uF

I tested that with the spreadsheet, comparing this equivalent to the basic Fender Greasebucket wiring, and it is indeed identical to within 0.02db at all settings and all frequencies up to 4.5kHz. Clearly, there has to be some slight difference from the different configuration, but the numbers show that it is not significant.

This system, in original or equivalent form, would be good for those who find a good tone at low settings just short of minimum, and don't want the '0' tone. With the Greasebucket control, such a tone is easier to find quickly, and the other tones are a bit more spread out. If you think of the equivalent version, you can select a tone cap freely for what you want, without needing to think of two caps and their combination. Also, the equivalent version could have a no-load pot too, if desired.

So, the Greasebucket control is fine if you like what it does. I didn't keep mine though.