Post by JohnH on Dec 9, 2006 20:04:15 GMT -5
Here are two designs for a Strat with three single coils, and two volume controls. (EDIT: see also below for additional HSS and HHH versions).
They came from the following thread. Which includes the same designs and some discussion:
guitarnuts2.proboards45.com/index.cgi?board=wiring&action=display&thread=1163817284
Strats usually have two tone controls and a single volume. Having two volumes lets you mix the sounds to create blends, and also to set up different volume settings for quick changes between rhythm and solo.
The first design keeps the standard format of the 5 position switch, to select B, B+M, M, M+N and N. The second design extends the concept, to add phasing and series/parallel switching.
The two versions have the following common features:
One volume controls the bridge, the other controls neck and middle

Uses a standard Strat 5-way switch

Single tone control, implemented as a dual-gang pot. This is because tone controls need to be on the pickup side of the volume controls in order to work consistently, hence with two volume controls, a double tone pot is needed.

Caps and resistors on the volume controls for treble-bleed, keeping high frequencies preserved as volume is reduced, counteracting loss due to the cable capacitance.
'Basic' design
Here is the basic design, as a wiring diagram viewed from the back:
The volume controls are 500k Linear, forwards wired. With two volumes, setting one volume to a very low level in combination with another pup, will reduce both pups. However, I believe that this is better than the alternative 'reverse wiring' of volume controls, which compromises their effectiveness as master volumes. Forwards wiring, with linear volume pots, is the best IMO, for mixing two pups. With the basic design, mixing is only available in the N+M position, elsewhere, the two volume pots are independent.
The tone caps are a personal choice, and there could be a different cap for bridge and for neck/middle. I'd say 22nF (=0.022uF) is a good starting point, or maybe 22nf for bridge and 47nF for neck/middle.
Recommended starting values for the treble bleed capacitors and resistors are 1nF and 220k.
'Plus' design
Here's the 'plus' design, including a schematic and wiring diagram. It uses push/pull switches on the two volume pots to put the bridge out of phase, and/or to put the bridge in series with whatever else is selected.
This is the schematic: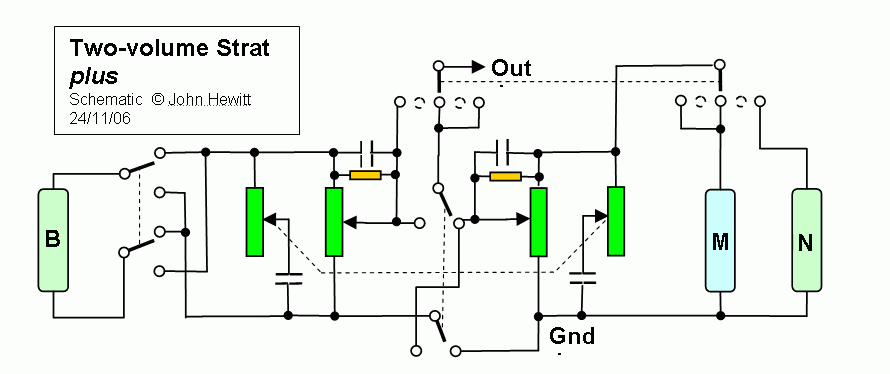 and the wiring: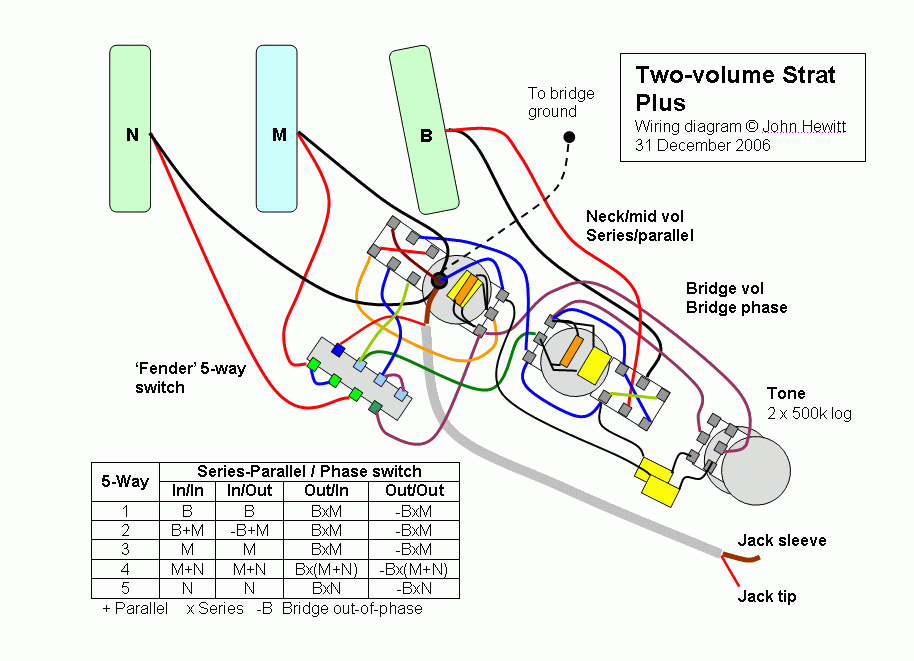 This gives rise to some very powerful extra sounds that extend the range of the Strat, including Bridge and Neck in series, in or out of phase, and Bridge and middle in series. The first three positions in series mode are all B x M. This triplication is as a result of using the standard Strat 5-way, but it offers the advantage of a quick change from B. M or B+M, with one switch operation, to the much more powerful series sound, B x M.
These designs have been checked, but not built yet, but I'll let you know when they have.
(Note, the push/pull switches are shown on the side of the pots instead of the back, for ease of my drawing. They are wired assuming that the poles connect to the lugs furthest from the shaft when pushed in. Apparently there are some types where this is reversed.)
Monradon, if you try one of these be sure to post here with pictures and a build report! The
'plus'
version I also have lined up for an old Ibanez Strat.
cheers
John
EDIT 21/02/2011
Here is a version for HHH pickups, using push/pull pots to cut the two front pickups to single coil, and the back pickup switched to parallel