Post by 4real on Dec 3, 2010 4:16:06 GMT -5
HELP...again...
I'm sure there are lots of lessons to be learned here...like don't try and be too clever!
So, anyone remember this guitar...
guitarnuts2.proboards.com/index.cgi?board=wiring&action=display&thread=3521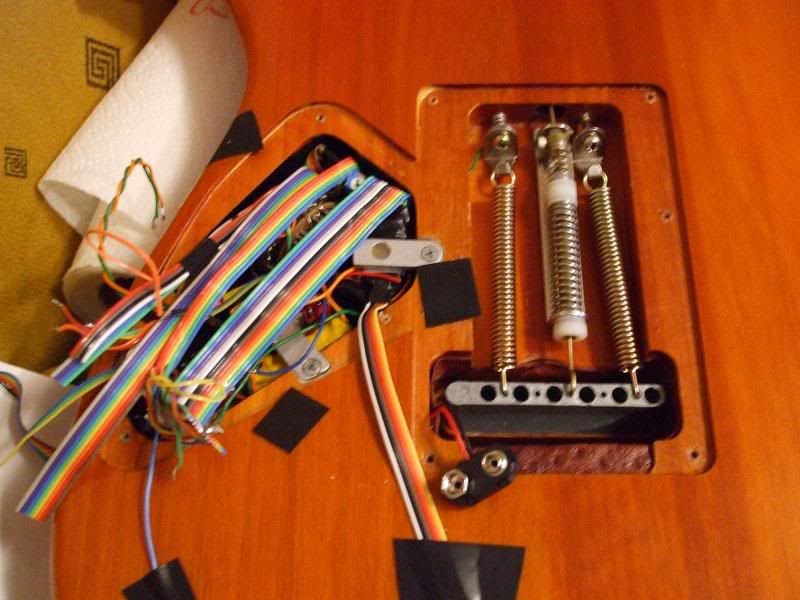 Well...It's back!
This guitar was fitted with two JB Hot noiseless fender single coils and a SD JB HB as well...it has something of the tribute to JB in it...though he would never play a guitar with so much switching power!
I spent half a day on it and at last got to hear what these pickups sound like...great and noisefree...but with some wiring problems...
I thought, well I will just try and snip out most of this wiring and ditch the super-switch as it was taking up a bit of room.
I figured I might try and wire it in 'modules' leaving out the whole sustainer thing till I got everything settled...besides I lost the wiring codes in the last move so had to dig in there to find which wire was which.
After the 22-dual went so well...hmmm, but then i had a great diagram to work from...I quite liked the parallel sound as much as a split so figured I could put that in the volume control's P-P switch...
So...taking pair of cables directly from the socket I started testing the pickups and identifying things and cleaning up the wiring. hard wire the HB in series and parallel and confirmed that seemed to work...then wired the push pull to do that function, wired the HB to that and now I have two leads coming out for the HB.
Now I also have a 4pdt switch under the volume control...and I thought...hmmm...perhaps a 'neck on' switch would be cool. I wired a pair of leads to go to the standard selector so that it would connect the neck with the bridge giving me N, N+M, M, N+M+B, N+B
ok...but either something is wrong or there is a switch failure...but when the push pot is down for series mode it seems to be split to the inner coil on the HB and sounds a bit weak...the parallel sounds extra loud compared to the other pups...so clearly something is going wrong here.
Oh yes...forgot to mention...since I had a 4pdt switch, I wired the middle pickup to a simultaneous phase switch so in fact the middle is OoP ie N, N-M, M, N-M-B, N+B
Now...this creates some interesting sounds ok....could perhaps this though be the problem with that shorting coil?
The volume control is working a bit oddly, all the volume in the far end of the travel...makes easy volume swells but is practically off at 8 on the dial!!!
I suspect the only thing for it is to rebuild the uber-pot...PITA but possible...but I still can't quite see how the P-P is splitting the HB in series mode as the wiring all seems to check out...parallel seems over poweringly loud too...very odd. The spit is kind of weak but makes some lovely airy quack sounds...it will alomst be a shame to "fix" the thing!
Oh...and it tentatively tried wiring the single tone control in and thought maybe having it only work on say the middle might be interesting (esp with the OoP thing)...but it didn't work well and acted more as a volume control on the entire guitar...I really am having problems for some reason.
Anyway...a start and once plugged in I forgot how good it feels to play a strat again...it's been a while.
I'm having all kinds of problems...might have a go again tomorrow...but it is an interesting learning experience as I am coming across quite a few really great sounds and there is a huge variance between them and all seem pretty useful.
Anyway...any thoughts or direction might be useful...I'll leave the sustainer for another day and perhaps snip it right out for now...it's a complicated beast though and I had started with that last time...but turned into a birds nest and really...I just want my guitar back!
I'm tempted to ditch the whole uber pot thing completely...though it does feel good to have a kind of mode switch right there and the intention was to ahve the p-p up for a more balanced parallel sound then hit it for the full creamy power of the series mode.
There is even more switching power in this guitar of course...but one thing at a time...there is a piezo in the neck socket and all kinds of weird mods in the thing, but I really think I over did it...I even found a little preamp in the jack socket I didn't know I'd put there...
SO, in this, a lesson is surely to be learned, just because you can do something doesn't mean you necessarily should!