Post by ashcatlt on Mar 19, 2011 22:12:28 GMT -5
After I built the
1337Drive
for Luke I got jealous. See, I'd bought all the stuff to build myself a Rat clone like 3 years ago. I breadboarded it right away and was very happy with the sound. I put all the stuff in the back seat of my car thinking I could do most of the perfboard layout stuff while sitting in the parking garage at work. I like to get in early, and usually just sit there reading and smoking till it's time to go in. I never actually did it, though, and the stuff just sat in the back seat for over a year. So I was jealous when Luke got a Rat type thing before I did. So I finally built my own.
The scheme I followed is the same I've linked around here a few times:
There were - of course - a few changes.
First, I couldn't find an LM308 (didn't try real hard) and somebody told me that if I used a TL080 and replaced the compensation cap (C4) with a 180pf I'd get about as close as possible to the original slew rate, so I did that.
Then I found a couple errors in the schematic, which I had to fix.
1) When I went to install C9, I found that I didn't have any .0022uf caps in my box. I knew I had ordered all of the parts directly off the schematic, but... Then I realized that this wasn't actually the schematic I was looking at when I ordered. So I googled for some more. Every other schematic I came across shows this coupling cap as .022uf, of which I have many.
2) When I was wiring the Volume knob (R11) it seemed a little strange to me to be grounding the "high" end of the pot. Couldn't find any other schematics where the pot lugs were explicitly marked, so I went ahead and did it. When I got it all boxed up, both the Volume and Tone knobs worked backwards from expect. CCW was maximum in both cases. I almost seem to remember this being the case with my original ProCo Rat (MIA these many years), but I decided to swap them around so it made more sense.
And then there were the mods of my own. We'll start with the "big one".
The "SALWO" diode switch:
It's a DP5T rotary with 4 silicon diodes (1N914 like in the scheme), goes in place of D1 and D2, and looks like this: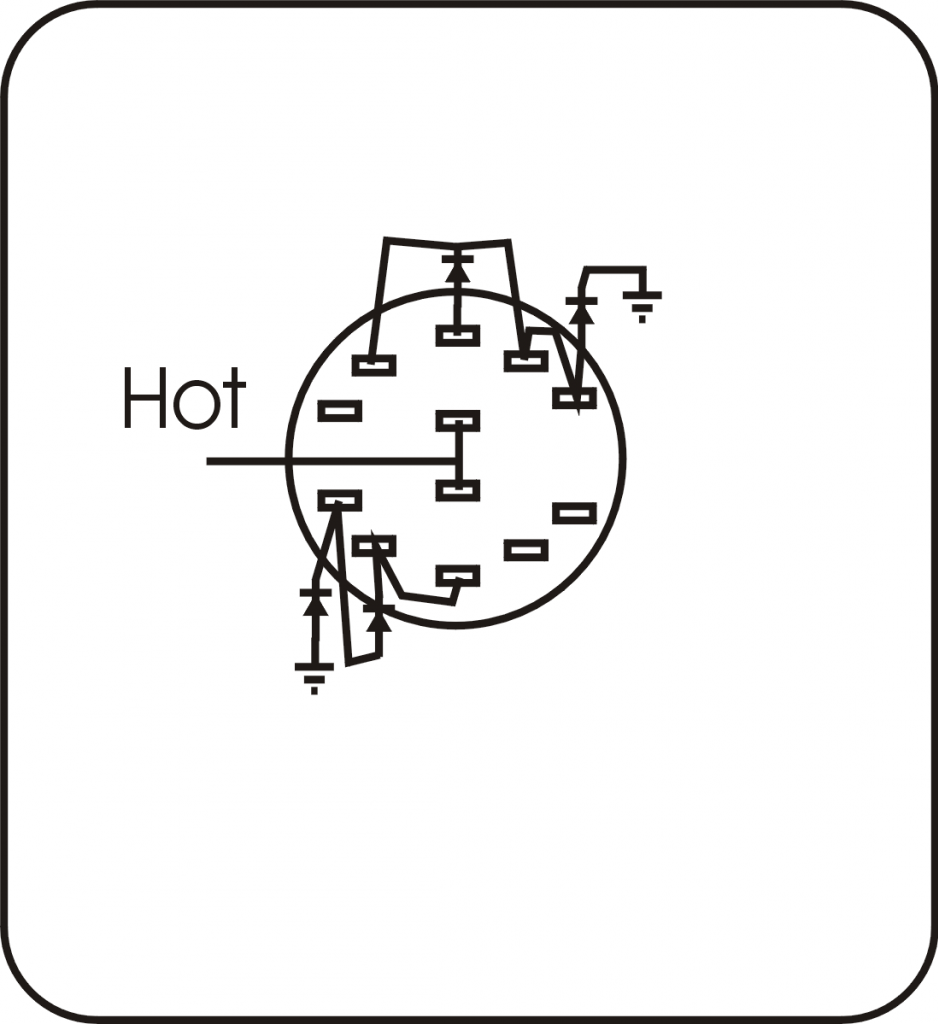 Stands for
S
ilicon - Standard Rat symmetrical clipping
A
symmetric - With one diode one way and two the other
"
L
ED" - Two diodes in series in either direction, which gets a voltage drop pretty close to that of a red LED. This is like a TurboRat
W
ay Asymmetric - One diode one way and no diodes the other. This position doesn't seem to be working correctly right now, being exactly like the "Off" position. I haven't had a chance to bust it open and figure that out yet.
O
ff - No clipping diodes. It's a clean boost up to a point, then the opamp starts to clip.
Mod 2:
1337Drive doesn't have a gain knob. It was replaced with a static resistor of either 140K or 187K. I really like that total over the top sound, and wanted to be able to go that far with mine. So I opened up the pot and cut the strip right at the #3 lug. Lugs 2 and 3 are not connected as you see in the scheme, but rather lug 2 goes to the rest of the circuit, and lug 3 is connected to lug 1 via a 187K resistor. It works as normal through most of its range, till it hits 10, at which point it jumps up to nearly double gain.
"Mine goes to 18.7!"

The final mod is pretty simple. I put a resistor between lug 1 (after I fixed it) and ground on the Volume pot, so it wouldn't turn all the way off. Doesn't make any sense that it would go all the way off. I have other ways of silencing my rig. I don't remember the value of that resistor, but it worked out about perfectly.
The switching, which is not shown in this scheme, is simple DPDT True Bypass w/no LED. Power is via a DOD style 3.5mm DC jack.
I'll get y'all some photos sometime soon, though it's nothing to look at. Just another black sprayed double-gang Raco box.