Post by ~Maxx on Mar 23, 2011 8:58:12 GMT -5
Hi folks. Hope nobody minds me starting a new thread on this. I have a thread going below where we were mostly discussing the application of the Free-Way switch in this project, but figured I'd start something fresh to document the entire process of this "rebuild". I've always regretted not documenting the remodel of my '97 Strat, so hopefully this will make up for it in my mind...
Anyway... I'll have some initial pics posted below, but I'll start off with a good explanation of how this project came about and what my end goals are. Some of this will be info rehashed from the other thread (located
here
if anyone's interested), so I'll apologize in advance for the repetition. I've typed up a fairly enormous essay detailing the entire process I've been through so far. But I've decided to break the details up into separate posts in order to cut down on the monotony factor. This first post will just get into why I'm doing this particular project and sum up the basics of what I've done so far. I'll also include a "to-do" list, which I'll update as I go along with things...
Mission Statement:
So as I mentioned above - I did a rebuild of a '97 American Strat Deluxe. After a bit of trial and error I've finally got everything pretty much the way I want it on that guitar. The only things left are to tear it all down and do the tung oil finish on the body and back of the neck, and put in the full cavity shielding. I've been planning to to that sometime this spring when the weather gets decent (as I'll have to work outside

). Since that Strat is the only decently playable guitar I have available at the time, I figured I'd better put something together that would get me by until the body work is done. Originally the idea was to just slap something together - quick and dirty. But then I decided that this might be a good opportunity to experiment a bit - learn some more about some different wiring concepts, and try some things that I wouldn't dare attempt on a guitar I cared about. I had a Strat-style body from a super cheap Harmony guitar I owned in the early 1990's, and an old 22 fret Kramer neck from God-knows-where. I had no qualms about drilling, routing, filing, or gouging these parts to whatever end was necessary. Ultimately I'd like to think that I can get all the wiring and hardware sorted out so that it works well for me and my needs, after which I can transfer this whole setup to a new body and neck. Maybe even keep the old wood around as a frankenstrat so I can toy with new things without having to sacrifice a guitar. We shall see...
So Far, So Good(?):
What I've done up to this point...


Repainted neck and headstock black. Clear coated with satin finish.

"Ebonized" rosewood fretboard with black saddle dye from StewMac.

Hand-filed nut slot and installed LSR roller nut.

Replaced stock Kramer tuners with Wilkinson-style locking tuners.

Installed replacement vintage tremolo.

Ground sustain block down to accommodate for thinner body.

Routed out neck joint to correct scale length.

Replaced neck plate with black neck bolt ferrules.

Routed new switch cavity near lower horn.

Installed electronics incorporating 4 Lace Sensor pickups (Gold neck, Gold mid, & Red/Gold Dually bridge), the 6-position Free-Way switch (for series/parallel switching), active eq/boost circuit, and two push/pull pots on master vol. and master tone (one wired for mid pickup "on", the other for active circuit bypass).

Installed string trees.

Shimmed LSR nut.

Restrung, and set action, neck bow, intonation, pickup height, and floated trem.

Got lazy and velcro'd 9v battery to back of guitar

To-Do List:
I'll try to update and cross things off here as I progress...


Replace Gold with Silver Lace Sensor in bridge position. (Done as of 1/12/2012)

Install gold Lace Sensor from bridge in neck position for Gold/Gold dually. (Done as of 1/12/2012)

Take mid pickup off of Free-Way switch and route directly through push/pull pot for on/off. (Done as of 1/12/2012)

Replace 250k push/pull pots with 500k. (Done as of 1/12/2012)

Experiment with inline capacitors for single coil positions.

Install battery compartment for active circuitry.

Install recessed bypass switch for active circuit to back of body. (Added 1/12/2012)

Replace Wilkinson style tuners with Sperzel type. (Done as of 1/12/2012)

Replace roller string trees with retainer bar behind LSR nut. (Added 1/12/2012)

Install trem stabilizer.

Replace body and neck.

Pics:
Full body shot. That gold Free-Way switch looks like a dieing sun on this guitar.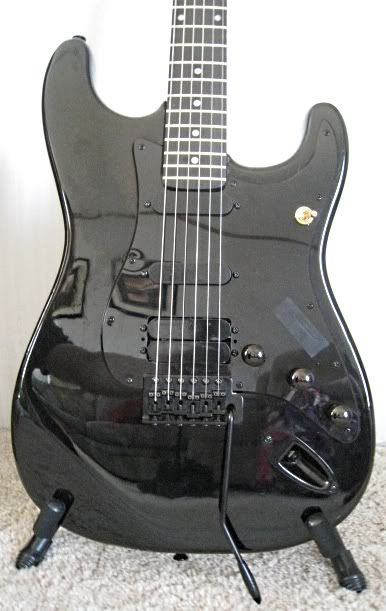 Closer view of the body with 4 Lace Sensors (all painted black

, and the Free-Way switch. Dig the masterful patch job I did to cover the old 5-way slot?


Full back shot.
Closer view showing my lazy battery mounting method, and the ground-down sustain block. You can also see the small hole I routed through the back so I could adjust the eq.
In the following posts I'll cover several topics in more detail. I hope (for everyone else's sake) that breaking the following sections up into separate posts will make them easier to digest, and more convenient to respond to...