Post by JohnH on Feb 20, 2014 3:37:55 GMT -5
Tone Pots - including 'No-Load' pots

To go with the tone capacitor, the Tone Pot is the other component of a simple treble-cut tone control. The usual assumed knowledge is that we should use a higher pot value for a brighter tone, and that hotter pickups need higher value pots. Let's explore those issues.

From the discussion on tone caps, it's clear that the added brightness that we might want at maximum has little to do with the cap, and so both tone pot and volume pot values equally affect the brightest tone. Ignoring the cap, the two pots are in parallel, so two 250k pots equates effectively to 125k, two 500k or one 250k and a no-load is 250k, and a 250k and a 500 k is 167k (Rtotal = 1/(1/R1 + 1/R2))

Let's look at the use of various pot pairs, Volume/Tone, starting with single coil pickups. Cap value is unimportant, but was modelled with 22nF.




There's a distinct peak of about +4db even with 250k pots, and that can be increased by use of higher values or a no-load tone pot. An extreme case is a 1M volume pot and no tone pot, with a rather shrill +13db peak.

(As an aside, just a word on these graphs showing peaks etc: They are theoretical values based on a uniform frequency response input. So they would get modified by the real-world characteristics of a the guitar and pickup. But they are good for comparing results, ie, although we can't tell the actual true response of a real pickup from these, a configuration with a higher peak will be likely to have more output at that frequency than one with a lower peak. Ok? Carry on....)

Moving to the vintage PAF humbucker, all the peaks are at lower frequency, and not as high. Hence if we want the same sort of peak to perk up the top end response, we need a higher value combination of pots. The two 500k's look pretty good, and it's the same trace as a 250k with no-load pot.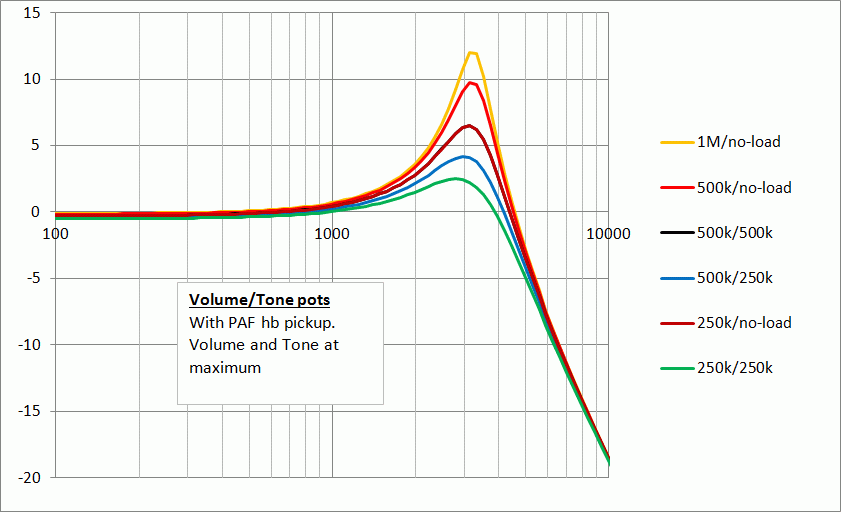 Now look at the results for the 'hot' humbucker. It's deeper and duller again. One might think of a 500k volume and no-load tone for this one, subject to taste of course.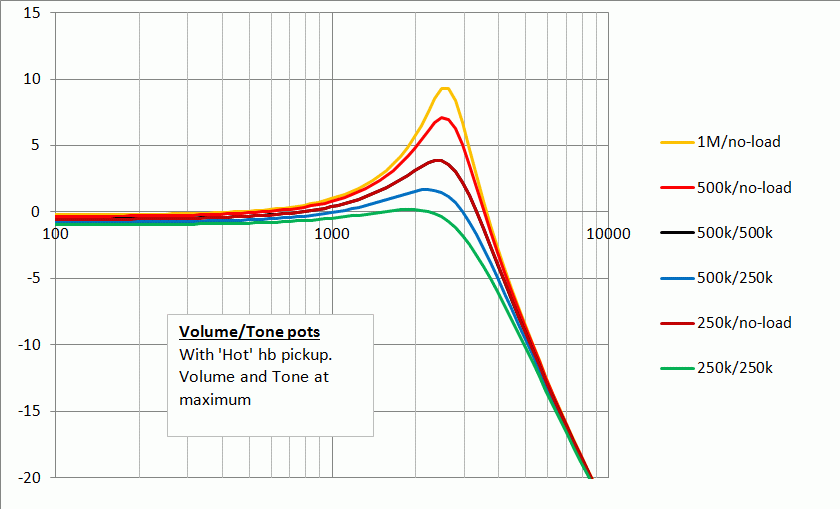 In the pursuit of maximum brightness, there are also some adverse factors that should be considered. The larger the tone pot value, the least effect there will be within the upper half of the turn, and the more the main tone-control action will be concentrated down below 5 or less.
And for the volume pot, the higher the value, the higher the impedance of the guitar is when it's at mid-volume and the more it is affected by treble loss from the cable. This can be compensated for with treble-bleed. Certainly this works well with 250k and 500k pots, and probably reasonably well with 1M pots (but this needs checking).


'No-Load' Pots

Fender also names these the 'Delta Tone' system. What for?

'No-load' pots have a break in the conductive track that goes to infinite resistance as you approach maximum. Below that they are almost the same as standard pots of the same value. That is how I have assumed them to be here. However, the two I bought from Fender had a more accurate max value around 250k than do many standard pots, which often read a bit low. Note that you can make your own no-load pots. It works very well particularly with full-sized 24mm pots.

But take another look at the graphs and see what they do. Typically, they are adding about 3db of brightness at the high treble peak. That is useful because it is a small but distinct increment, but not too much. So you may find the perfect tone at no load, or at max resistance just short of the 'no-load' break. The difference is usually notable but I find that it is not one that you would really need to split in two. (But later, we'll look at TBX pots which have a full range through this extra bright zone).

Also, while offering the max brightness of a very high value tone pot, it still has the smooth tonal transitions of the smaller pot value. Seems good to me!