Post by JohnH on Nov 30, 2019 22:55:03 GMT -5
This is is to check out a combined control, as presented by frets, using a concentric pot to combine a modified Greasebucket treble control with a mid-shaping control using an inductor: Here is frets drawing of this interesting design: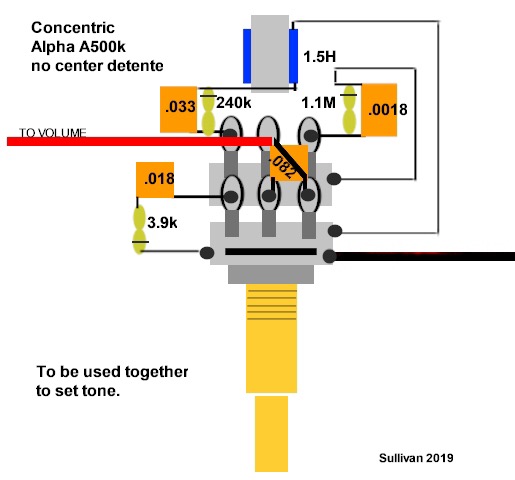 It's a powerful device, so worthy of lifting up the hood to figure out how it works and what it can do:
So I added a few parts to GuiatarFreak6.5 so it can handle this circuit. The plots below ae based on a 6.2k Texas Special drivng a 250k volume pot and a 10' cord, with tone circuits
as described.
Greasebucket treble control
The lower pot on the diagram above is similar to a Fender Greasebucket,, but with different values. What we know about these circuits is that their performance is identical to a standard tone control, combining the two caps in series into a single cap, and adding a resistor to stop it going quite to zero. In this case, the 18nF and 82nF caps can be replaced by one 15nF cap, and a 3.9k series resistor added to a standard tone circuit. This next diagram demonstartes this equivalence: (The mid control is not connected yet)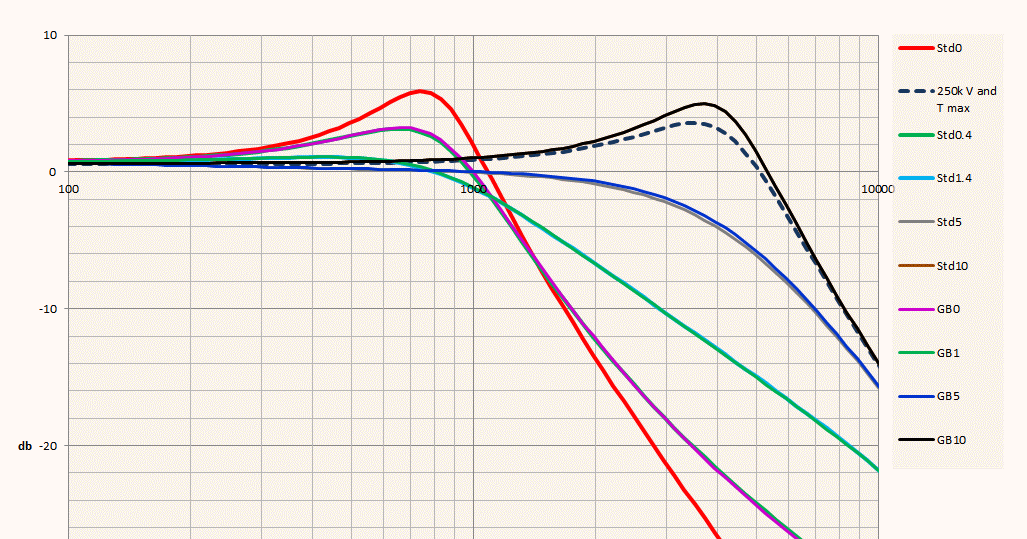 Plots of the GB circuit are shown at 10, 5, 1 and 0, together with matching settings of the simplified version. They are identical, varying only because the software has certain discreet increments available. The red line is a standard tone control at zero, which shows a low honk tone, which is the main thing avoided on a GB circuit. With these values, a bit of it is retained though - see the mauve line.
The dashed line is a reference on all the plots, showing the results at max with a normal 250k tone pot. So the use of 500k has added a bit of brightness available.
So, might as well save one capacitor and just use a 15nF
Mid-shaping control


The upper pot sweeps from an inductor and capacitor in series, to a small cap alone. With the treble control at max, here is the effect of sweeping that pot: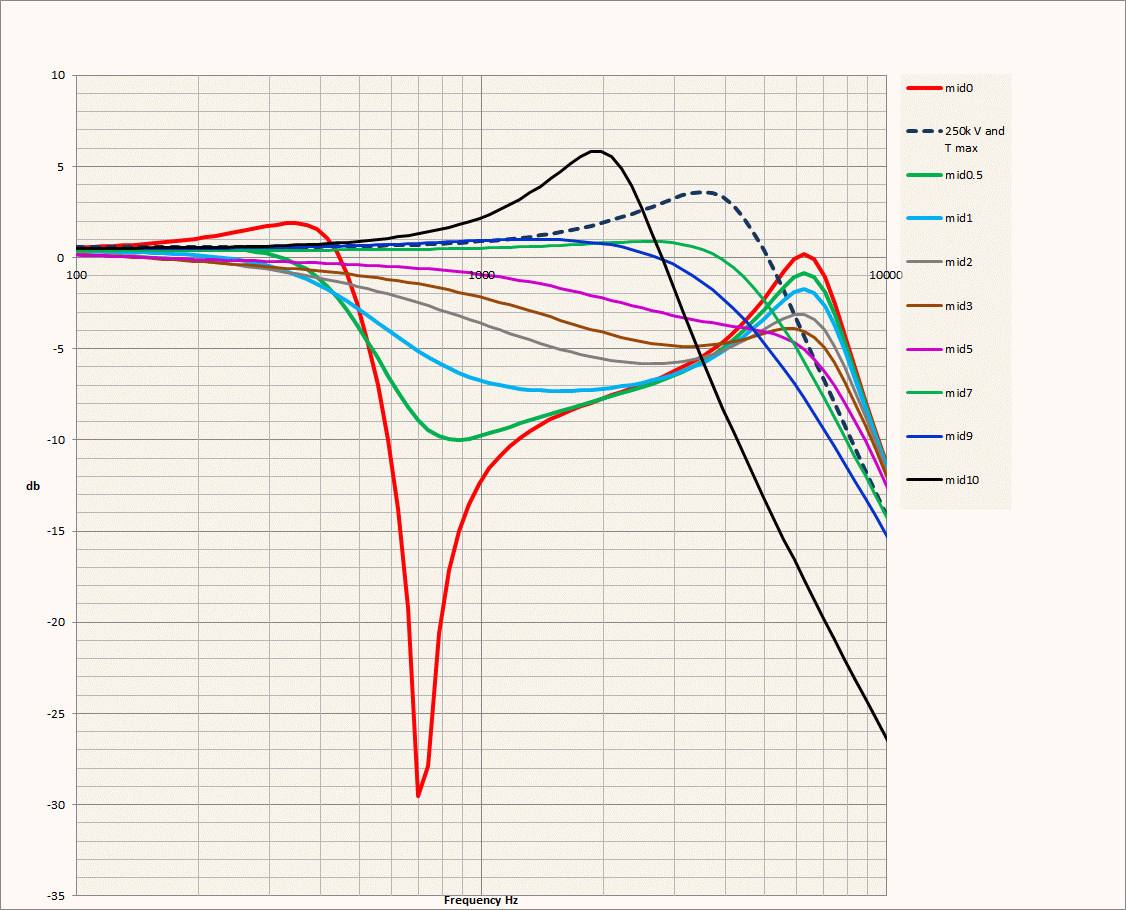 frets confirms that this gives a wide range of tones, and you can see above that it does! It ranges from a resonance just under 2kHz, down to a mid dip at about 700 hz with a high peak.
Both controls - combined range
Using both controls together, here is the tonal range available with 9 settings on max, middle (=5 on a 0-10 log pot) and minimum on each control: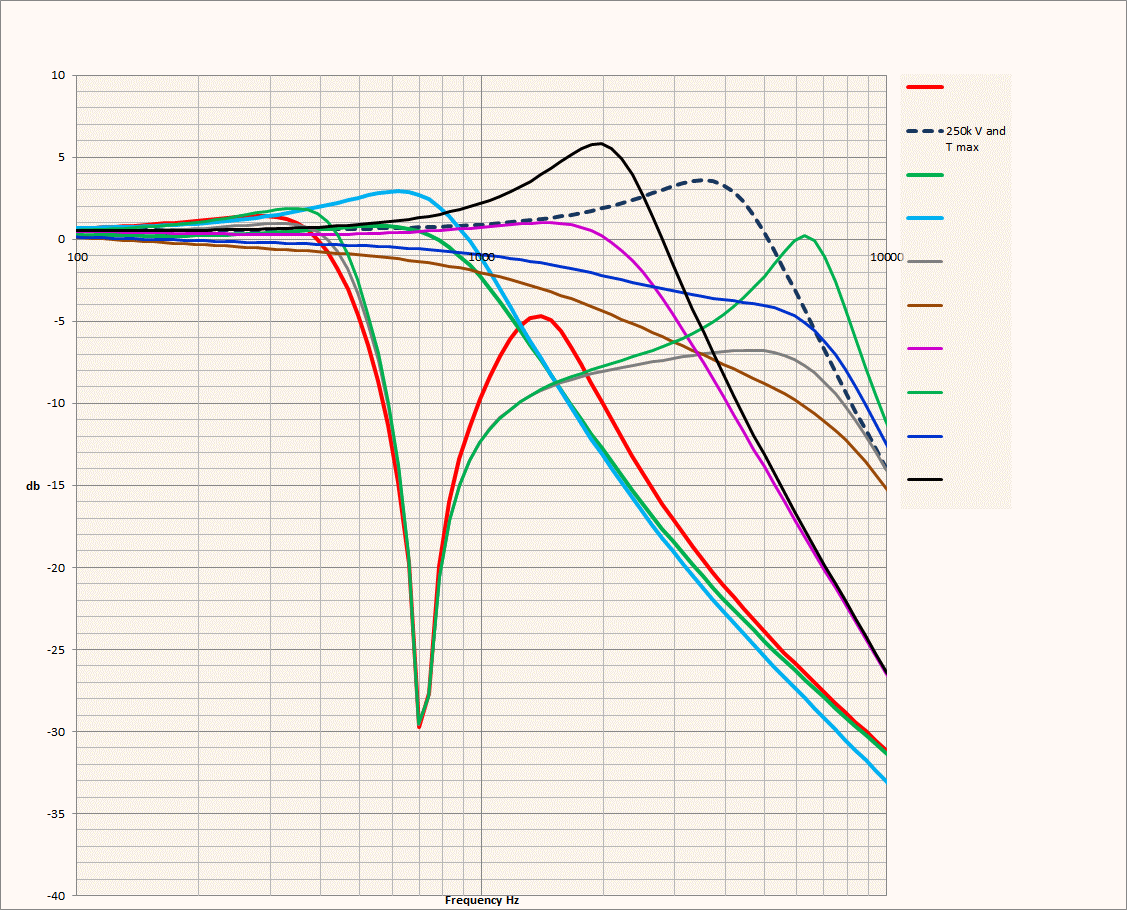 There's a huge range, but one thing that can be seen is that compared to the dashed reference line for a normal tone control, most of the settings look like they would have a significant reduction is general volume, which is not necessarily a problem, volume could be turned up? frets, can you comment on whether that is true in practice?
Another thing I wonder about is the 1100k resistor. I think that can be omitted, and the result will be a very tiny increase in brightness in some settings, whichis probably a good thing anyway.
Also, although there is a wide range, it cant quite find the tone of a standard simple design (ie the dashed line), because th emid circuit is damping that tone. This standard tone could be reinstated if a switch was added to disconnect the mid circuit.
Tweaked version
Heres the same range plots, with the inductor changed to 3H the associated cap at 18nF (so frequency of dip is similar) and the 1100k removed: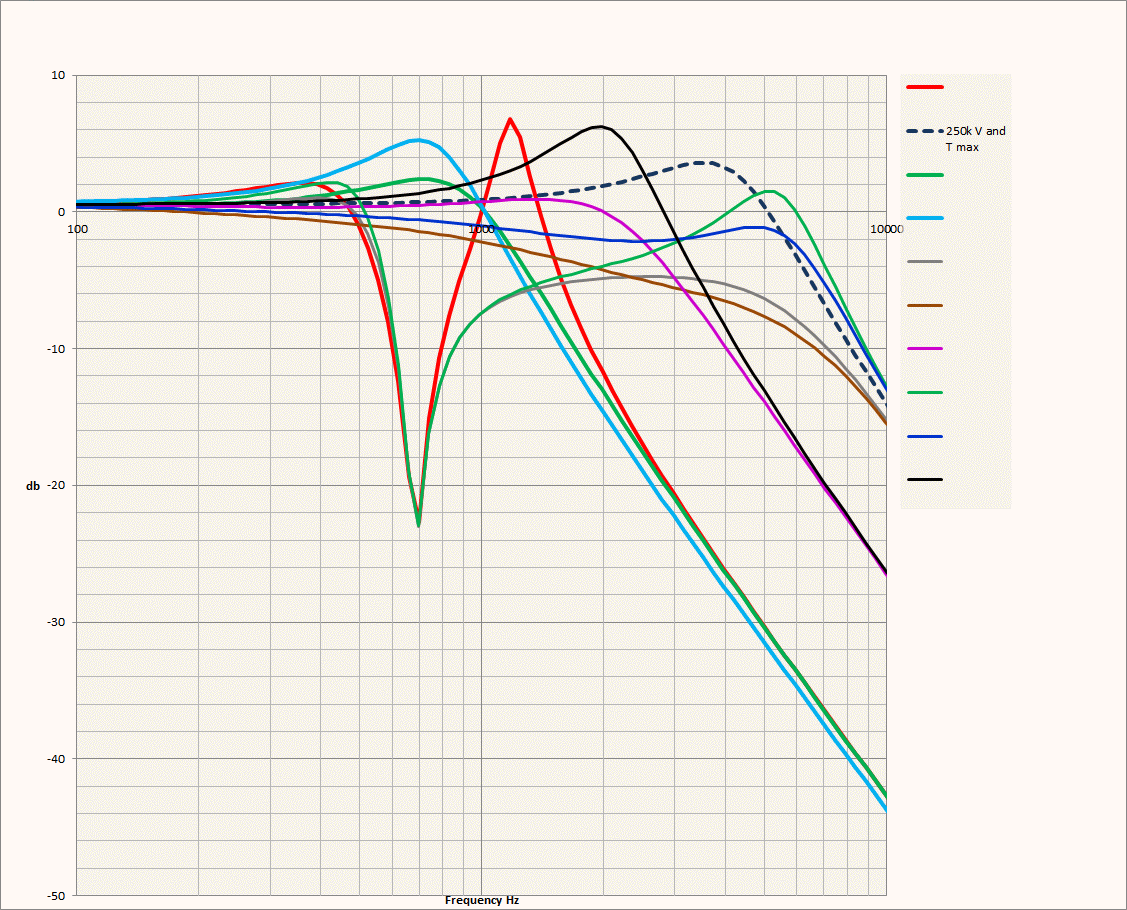 The revised values keep a bit more of the volume available. A 3H inductor is a bit less available, but I have seen them advertised.
Thanks again frets, for proposing the design. I hope the above helps to illustrate what you are hearing,