Post by JohnH on Feb 21, 2014 22:30:56 GMT -5
Bass cut and G&L 'PTB' wiring

This is an interesting one, which I have not tried myself.

Whereas a normal tone control (be it standard, TBX, No-load or Grease-bucket) works by bleeding treble from hot to ground, under the control of pots and caps, the passive bass-cut circuits sometimes seen in guitars work by feeding the signal from pickup to the hot side of the volume pot, via a very small capacitor that chokes off the low frequencies. This acts with the resistance of the volume pot to make a high-pass RC filter. so the volume pot is also a key part of the system. The bass-cut cap is bypassed by a pot, usually a high value, and when fully bypassed the control has no effect. That is a good feature, we can have this control with no loss of other available tones.

I think G&L are the most noted manufacturer to include a bass-cut control as standard, together with a normal treble control. They called this the PTB system, for Passive Treble and bass. Here is the schematic of the G&L PTB tone control: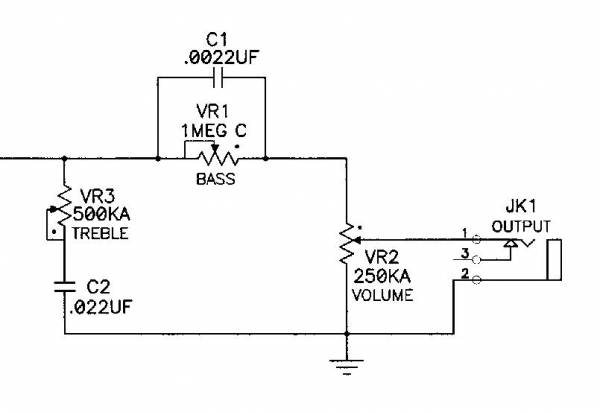 This versatile set-up seems to generate some enthusiasm!:

two-band-ptb-tone-control-useful-easy-cheap-awesome

The PTB system is shown with a higher value tone pot of 500k, and there does seem to be advantages in doing that, maintaining a 250k volume pot to act as part of the bass-cut circuit. They also use a 1M anti-log bass pot, so that, as with treble cut controls, minimum cut can be the fully clockwise '10' position. But it could be a normal log pot if the user gets accustomed to it, or a linear pot. For the modelling below, I used a 1M linear pot, just to see what happens.

Bass Cut - effect of the pot

Using a single coil pickup, and G&L's standard pot and cap values (but with linear pot), here is the response, all at max except the bass pot:




The plots go down to 40Hz, in case this is put in a bass guitar. The traces are in half-step increments, then 1 then 2 then 3 steps. This does seem to confirm that in fact, a log or anti-log taper is most suitable.

Also, you can see how the slope of the bass fall-off is fairly constant in all settings, but reaches a lower plateau dependent on the pot setting and the cap. So at the maximum extent of bass cut, the only extra bass cut is to the very lowest frequencies, while at higher pot settings, the transition is at a higher frequency. Very small amounts of bass cut actually cut most of the spectrum, possibly leaving just the peak intact.


Bass cut - effect of the cap

Stepping through a range of bass-cut cap values, we get this: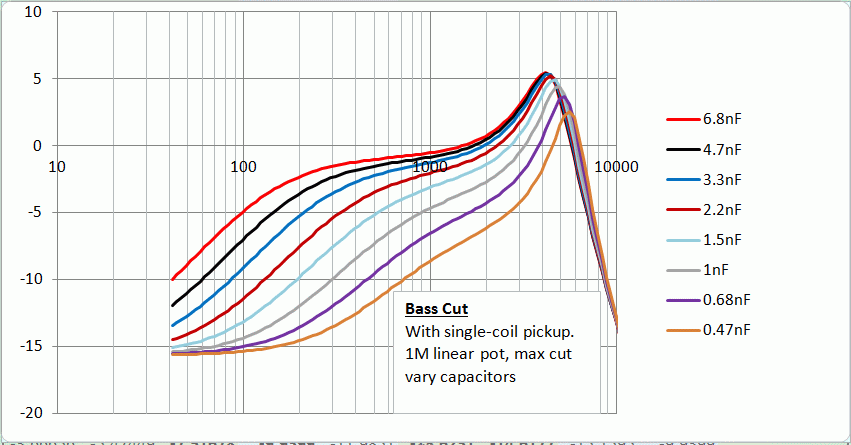 I think, for use with the other components selected, the 2.2nF seems like a good general value, but others who have tried such systems would have a more informed view. it's also interesting to note how, with very small cap values, the cutting is starting to carve away at the low-frequency side of the high peak, pushing the peak frequency higher - to be discussed further...

The PTB system - bass and treble control

Adjusting both tone controls of the full PTB system would give a lot of options. Here is a range of plots, with treble at maximum (10), mid (5) or minimum(0), with bass at max, min, or, about midway through the response which seems to be at around 8 on the linear pot modelled:
So this system seems like a pretty versatile set up, and doesn't take away from the standard tones.