Post by JohnH on Feb 28, 2014 22:32:53 GMT -5
The TBX tone control

I've been leaving this tone control design until after a few of the simpler ones, in case they helped gain some further insight.


What is a TBX tone control?

To start off, I should say that the following is based on finding out what I can, analysing carefully, but not actually having used a TBX control myself.

The TBX tone control is a Fender design, intended to enhance the action of a tone knob. It's a fairly old design now, having been introduced in the 1980's. I'm not aware if it is supplied stock on any current models, but is is sold as an accessory option from Fender, including the pot plus a cap and resistor which is part of the intended design.

They describe its action like this:

The Treble Bass Expander (TBX) is a detented, stacked 250K / 1Meg control that enhances your tonal palette. It functions as a standard tone control from 1 to 5; after 5 it decreases resistance, letting more bass, treble, presence and output flow to your amp

'kay......

What it really seems to do is to provide somewhat of a normal tone control range, compressed into the lower settings, and at higher settings it transitions to a much higher resistance, moving through most of the extra range that a no-load pot can provide, but gradually instead of as a step. It doesn't add anything, but just takes away less at high settings.

The pot is special, and unusual. Physically, it is a dual-gang pot with a detent at the centre (at 5 if your knob reads 0-10, or 5.5 if you have a Fender knob that goes 1-10) . One half of the pot acts like a 250k log pot, but compressed into the range 0 to 5. So at 2.5 it is about 25k to ground, rising up to about 250k just before midway. At 5, it becomes no-load with infinite resistance, which is how it is from 5 up to maximum. At the detent, it is at the no-load position.

The other half of the pot has a very low resistance (<1k) from 0 to 5, then a linear rise up to about 1M at maximum.
Here is a very nice hand-drawn description of how it is wired, (with an alternative option):

It is designed to be connected like this, with a 0.022uF cap, and another 82k fixed resistor: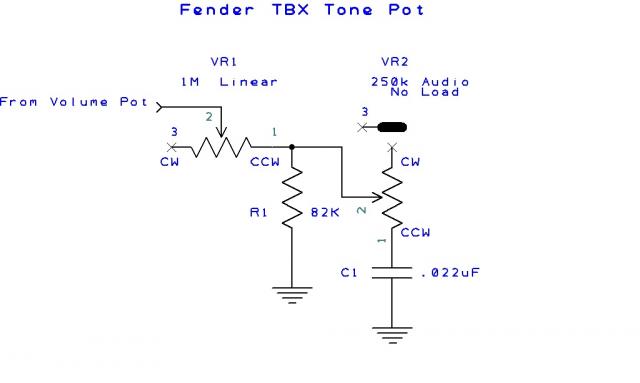 The whole combined circuit is wired to the same two points as a standard tone circuit, between ground and hot, usually before the volume control.


Analysing the TBX response

I took some care with this, starting by watching a video by Phostenix, who measured resistances step by step on an actual pot. I've used values that he measured, so the 250k is really 230k and the 1M gets up to 950k maximum. I was also able to draw a graph to see that the 250k pot is really at about 10% at the 1/4 point of the pot turn.

So here is a set of calculated responses, wired as intended. It shows results together with a 250k volume pot and a single coil pickup, because this is a Fender gadget and that is where most likely it will be used.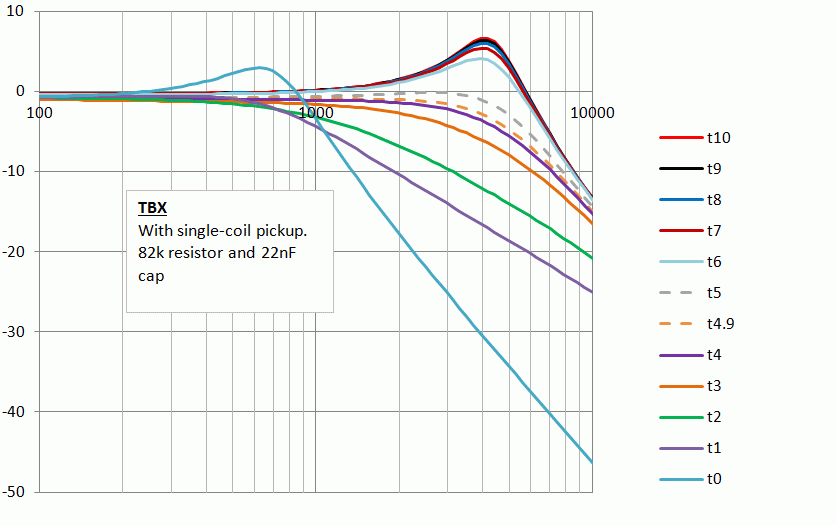 There's a few things that come to mind when looking at the schematic and the responses (including, what were they smoking? and where can I get some?)
With the 82k resistor in place, the centre detent position is not doing what one might expect, i.e. some kind of standard normal setting, but rather it is one that is significantly muted, more like a normal tone pot on about 6. So it doesn't seem like a place where one would want to have a detent. Instead, a more usual 'normal' position is not at the detent but at about 6 on the TBX pot.


As you approach halfway, there is a step in the response, from say 4.9 to 5, as the smaller pot cuts out (see the dashed lines on the graph). It is not a huge step, but any tones within this range are not available.
The 82k, wired past the cap, does actually reduce bass response by a tad at minimum, by about 1/2 db. You get this back at higher settings. Maybe this is supposed to be the 'B' part of the 'Treble and Bass Expander'?


Modifying the TBX

The most common mod that I have seen referenced is to increase that 82k resistor, so that the centre detent is a more desirable normal position. 220k works quite well. If wired in the same position to replace the 82k, the result is this: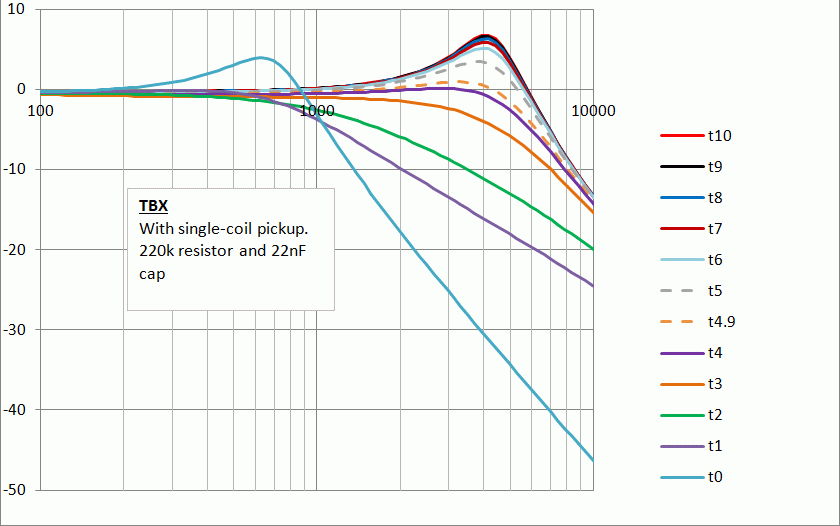 Maybe better, but now the step in response on arriving at the detent is larger.

(Note the Blueguitar pdf link above shows a slight variation on this mod, in which the cap is not bypassed by the resistor. The response is similar but a bit higher, just under 1db greater at low frequencies and low knob settings.)
Alternatives to TBX

Let's assume that the intent is to give a smooth control range, extending up towards the no-load range. A simple alternative would be a no-load pot, maybe a higher value such as 500k, so the step at max is quite small. Here is the trace (posted before), with a 500k no-load pot, used with a single- coil pickup and a 250k volume pot.
The taper from 0 to 2.5 is actually about the same as the TBX, and the overall range is the same, but no odd mid-range steps. And half the cost!

Or, why was it necessary to use a dual-gang pot? why not just one pot that goes 0 to 25k at the quarter point, up to 250k midway and 1M at max? Would that be too hard to make?


What else can you do with a TBX pot?

So having found this gadget, and gotten bored or annoyed with it, what else would it be good for?

It turns out that it may be very good for a combined treble control and bass cut, with a neutral no-load, no-cut condition at the centre detent. There are a number of such schemes on the net, here is Phostenix's diagram, and more good info on the TBX, (including the video that I watched):

I have already posted on treble and bass cut circuits, and this arrangement should fit right in there.
Conclusion
Well, overall the TBX design seems maybe useful but a bit quirky and rather complicated and there seem to be easier ways to achieve what it does. I'd be happy to hear from anyone who has one though, and whether or not they like it.
Using it as a bass and treble control however, seems like a cool idea!.
cheers
John