Post by Carlos Sanz on Jul 21, 2018 8:00:41 GMT -5
Well, this thread is a little old, but just in case someone comes back to it, let me add some data:
The Chris Wargo's article provided by Sumgai at post #3 is quite interesting. But the analysis is not taking into account that after the varitone, the input impedance of the amplifier can be something about 1 Mega-Ohm. If the bypassed varitone equals about 2 Mega-ohms, its effect can be (at least) measurable.
I'm starting with LTSpice and I've made a couple of simulations. This is the circuit I've simulated, with a Humbucker (consisting of two single Coil in series; I think the simulation would be more precise this way), a 500K/47n Tone control and a 500K Volume Control (both fully open). The cable capacitance is set to 1nF and the amplifier input impedance is 1 Meg-Ohm:

The frequency response of the bypassed Varitone compared with the same circuit without varitone is in this graphic. There is about 0.5 dB of difference in the peak resonance: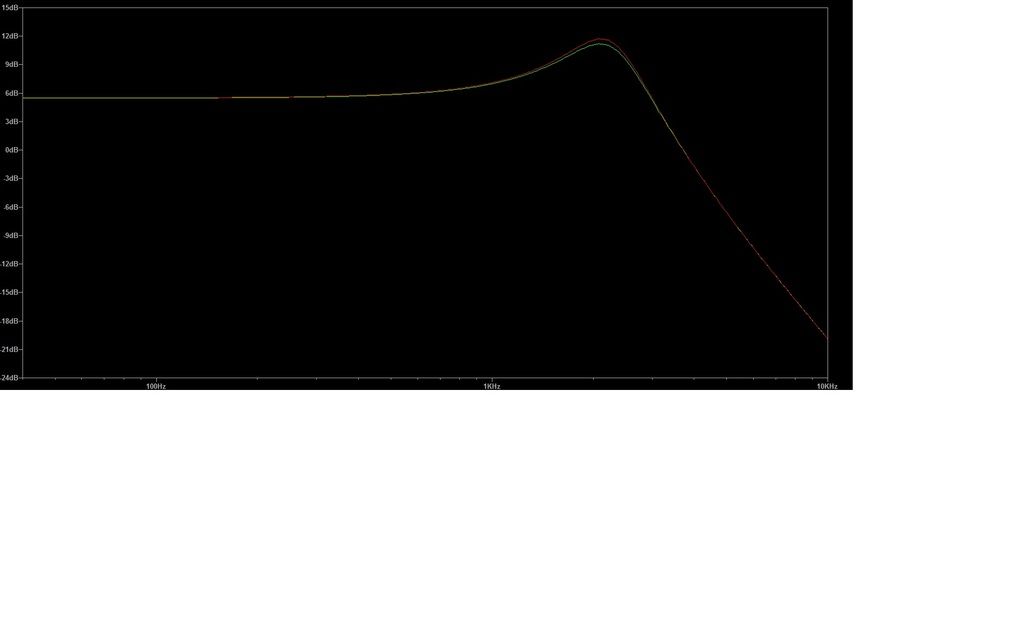 For sure I wouldn't be able to tell one sound from the other, but I would never state that a musician couldn't.
Furthermore, the inductor is problematic in simulations. Inductors are always far from ideal and who knows what the inductor can do at high frequencies.
For my next holidays, I'll try to build a varitone with a true-bypass position and I'll try to measure its real response. I'll let you know if I finally coudn't.
I think that a true bypass could be designed easily. Since most 6-position rotary switches out there have 2 poles, I think one of them could be used to disconnect the Varitone circuitry completely. It would look like this:
BTW, do you recommend me Make-before-brake or Break-before-make for this? I've already bought one of each kind at Mouser, along with a Xicon 42TL019 Transformer.
It happens that I've been able to use an impedance meter and I'm quite confused. The meter I had provided 3 frequencies for measurement:
At 100 Hz, the primary measured 5.5 Henries
At 1000Hz, the primary measured 3 Henries
At 10000Hz, the primary meter said it was not an inductor anymore but a capacitor. It seems that internal stray capacitances are more important than self-inductance at moderately high frequencies.
Two conclusions arise from this:
- Assuming that the meter used by YouXE reported in post #43 is working at low frequencies, there seems to be a direct ratio between the stated input impedance and the inductance value in the Xicon 42TL family:
· 42TL017 primary impedance=20K, inductance=10 Henries
· 42TL019 primary impedance=10K, inductance=5 Henries
· 42TL021 primary impedance=5K, inductance= 2.5 Henries
- Probably the small audio transformers used as inductors are not as faithful to the original Gibson Varitone sound as the inductors they used in the 60's. An inductor is more than just a value and probably the side effects of original inductors were quite different than small inductors.
And that's it by now, I think. I'll try to confirm theory with some practice this summer.