Post by JohnH on Nov 12, 2010 7:11:42 GMT -5
At maximum volume, a guitar pickup interacts with the impedances of the pots and other components, the cord capacitance and the amp input to give a characteristic response which includes a resonant peak in the high treble. As you turn down a simple volume control, the shape of the output frequency response changes as the guitar output impedance rises, and the cord capacitance cuts into the treble, which can dull the sound.
This is about how to improve the consistency of such volume controls, using treble bleed circuits, and how to build a better treble bleed. I'm showing what happens to the frequency response when you turn down the volume, using four systems:
A no treble bleed
B a treble bleed capacitor
C a treble bleed capacitor in parallel with a resistor
D a new and improved design using a variable parallel resistor, based on a dual gang pot for the volume control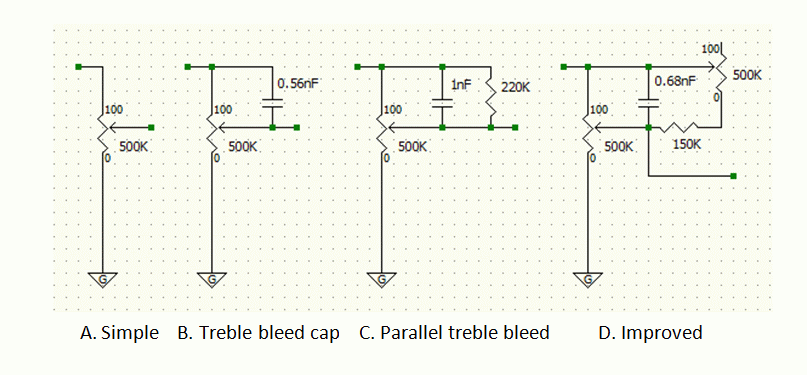 Analysis was done using my GuitarFreak spreadsheet, to model a vintage humbucker, 500k pots, a 10' cord to an amp.
The reference for tone is the tone at maximum volume, and ideally, the shape of the response would not change as volume is decreased. On the following plots of frequency response versus db output, the frequency response is plotted at full volume, -3db, -6db, -12db, -18db and -24db. The three treble bleed designs have each been optimised for -6db to give the closest possible tone to the full volume tone at that level. What is then interesting is to see how consistent they are at other volumes.
Full volume and A. no treble bleed
First, take a look at the top curve, at full volume. There's a flat response up to around 1kHz, then a peak just over 6db higher at about 3.2kHz, then a sharp fall.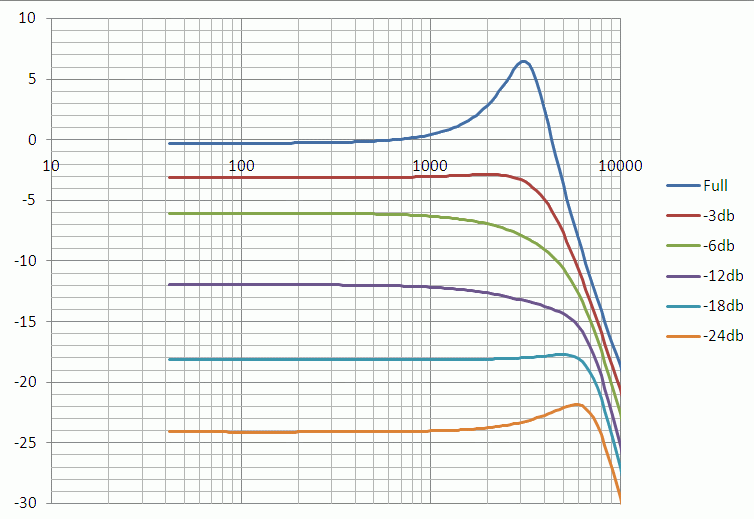 As volume is reduced, the peak is quickly damped down, losing sparkle. This effect is why treble bleed circuits can be useful if this change in tone is judged to be undesirable
See also how at very low volume however, treble returns, High gain players who turn right down to clean up the sound may not need these treble bleed circuits.
B. Treble bleed capacitor
In the second circuit, a single capacitor is used to feed some extra treble to the output to compensate for losses. A 0.56nF has been used, to give a very good tonal match at -6db.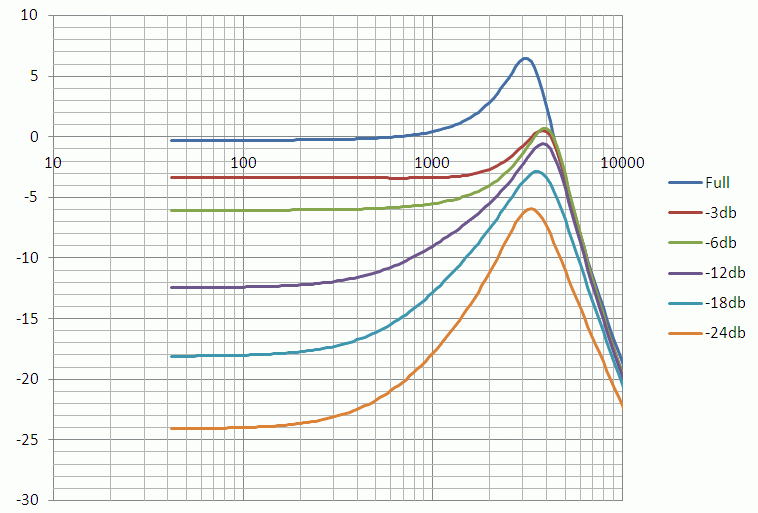 But see how at lower volume, too much treble comes through, the sound gets tinny since bass frequencies are cut more than high frequencies.
C. Parallel treble bleed circuit
A resistor and cap in parallel give a more consistent result.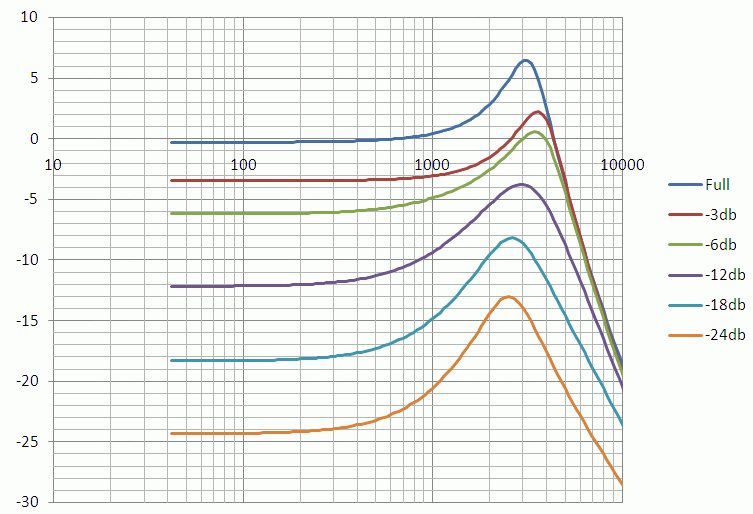 The resistor, combined with the upper branch of the volume pot has a more consistent value in parallel with the cap than the pot alone. So it is better than B. Again the values have been chosen for best results at -6db, but see how the tone at lower volume is still getting excess high frequencies, to a lesser extent than B.
Improved parallel treble bleed
The optimum values of the TB components are different at each volume level. It would be nice to have a variable capacitor, but this could only be done as a switched arrangement. However it is possible to have a variable resistance. So, the new idea is to use a dual gang 500k volume pot, and use the second half to vary the parallel resistance in a way that makes the tone more consistent.
The graphs show that it should work – the response below 1kHz is now much more consistent, and the peak height is also much more even.
Anyone want to try it?
Cheers
John